The Surprising Way Annabelle Is Linked To Ellen DeGeneres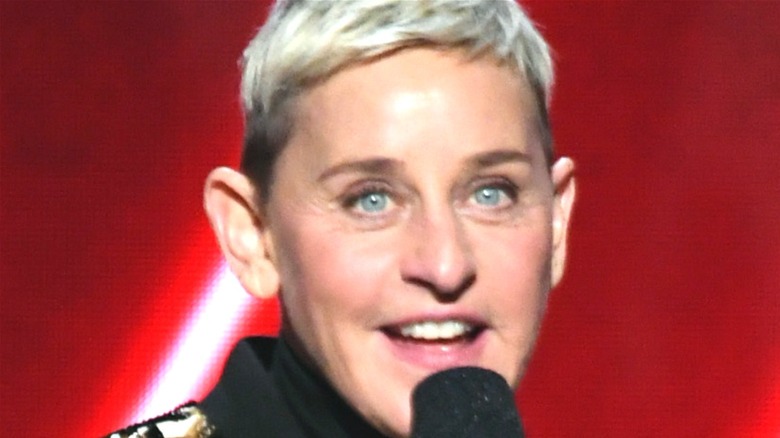 Kevin Winter/Getty Images
Ellen DeGeneres is known for making people laugh. Her love of comedy is clearly evident in her hosting bits on "The Ellen DeGeneres Show" and in her early career on television sitcoms and her voice work as Dory in "Finding Nemo." But as much as she loves to make people laugh, she enjoys scaring them just the same.
She's scared practically every celebrity that has been a guest on her show at one point or another, and it's become one of her signatures. Typically, DeGeneres waits until her guest is comfortable and in the throes of conversation, and then BAM! A terrifyingly-dressed character will leap out of the set's side table or pounce from behind to scare their unsuspecting victim, resulting in a ton of laughs from DeGeneres and her audience.
Aside from the jump scares on her talk show, DeGeneres has another connection to horror that may surprise you.
Ellen DeGeneres and the evil doll Annabelle lived in the same apartment
Fans of horror movies know that the name Annabelle is synonymous with the creepy, demon-possessed doll from "The Conjuring" universe. The doll was introduced briefly in the first "Conjuring" film but its haunting backstory is expanded in the sequel film "Annabelle." In the film, the doll is possessed by a demon after its owners, the Forms, are witnesses to a series of brutal murders committed by devil-worshipers. The doll follows the family to their next apartment in Pasadena and a string of paranormal activity ensues.
Turns out, the very same apartment the Forms move into in the "Annabelle" movie is the same apartment Ellen DeGeneres moved into when she first moved to L.A. In a clip from "The Ellen Show" she said, "I was watching [the film] going, 'that looks familiar,' and it was my building. It was scary back then too."
Because DeGeneres loved the movie so much, the film's producers sent her an Annabelle doll, to which she used to incessantly scare her poor staff with. With the Annabelle doll, DeGeneres proved her scare tactics are just as effective as her jokes at getting her audience to laugh.