Eternals' Gilgamesh Was A Very Different Character In The Original Script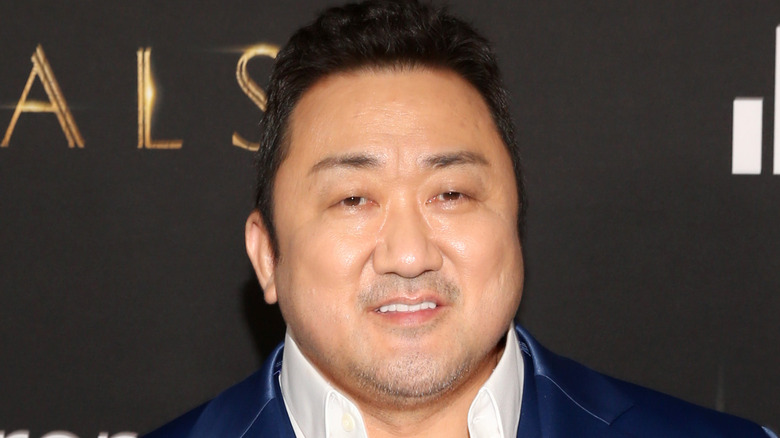 Jesse Grant/Getty Images
Phase Four of the Marvel Cinematic Universe is up and running, with now three released big screen endeavors to its name. First was director Cate Shortland's long-awaited "Black Widow" in July of 2021 — far beyond when a Natasha Romanoff-centric adventure should have hit the big screen –, followed by "Shang-Chi and the Legend of the Ten Rings" in September. To keep the momentum from Destin Daniel Cretton's martial-arts epic going, Chloé Zhao's "Eternals" premiered on November 5, and it has wasted little time in building a reputation as one of the most talked-about MCU installments to date.
From the moment it arrived at the movies, "Eternals" has had audiences and critics divided. Nevertheless, there's no denying that it's an ambitious project that has a lot to offer the wider Marvel universe, specifically in the character department. From the titular team alone, Sersi (Gemma Chan), Phastos (Brian Tyree Henry), Sprite (Lia McHugh), Druig (Barry Keoghan), Makkari (Lauren Ridloff), Kingo (Kumail Nanjiani), and Thena (Angelina Jolie) join the franchise's massive roster of heroes, though Ikaris (Richard Madden), Ajak (Salma Hayek), and Gilgamesh (Don Lee) don't make it out alive.
Though he wasn't in the film for long, the strongman of the Eternals and Thena's caretaker, Gilgamesh, has become something of a fan favorite. Although, one has to wonder if he'd have earned such a status had he filled the role he did in the original script.
Gilgamesh was almost Kingo's valet
Marvel Studios/Disney
Throughout the first act of "Eternals," Ikaris, Sersi, and Sprite travel the Earth to get the band back together so they can fight off the Deviant threat. When they reunite with Kingo, they learn that he has totally transformed himself into a Bollywood superstar. He's iffy on joining them to save the world — after all, he's got several projects to film –, but he caves after learning of Ajak's death. At the same time, he doesn't leave his celebrity lifestyle behind, with his valet, Karun (Harish Patel), joining him.
According to "Eternals" screenwriters Kaz and Ryan Firpo, however, the task of being Kingo's valet nearly went to Gilgamesh. "When we had 12 characters, Gilgamesh was not paired with Thena. He was Kingo's valet, so he essentially was that character, but as Gilgamesh," Ryan told The Hollywood Reporter, with Kaz adding that Gilgamesh and Kingo initially had a much chummier dynamic in the original script, hence why they almost went in this direction. As evidenced by the final film, this entire concept went out the window.
As fate would have it, the smiley, camera-toting Karun became a standout of the "Eternals" cast in his own right, and Gilgamesh's connection with Thena worked like a charm. The right call was certainly made.