There Are Actually 2 Characters That Superman Has Never Met In The DCEU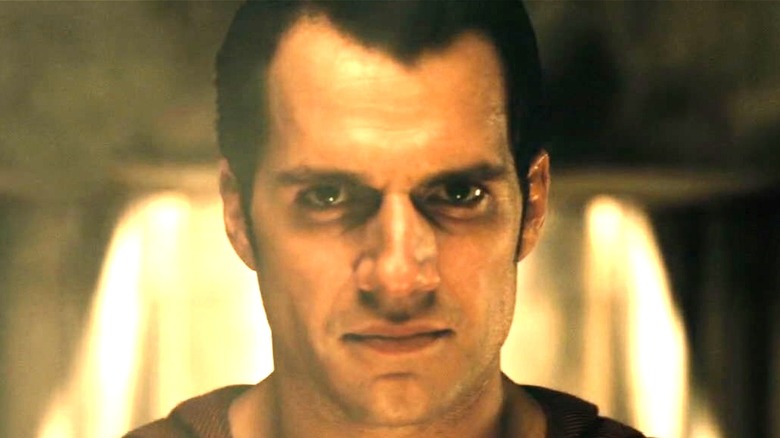 Warner Bros.
It's easy to say that Superman has seen just about everything. After all, over 80 years of crime-fighting in comics is a long time for anyone — even the Man of Steel (via New York Daily News). But surprisingly, the superhero is not entirely familiar with the on-screen DCEU. Case in point, a few characters have made their mark in the cinematic universe but somehow keep eluding Clark Kent. Even more surprising is their importance to the DCEU's growing slate of titles.
Jerry Siegel and Joe Shuster's 1938 creation, who originally debuted in Action Comics #1, needs an education in two of DC's most powerful women. One — Harley Quinn — finds her voice through a twisted love story involving the villainous Joker and their subsequent breakup. The other — Hippolyta — is the mother to a hero, and the queen to a legendary society. Both women prove to be powerful as well as interesting personalities from their respective franchises. Now if only Superman could take some time out from Metropolis' troubles to learn that firsthand.
Superman has never faced off with the dynamic Harley Quinn
Harley Quinn remains a force to be reckoned with, even for superheroes like Batman, so it stands to reason that she'd give Superman a run for his money as well. Since her first on-screen appearance in "Batman: The Animated Series" in 1992, this dynamic character has continually built up her lore, as well as her following (via The Hollywood Reporter). It was only a matter of time before she hit the big screen. 
David Ayer's 2016 take on "Suicide Squad" saw Harley finally make it to the DCEU. Margot Robbie instantly inhabited the role and made it her own, and since then, she's reprised the role for both Cathy Yan's "Birds of Prey" and James Gunn's 2021 "Suicide Squad" film. It's a testament to Robbie, along with the directors, that over the course of these few films, the character has developed well past her connections to Joker. 
Variety cited Robbie's work as an "inspired spark" and went on to say that "she plays Harley as a party girl who is also a total freak — the ringleader of her own playground." Not bad for a character who was originally scheduled for one animated episode. While Harley's technically a villain, fans definitely wouldn't mind seeing a team-up (or face-off) between Harley and Superman in the future.
Clark Kent needs to meet Amazon Queen Hippolyta
While Superman might have a few excuses as to why he hasn't met Harley yet, the reasons for not encountering Hippolyta seem a bit thin. The Amazonian queen is more than just a fierce warrior and leader, as she's also mother to Diana Prince, a.k.a. Diana of Themyscira, a.k.a. Superman's co-worker, Wonder Woman (DC Comics). The two superheroes have met up more than once in the DCEU, but unlike the comics, there has yet to be a romantic relationship between Diana and the Man of Steel (via Today). Still, it seems like Hippolyta would meet Superman at some point. After all, the Amazons have played a part in some major moments in the DCEU, and we might see more of them in the near future (via Nerdist).
Hippolyta's film appearances have already gone beyond 2017's "Wonder Woman" and the 2020 sequel, as she's also been featured in "Justice League" and "Zack Snyder's Justice League." The latter gave director Zack Snyder a chance to present his unique vision of the film, one he attempted to make before backing out due to personal issues. In either edit of the movie, the chances of Hippolyta running into Superman are slim. The Amazons are on their own in a major fight — well away from the events involving the superhero — but who knows, maybe Hippolyta and Superman will cross paths next time around.