Why A Solo Thena Movie Probably Won't Happen In The MCU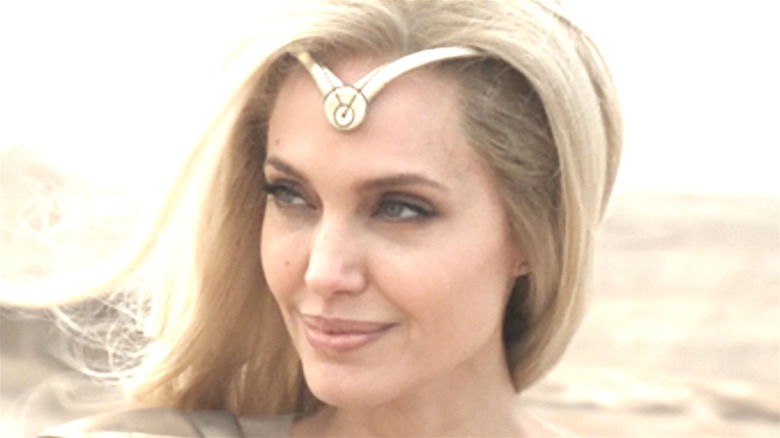 Courtesy of Marvel Studios
In the years since Marvel Studios first began taking over Hollywood, other franchises and studios have sought to replicate its success — from the DC Extended Universe at Warner Bros. to the so-called "MCU-ification" of "Star Wars," a fellow Disney property. To put it simply: the Marvel Cinematic Universe has set new standards for success in the modern era of blockbuster filmmaking. Indeed, thanks to the MCU, one of the standards every film and television franchise is now measured by is its ability to grow in different directions. For its part, whether it be another team-driven crossover film like "Avengers: Endgame," or a solo movie like the upcoming "Thor: Love and Thunder," Marvel is always ready to whip up something new that will send fans into a frenzy.
In the case of Marvel's latest film, "Eternals," questions about possible spin-offs have already begun to form in viewers' minds. For instance, could we see a Harry Styles-led film about Eros? What about a movie showing the rise of Kingo (Kumail Nanjiani) in Bollywood? In a fictional universe as sprawling as the MCU, anything is surely possible, but a recent interview with Angelina Jolie appears to have shut down the chances of, at least, one "Eternals" spin-off ever getting made.
Angelina Jolie isn't interested in a Thena standalone film
In an interview with CinePOP, Angelina Jolie said that she was primarily interested in the family aspect of "Eternals." Although the legendary actress has been offered roles in superhero films for years, she admitted that she turned down previous opportunities because they "didn't feel like the right one." With "Eternals," however, Jolie said that she "wanted to be part of this family," adding, "I wanted to see all these superheroes together."
When asked if she would be interested in a solo spin-off for Thena, Jolie said, "I loved being part of the family, so I have no desire to separate from the family. But I would be happy to play her again and explore even more deeply the struggles that she has."
Jolie also stated that thanks to the thousands of years the film's central team has spent together, she thinks there is plenty of "Eternals" material she would be interested in further exploring as Thena. "We can take [Thena] anywhere. I think that's fun and I like the idea that we can pop up somewhere, maybe in other Marvel movies," Jolie said.
While Jolie's comments may not be what some "Eternals" fans were hoping to hear, there's still plenty of ways that Marvel can bring both the character and Jolie back in the future. Plus, if "family" is what draws Jolie to a franchise, perhaps that means there's another successful film series she'd be interested in joining someday.