What You Need To Remember Before Watching Psych 3: This Is Gus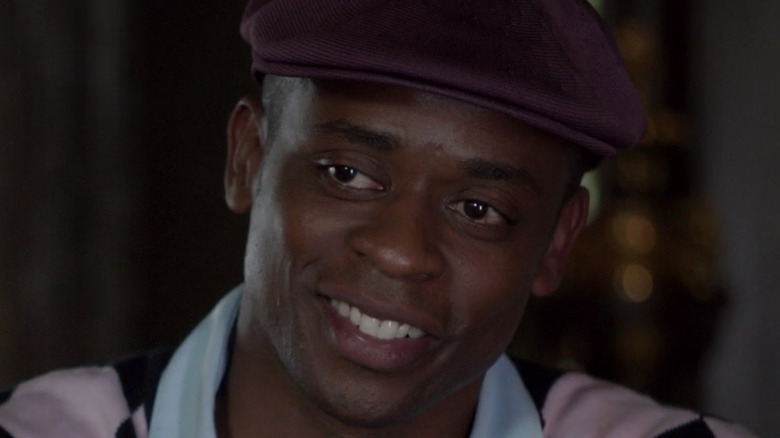 USA
If you asked the people behind "Psych" what made the TV series work, you might get a collective shrug. Its universe revolves around the comedic adventures of Shawn Spencer (James Roday Rodriguez), a private detective for the Santa Barbara Police Department who's pretending to be psychic, and his eccentric and phobic best friend Burton "Gus" Guster (Dulé Hill). With the help of Shawn's retired-detective dad Henry Spencer (Corbin Bernsen), detectives Juliet O'Hara (Maggie Lawson) and Carlton "Lassie" Lassiter (Timothy Omundson), and Police Chief Karen Vick (Kirsten Nelson), Shawn and Gus help make Santa Barbara a less deadly — but always hysterical — place to be.
On paper, this premise might seem like a tough sell. In practice, however, it almost always hits all the right notes, in part because it refuses to take itself too seriously. Indeed, at one point Gus says to Shawn: "We are two dumbasses. We do not have fans." All evidence points to the contrary, of course. How many franchises can say that in addition to eight seasons, including a two-part musical episode, they cruised into three films?
The third movie, "Psych 3: This Is Gus," drops November 18 on Peacock. It picks up where "Psych 2: Lassie Come Home," ended, with Gus getting bombshell news from his fianceé, Selene (Jazmyn Simon), and the couple making a huge life change. But we'll get to that; here are some things you need to know before watching "Psych 3."
Warning: Spoilers ahead.
Gus and Selene are a match made in heaven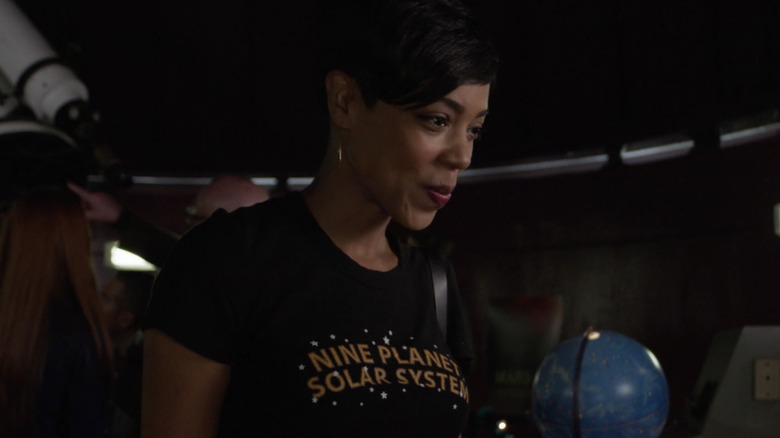 Peacock
First things first: Selene's name is pronounced "Say-la-nay." In "Psych: The Movie," she and fellow astronomy nerd Gus meet at a stargazing event in San Francisco. From across the observatory, Gus flashes his patented nostril swipe. Selene is hooked and approaches him immediately. She's wearing a shirt that says, "Nine planet solar system." This should mean a slam dunk for Gus, considering that one of his go-to pickup lines is, "You heard about Pluto? That's messed up, right?" But Selene's fashion choice is actually advocating for the inclusion not of Pluto but of Eris, the dwarf planet discovered by astronomers in 2005.
This sparks a fiery repartee that stirs Gus and Selene's passions much more than their disgust; Shawn barely has time to blink before the two are making out. Selene spends the rest of the film tracking Gus via Instagram, and they dive headfirst into a relationship by the end of the movie. Then, in "Psych 2," when all the main characters but Lassiter have moved to San Francisco, Gus spends much of his time ghosting Selene as he and Shawn work a case on the sly in Santa Barbara. Selene suspects he is cheating on her, though it's simply a classic misunderstanding.
As is often the case with the franchise, the climactic threat provides an unlikely backdrop for a monumental reveal. In the final showdown with one of the villains, Selene reveals she's pregnant, causing Gus to faint. Once they're safe, she proposes to Gus — who then proposes to her. Both are thrilled to be expectant parents.
Then the last shoe drops: Selene is still married, and that sets "Psych 3" in motion.
Gus was married before, too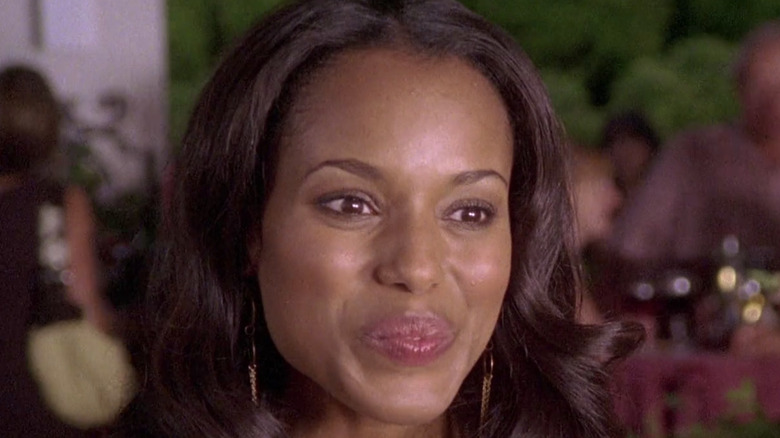 USA
Longtime fans of "Psych" know Gus has walked in Selene's shoes: In Season 2 Episode 11, the audience learns about his first wife. Gus met Mira Gaffney (Kerry Washington), aka "Hurricane Mira," during spring break '97 in Mazatlán, Mexico, and they were married within four hours thanks to three simple words: "Let's try Goldschlager!" (Much to Shawn's dismay, a goat got to serve as Gus' best man instead of him.)
The couple thought the marriage was annulled before they returned to the United States, but Mira informs him in one episode that this is not the case, and she needs him to sign some paperwork so she can get married again. Their reunion prompts Shawn and Gus to dig through the secrets surrounding her new fiancé. By the end of the episode, the pair are almost back to their 1997 selves, with Mira hoping to take him rock climbing and hang gliding. But Shawn, as a best friend does, comes to the rescue of the risk-averse Gus.
The most serious relationship Gus has before Selene? That would be in Season 7 when he dates nutritionist Rachael (Parminder Nagra), who breaks up with him by sending him a basket of cookies upon her return to England. With poor Gus' experience being ditched by women like that, it's no wonder he's a sympathetic crier.
Shawn and Juliet's own road to marriage was long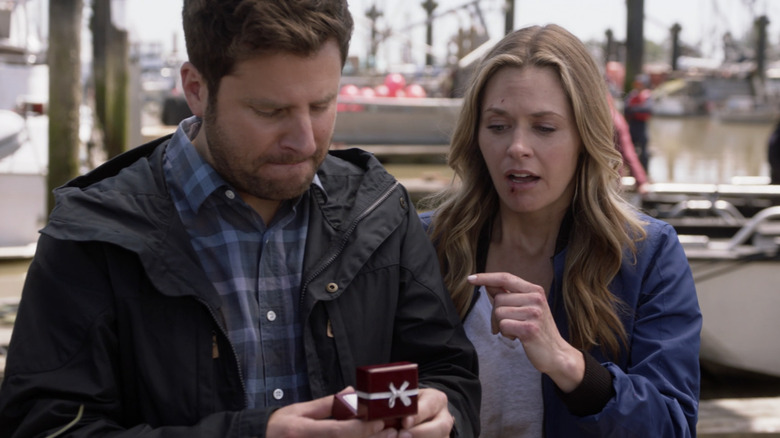 USA
Whereas Gus and Selene's romance took off like a rocket, Shawn and Juliet's relationship has moved at a snail's pace. Sure, there is a mutual attraction from the first scene they share, back in the series' second episode. They build chemistry for four and a half seasons, and each of them secretly — and not-so-secretly — cheers when one of the other's relationships fizzles.
Shawn comes the closest to moving on. During Season 4, he dates his high school crush Abigail Lytar (Rachael Leigh Cook), though their relationship ends when a serial killer takes her hostage and Abigail decides that being as close to danger as Shawn's job takes her is more than she can handle.
Fast-forward to the series finale: Shawn proposes to Juliet with his grandmother's ring — only to see someone snatch it from his hand before he can put it on his fianceé's finger. Shawn, Gus, and Juliet jump into a car to tear after the thief, though it isn't until "Psych: The Movie" that this storyline is resolved: Shawn recovers the ring and he and Juliet get married in an impromptu seaside ceremony in San Francisco.
A wedding nearly shattered Shawn and Juliet's relationship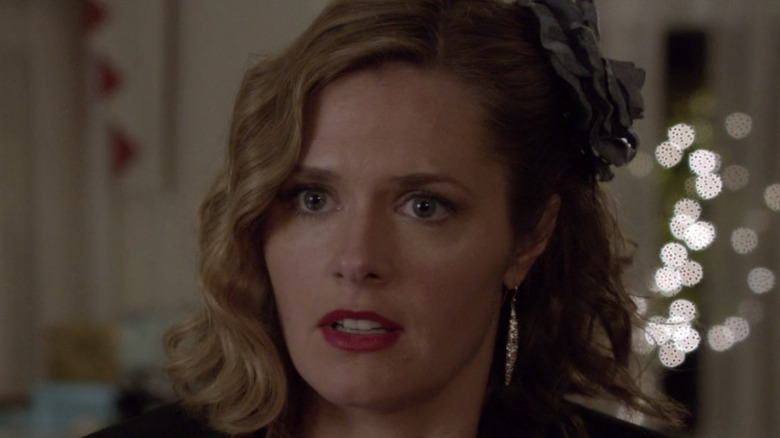 USA
Although Shawn and Juliet — aka "Shules" — are on solid ground entering "Psych 3," they almost didn't make it to matrimony. Unlike Gus and Henry, Juliet spends most of the show's run believing Shawn has a supernatural gift. But in Season 7 Episode 7, which follows Lassiter's wedding, she finally puts the pieces together and realizes that he's not psychic — just a damn good investigator whose brain works differently from everyone else's. Shawn can't bring himself to admit the truth, and Juliet blames herself for believing her boyfriend's deception, feeling like she let herself be taken advantage of by the person she trusted the most. Their relationship is on the rocks for months, though they reconcile by the end of the season.
Shawn's Peter Pan-like approach to life also casts initial doubt on whether he and Juliet will go the distance. His oft-noted fear of commitment is manifested in the lack of long-term relationships he's had, whether it's with women or employers. Working with Gus at Psych is by far the exception to Shawn's m.o. of moving on when things get serious.
That said, his love for Juliet is the real deal, and it's unlikely "Shules" will come close to the brink of disaster again. However, don't be surprised if Gus' wedding is marked by a turning point for one of the "Psych" characters as weddings have been in the past.
Shawn's relationship with his dad has some rough edges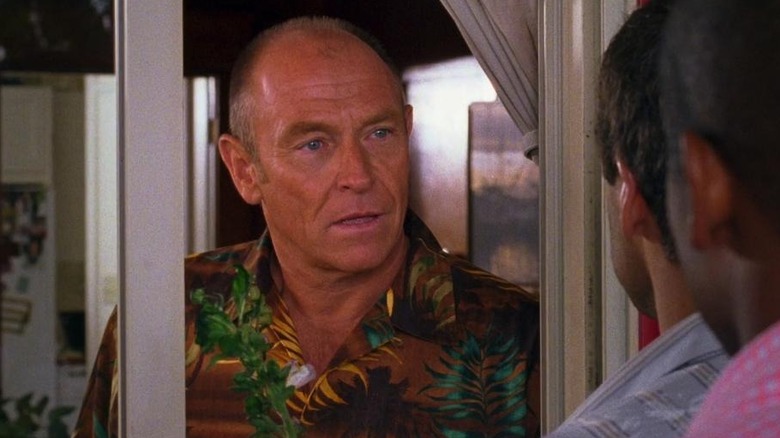 USA
Shawn and his father Henry butt heads in almost every episode. Often this friction is played for laughs, like when the father and son attempt to guess what their Christmas present is from the other or when Henry beats Shawn to the punch with a silly nickname, usurping one of his son's calling cards.
Other times, there is a sharpness to this dynamic that brings some of Shawn's lingering resentment to the forefront. He spends much of the show's run unhappy with his parents for splitting up when he was young, and Gus and others trace Shawn's fear of commitment to this dark cloud — even if Shawn doesn't want to admit it.
Henry raised Shawn on his own for the most part, and the younger Spencer blames his dad for his parents' breakup. During an argument in "Psych 2," the tension boils over when Shawn tells Henry that Juliet might be pregnant and Shawn isn't sure he's ready for fatherhood. "It will be the redemption of my life watching you fail," Henry says in a truly gasp-worthy line. He apologizes several scenes later and the damage is repaired, but it's a reminder that though "Psych" is a comedy-drama, the characters' flaws aren't always meant to be funny — something we should remember going into the third film.
Expect some song and dance in Psych 3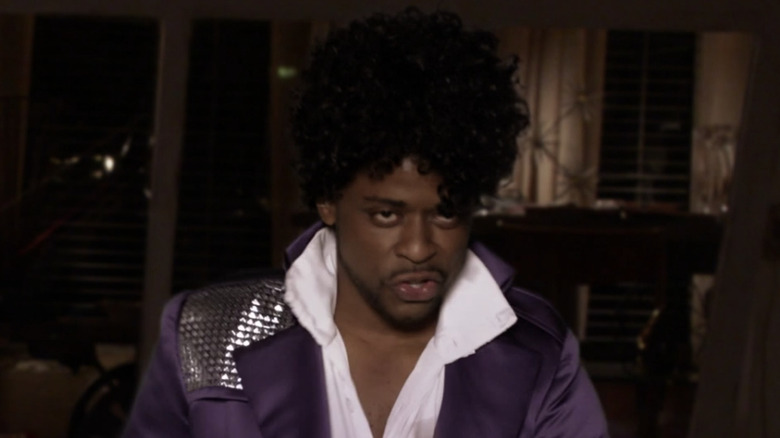 USA
The characters on "Psych" — particularly Shawn and Gus — are always looking for a reason to show off their pipes and fancy feet. From going undercover on an "American Idol"-style reality show in Season 2 to forming an a cappella group in Season 4 to going full Broadway in the "Psych: The Musical" episode in Season 7, viewers never know when an original tune might be around the corner.
"Psych" creator Steve Franks, who wrote and sang the show's theme song, told The New York Post the show's stars inspired the musical episode. "The boys were singing in-between takes [during the pilot], and they were really good," he revealed. Hill, in fact, is a musical theater veteran, having studied dance since he was a child and starring in "Bring in 'Da Noise, Bring in 'Da Funk" as a teen on Broadway opposite Savion Glover.
In "Psych: The Movie," Shawn is led to a critical clue when a deceased compatriot appears in a dream and they strike up a duet of the Gin Blossoms' "Allison Road," complete with backup from Gus dressed like Prince and Juliet in a Princess Leia costume.
Bottom line: Don't be surprised if Gus' bachelor party or wedding reception includes karaoke.
Curt Smith is back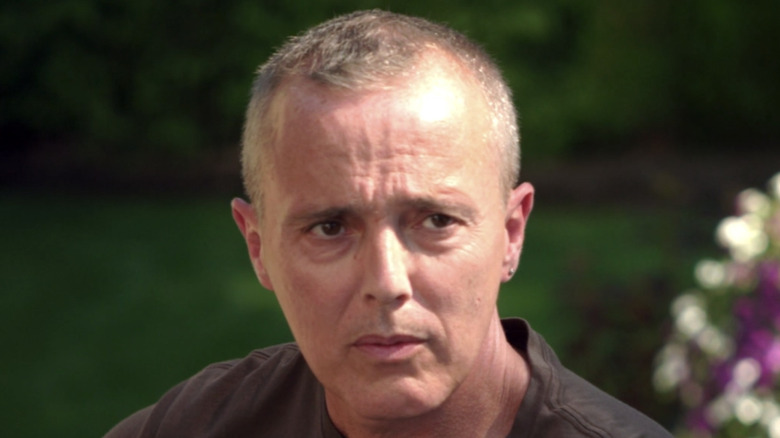 USA
Speaking of music, the "Psych 3" trailer reveals that Curt Smith is back in the fold. The Tears for Fears co-founder makes his first appearance, one worthy of a double-take, in Season 5 when a wealthy criminal profiler hires him to play while perched on a stool next to his pool. Smith has clearly agreed to play the private gig reluctantly, despite the handsome paycheck, as he tries to veer from his benefactor's hand-picked playlist — which naturally includes "Everybody Wants to Rule the World" and "Mad World." In the "Psych 3" trailer, though, it's Gus who has a request: "Have you learned 'Thong Song' yet?" he asks, only for the singer to hang up on him.
Smith also recorded a cover of the show's theme song for the aforementioned Season 5 episode. He shows up again in Seasons 7 and 8, suffering a gunshot wound in the former and succumbing to a zombie attack in Gus' nightmares in the latter. These previous injuries by association with the doofy duo suggest that whatever Gus is offering Smith to play his wedding, it probably isn't enough.
By the way, the seeds for Smith's appearance were planted in Season 2's "American Duos." In that episode, Shawn dresses as Tears for Fears' other co-founder, Roland Orzabal, as he and Gus (dressed as Michael Jackson) try to win a duet competition.
Timothy Omundson is recovering from a stroke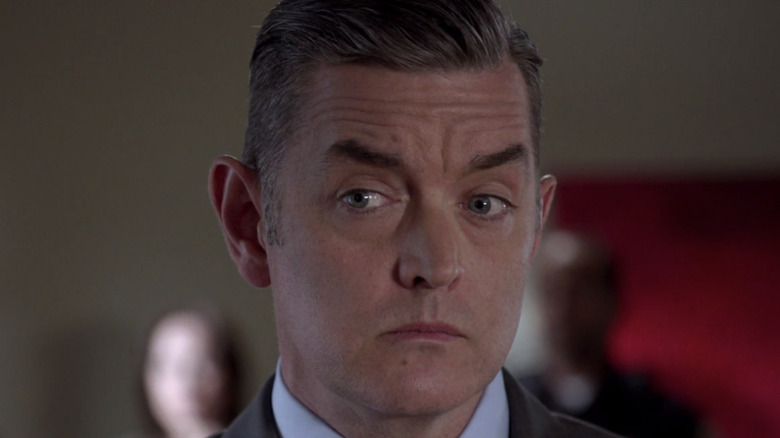 USA
"Psych 2," which dropped in 2020, is as much a love letter to Omundson and his character as it is a continuation of the franchise. Omundson suffered a stroke in April 2017, just before "Psych: The Movie" was to begin shooting. The actor told Larry King in 2019 that he spent several weeks in the ICU, and it took two years of daily therapy to build the strength to stand, let alone walk. Though he couldn't memorize his lines as quickly when he returned to acting, he couldn't imagine doing anything else, especially when it came to "Psych." "It was an ongoing thing of making each other laugh," he told King. "It's a pretty lucky, tremendous life I've had."
Lassiter has a cameo in the first film and is the epicenter of "Psych 2," which begins with the character, who became Santa Barbara's police chief in the series finale, being shot and suffering a stroke during surgery. When Lassiter sees strange things happening around the rehab facility where he's recovering, his friends reunite to solve the mystery. Throughout the film, he taps into his well of determination through memories of his father, who died when Lassie was young.
In the "Psych 3" trailer, Lassiter proclaims, "I'm back, drink it in!" Though he's central to "Psych 2," he spends most of the movie lying down or in a wheelchair — save for a triumphant scene near the end. The tag "This Is Gus" also mirrors real life: Omundson plays a character recovering from a stroke on NBC's "This Is Us"; NBC owns Peacock as well as USA, on which "Psych" aired, so we can see the subtitle for "Pysch 3" as an homage to Omundson.
Everybody loves Buzz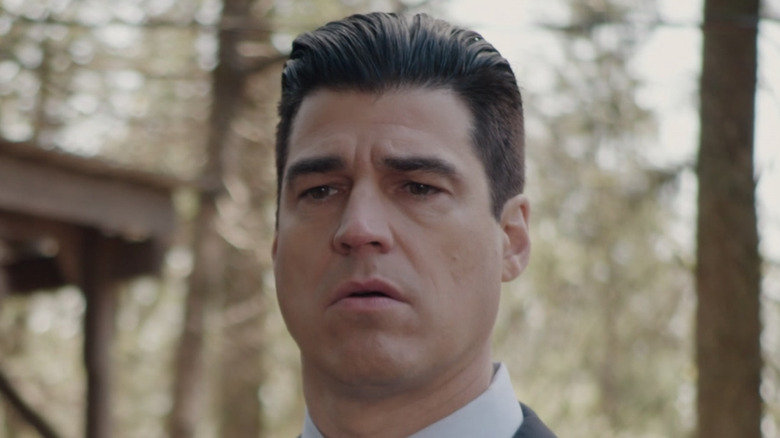 Peacock
Arguably the franchise's most ubiquitous supporting character, Officer Buzz McNab (Sage Brocklebank) appears in about half of the show's episodes as well as both movies. Although he is underappreciated and underestimated by Lassiter, everyone else gets along great with Buzz. He has an innocence and naivety the other characters have long since shed, and his presence in a scene often lightens the mood because he's just so affable.
The audience has also seen Buzz grow over the years. He gets married and is promoted to junior detective during the show's run, and the writers have found clever ways to use him in the films. In "Psych: The Movie," he is the inside man as Shawn fools a dangerous fence into believing he's psychic. That same fence ends up tracking down the ring Shawn's grandmother gave him. In "Psych 2," Buzz shows up at a crime scene where Shawn and Gus have made a mess of things. As usual, Buzz lets the pair skirt the rules because they've always been friends with him — plus he's a bit confused, to no one's surprise.
We see in the "Psych 3" trailer that Buzz looks somewhat surprised to see Lassiter return. It's such a short clip, however, that it's still likely Buzz will be happy to see his boss. Regardless, viewers should know that where Buzz goes, something funny follows.
Gus and Selene are married in real life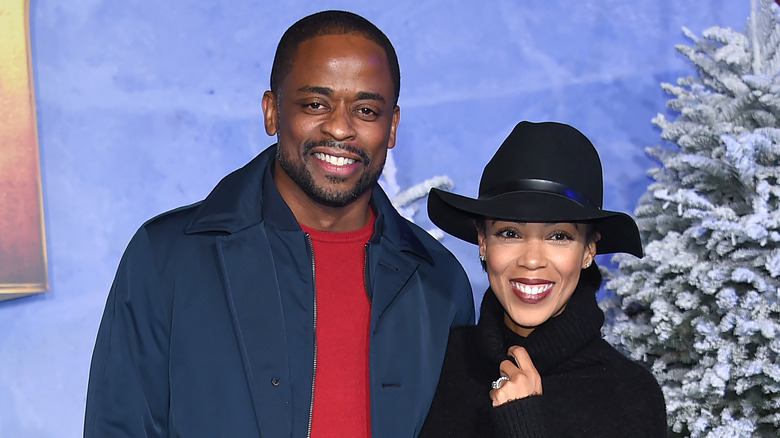 DFree/Shutterstock
Hill and Simon met in 2016 in Miami as she was preparing to shoot the pilot for the HBO series "Ballers," on which Hill also was starring. Fortuitous quirks in Simon's schedule led to the two having lunch, and they exchanged numbers. Hill and Simon got engaged in April 2017 and were married in Antigua in April 2018. "If I could speak all the languages of all the lands throughout the world, I still would not be able to find the words to express the fullness of my love for you @JazmynSimon," Hill wrote on Instagram.
The couple announced the birth of their first child together, a son named Levi, in May 2019. "The baby was breech, so we had a [Caesarean] section," Hill told People. "Right before Levi was born, our doctor said, 'In 15 seconds, you're going to meet your son.' And we did. And instantly, our hearts doubled in size." Simon had a daughter, Kennedy, from a previous relationship, whom Hill eventually adopted.