TWD: World Beyond Season 2 Episode 6 Scene Fans Thought Made No Sense
As "The Walking Dead: World Beyond" approaches the end of its second and final season, its survivors are finding themselves increasingly at odds with one another. The "Walking Dead" spin-off series follows a Midwestern group of teenagers who end up working against the secretive Civic Republic Military.
The sixth installment of the show's second season (titled "Who Are You?") sees the series' survivors continuing their ongoing conflict with the group, as their views about the enemy further splinter. For his part, Leo Bennett (Joe Holt) works with Felix Carlucci (Nico Tortorella) and Huck (Annet Mahendru) in order to investigate the mysterious work that his colleague and girlfriend, Dr. Lyla Belshaw (Natalie Gold), does for the CRM. 
To keep her distracted, the episode follows Leo as he invites Lyla to dinner with his daughters. Meanwhile, Huck causes a power outage so that Felix can get into the walk-in freezer where Lyla's work is stored. While there, he uncovers the icy corpses of walkers as well as vials and vats of a green serum. 
During the episode, fans on the show's subreddit couldn't help but notice something odd about the characters' chilling mission. So, what detail in "Who Are You?" do fans think made no sense?
TWD: World Beyond fans think Felix's plan was flawed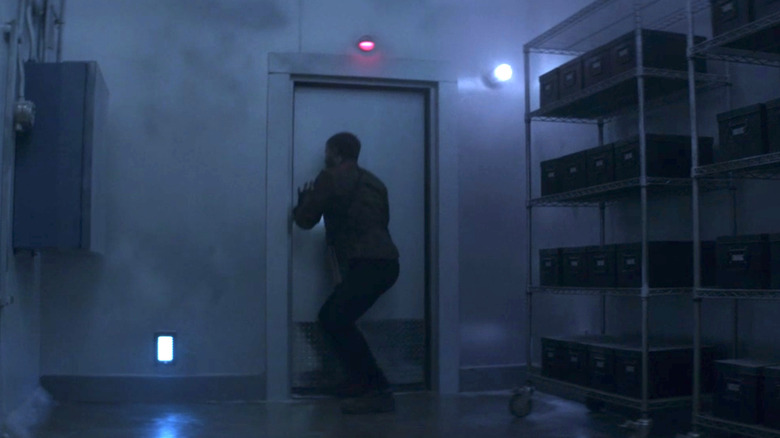 AMC
When TV show characters make glaring mistakes, it's easy for viewers to become frustrated that they didn't do what those watching at home would've done in their place. At least, "The Walking Dead: World Beyond" fans certainly felt this way after Felix's risky foray into Lyla's laboratory left him trapped inside of a freezer. For instance, in a Reddit discussion thread about the episode, u/JKOESLH asked, "Why didn't felix just prop the g*****n door?" 
For what it's worth, it's easy to see why the Redditor was so frustrated by the moment in question. After all, leaving the door partially cracked seems like the obvious thing for Felix to do, given the fact that he's entering the ice-cold room alone and needs to guarantee that he can make a quick getaway. Plus, he's relying on Huck to save him even after she infamously tried to kill him in Season 1 of "The Walking Dead: World Beyond." 
u/Huge_Assistance_9986 sarcastically replied to their fellow Redditor's question, saying that Felix propping the freezer door open "would have made too much sense" — making an obvious reference to the show's oft-confusing moments. Elsewhere, another Reddit user joked, "Because he was too busy thinking of more mean things to say to Huck even when she's helping him lol." 
Despite their tumultuous history, Huck does return in the episode to save a frostbitten Felix and even pledges her allegiance to him. Of course, that doesn't necessarily mean that Huck won't ever betray Felix in the future. She's played both sides before, as "World Beyond" viewers know all too well.