The Office Scene That Made The Actors Laugh So Hard They Had To Stop Filming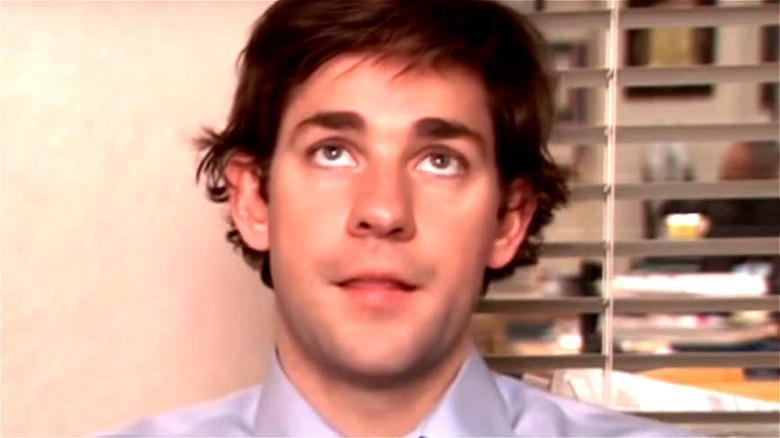 NBC
NBC's "The Office" is notorious for arguably being one of the funniest shows to ever air on television. During its nine-season run, the mockumentary comedy often managed to toe the line between crass and witty, offensive and hilarious, and it provided viewers with a delicate blend of comedy that created some of the most memorable laugh-out-loud moments in television history.
Some of the scenes we saw on "The Office" were actually so funny that actors would simply burst out into laughter at just how absurd their lines were. If you haven't jumped down the YouTube rabbit hole of watching bloopers from "The Office," this is your official sign to go do so. Watching Steve Carrell and friends laugh so hard they cry makes it seem like a miracle they got through any scenes at all, and it's almost impossible not to laugh alongside them.
While these blooper reels are fantastic viewing for fans, sometimes those moments where actors broke presented a real problem with the entire production. How can you film a show when none of the actors can actually say their lines? In a recent episode of the "Office Ladies" podcast, hosts Jenna Fischer and Angela Kinsey (who played Pam Beesly and Angela Martin, respectively, for all nine seasons) revealed that the cast broke so often during the Season 5 episode "Lecture Circuit: Part 1" (via IMDb) that production had to halt filming.
Jim and Dwight's party planning efforts go awry
In Season 5's "Lecture Circuit: Part 1," the episode's B-plot sees Jim (John Krasinski) and Dwight (Rainn Wilson) take over the Party Planning Committee. However, the pair accidentally forget to plan Kelly's (Mindy Kaling) birthday, leading to some hasty preparations. "Office Ladies" co-host Angela Kinsey said that filming the scenes between the three of them was hard enough, as Kaling constantly made Krasinski and Wilson break with her passive-aggressive line delivery. However, everything broke down when Jim and Dwight moved to the conference room to set up for Kelly's party.
In the scene (via YouTube), Dwight has decorated the conference room with an assortment of halfhearted decorations that more or less give off a "we totally forgot" vibe. There are half-inflated grey and brown balloons scattered all over the place, white streamers taped to the ceiling, and a sign that bluntly states "IT IS YOUR BIRTHDAY" on the wall. According to Kinsey, observing the decorations in the room and trying to process them was simply too much for Wilson and Krasinski. "So I watched these two grown men disintegrate into tears of laughter. I don't know how we got any useable footage," she said. "They laughed so hard, we had to pause."
Kinsey went on to explain that the two literally just could not stop laughing, and the production was put on hold for 20 minutes while the actors pulled themselves together. "The Office" fans should certainly keep an eye out for this scene on their next rewatch; maybe you'll catch a little smirk or smile here or there.