Jamie Clayton Shares A Behind-The-Scenes Look At The Process Of Transforming Into Pinhead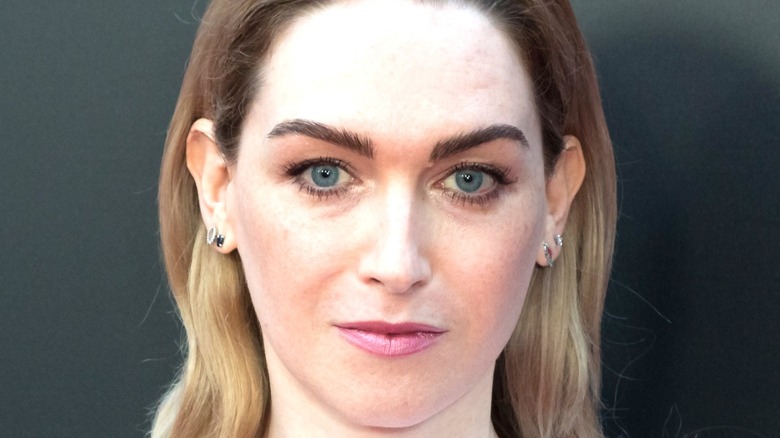 Greg Doherty/Getty
Pinhead, one of the most recognizable horror antagonists, is getting a makeover (via Entertainment Weekly). It won't be as glamorous as Gottmik's "Hellraiser"-inspired look on "RuPaul's Drag Race" — which landed the contestant an audition for the upcoming film — or as outrageous as the Cenobite challenge on "The Boulet Brothers' Dragula," but it will be groundbreaking.
Jamie Clayton, a transgender actress, will be the first woman to don the demonic white face filled with nails in the latest "Hellraiser" film. The sadistic Cenobite leader was portrayed by Doug Bradley in the first eight films, followed by Stephan Smith Collins and Fred Tatasciore in "Hellraiser: Revelations" and Paul T. Taylor in "Hellraiser: Judgment." The upcoming reboot of the supernatural horror franchise is based on Clive Barker's novella "The Hellbound Heart" and will honor the 1987 "Hellraiser" film. While little has been revealed about the project, Clayton recently shared a behind-the-scenes look at her Pinhead transformation to Instagram.
Becoming Pinhead is a time-consuming process
To tease what's to come with her "Hellraiser" transformation, Jamie Clayton posted a time-lapse from July 2021 that shows part of the SFX makeup process. Wearing a garbage bag, the actress patiently sits still as three artists make a mold of her face and shoulders. Fittingly, the time-lapse speeds through 34 minutes of the intensive horror makeover while set to Kim Petras' spooky "Boo! B****!" While it doesn't reveal what the latest iteration of Pinhead will look like, it offers a glimpse at how much work is going into the character's appearance.
Clive Barker, who isn't afraid to say how he feels about the franchise, is looking forward to the reboot. "Having seen some of the designs from David Bruckner's new 'Hellraiser' film, they pay homage to what the first film created, but then take it to places it's never been before," he told The Hollywood Reporter. "This is a 'Hellraiser' on a scale that I simply didn't expect."
"Hellraiser" will be streaming exclusively on Hulu in 2022.