Watch The Trailer For Jane Campion's The Power Of The Dog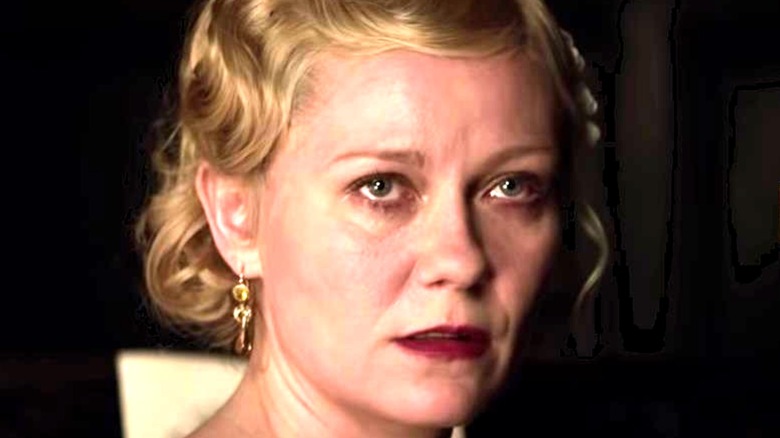 Netflix
Influential director Jane Campion's "The Power of the Dog" is one of the buzziest movies coming out this fall. The awards prognosticators at Gold Derby are practically guaranteeing an Academy Award for Best Picture nomination for the Western drama, and it stands a pretty good chance of winning it all. You can get a sense of what all the fuss is about thanks to the new trailer for the film, which was just released.
The trailer for "The Power of the Dog" features beautiful cinematography of plains and mountains, people pining for love, and many shots of Benedict Cumberbatch glowering. It doesn't really have any dogs, unless the dogs are cows, as in "get along little doggie." There are a whole lot of cows.
Here's the synopsis for the film, via Netflix: "Charismatic rancher Phil Burbank inspires fear and awe in those around him. When his brother brings home a new wife and her son, Phil torments them until he finds himself exposed to the possibility of love."
The Power of the Dog is a serious Oscar contender
The film comes from writer-director Jane Campion, who adapted the 1967 novel of the same name by Thomas Savage. Campion was the second woman ever nominated for Best Director, for her 1993 film "The Piano." Campion won the Oscar for Best Original Screenplay for her script. She will almost certainly get Director and Adapted Screenplay nominations at the upcoming Academy Awards for "The Power of the Dog," her first film since 2009's "Bright Star."
Other likely nominees include Benedict Cumberbatch, who gives what critics are calling a career-best performance as Phil Burbank; Kirsten Dunst for Best Supporting Actress for her performance as Rose Gordon, Burbank's sister-in-law; Kodi Smit-McPhee for Best Supporting Actor for his performance as Peter Gordon, Rose's son; Best Cinematography for Ari Wegner; Best Film Editing for Peter Sciberras; and Best Original Score for Jonny Greenwood.
"The Power of the Dog" will be available to stream on Netflix starting December 1.