Watch A New Trailer For Netflix's A Castle For Christmas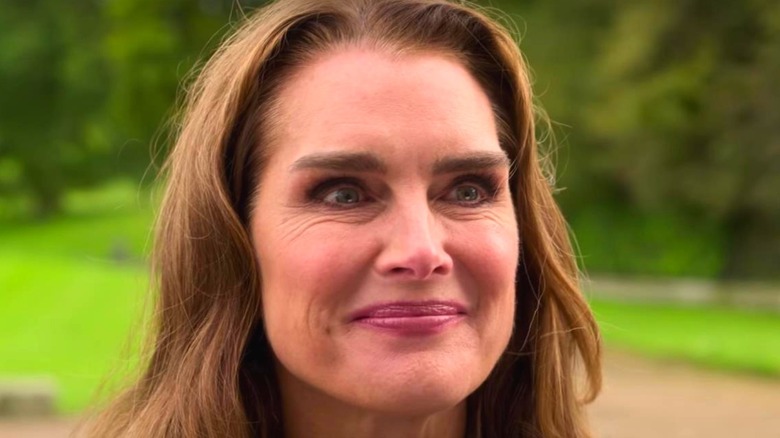 Netflix/YouTube
Innovation can be a wonderful thing but sometimes it feels great to embrace formulas. Holiday rom-coms have a long history of delivering reliably cozy vibes and Netflix looks to be following in that fine tradition with their upcoming "A Castle for Christmas."
Our plucky heroine for this holiday outing is Sophie (Brooke Shields), a wildly successful novelist whose latest book causes a scandal she's unsure if she can come back from. Looking to escape, Sophie travels to Scotland to visit a castle to which she has an ancestral connection. It's there that she gets the opportunity for a major reinvention. The castle is for sale, with one big catch: until escrow closes, she'll have to cohabitate with the castle's current owner, the prickly Myles (Cary Elwes of "The Princess Bride" fame), who is secretly plotting to be so horrible that it drives Sophie away. Will Myles succeed and send Sophie running back to America, or will the warmth of the holiday season bring this unlikely couple together?
In anticipation of the film's November 26 release, Netflix has dropped a trailer to give viewers a tease of this sweet holiday treat.
Check out the delightful trailer for A Castle for Christmas
In the trailer for "A Castle for Christmas" we get it all, and by "all" we mean what appears to be most of the setup and major plot points. Things begin with Sophie stumbling into a professional crisis, deciding to run away from her problems to Scotland, and buying the castle of her dreams. From there, she meets Myles and begins the "they can't stand each other, but there's obviously an attraction" dance. It's all pretty standard stuff but then again, that is what viewers are tuning in for.
What sells "A Castle for Christmas" and any good holiday rom-com worth its mistletoe are the details. In the case of "A Castle For Christmas," not only do we have a perfect storybook setting in the form of a wintery Scottish castle, but also two charismatic leads in Shields and Elwes. Both veteran actors appear to be fully committed to the project which should mean that sparks will be flying all over their shared castle home.
You'll be able to get cozy with "A Castle for Christmas" when the film drops on Netflix on November 26.