Why Tennessee From Alien: Covenant Looks So Familiar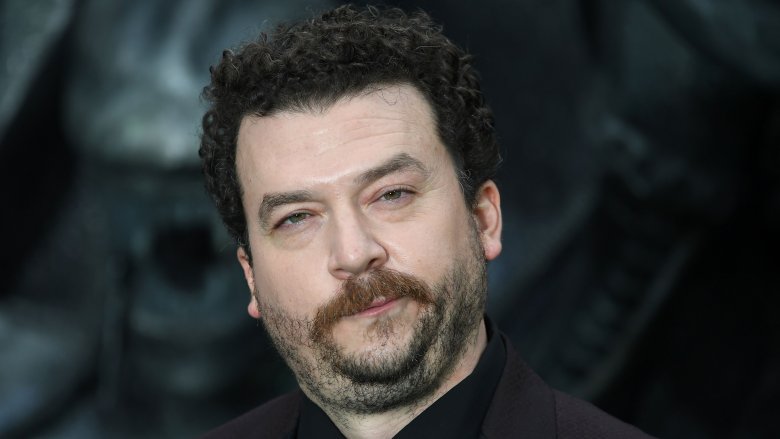 Getty Images
Alien: Covenant, the sixth entry in the Alien franchise, centers on the crew of the spaceship Covenant, a craft operated by a cowboy hat-wearing pilot who goes by Tennessee. The role marks one of the first forays into dramatic acting and science fiction for Danny McBride, an actor who's carved out a niche for himself in edgy comedies—generally playing a gross, overly confident guy. You may not know exactly where, but you've likely seen McBride before—perhaps in one of the many films or TV shows we've rounded up here.
The Foot Fist Way (2006)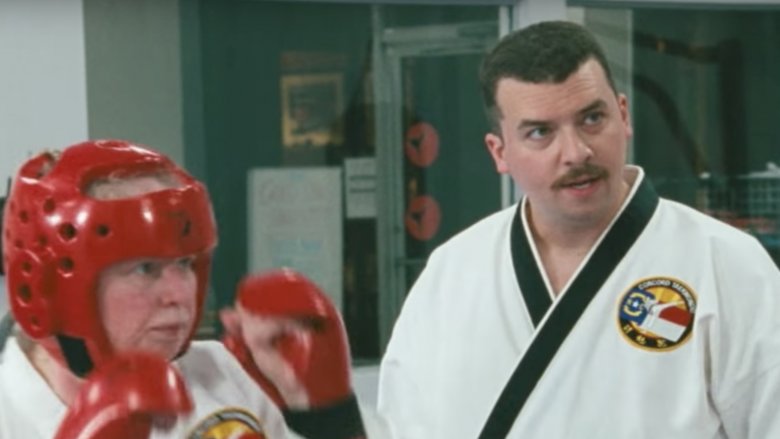 The low-budget independent comedy The Foot Fist Way offered McBride—who co-wrote the script with his friends and collaborators Jody Hill and Ben Best—his first high-profile role as Fred Simmons, a cocky tae kwon do black belt who runs a small dojo in a sleepy North Carolina town. He starts to unravel when he finds out his wife is cheating on him, and he sells his Ferrari to pay for drunken B-movie star Chuck "The Truck" Wallace to appear at his fifth-degree black belt test. Instead, Chuck sleeps with Fred's wife, and destroys Fred when he challenges him to a fight. It's a dark comedy about a mediocre man deluded into believing he's something bigger and better, in the style of Anchorman or Talladega Nights. In fact, the creative team behind those movies, Will Ferrell and Adam McKay, bought the distribution rights to The Foot Fist Way after it screened at the Sundance Film Festival.
Superbad (2007)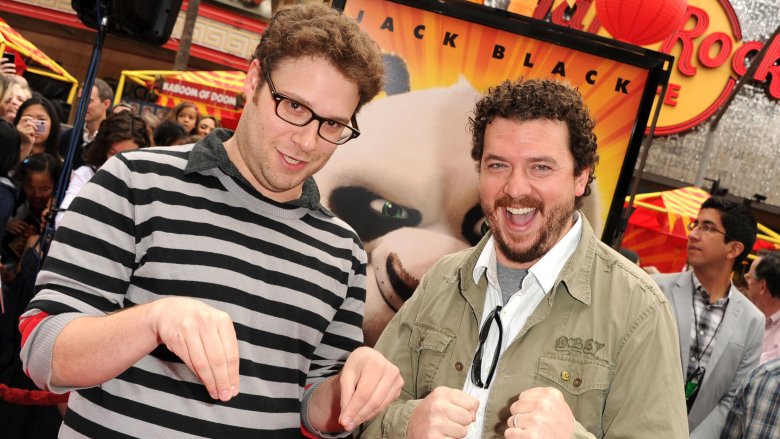 Getty Images
Seth Rogen must have liked The Foot Fist Way, because he invited the film's writer-director, Jody Hill, to come visit the set of Knocked Up. They hit it off, and soon Hill's crew—including Danny McBride—was collaborating with Rogen's gang of frequent costars and his writing partner Evan Goldberg. The first fruits of that team-up came in the form of small roles for Best and McBride in Rogen and Goldberg's autobiographical teen comedy Superbad: Best plays the guy in the house party scene who notices a certain stain on Jonah Hill's jeans, while McBride can be seen drinking and talking in the background.
Pineapple Express (2008)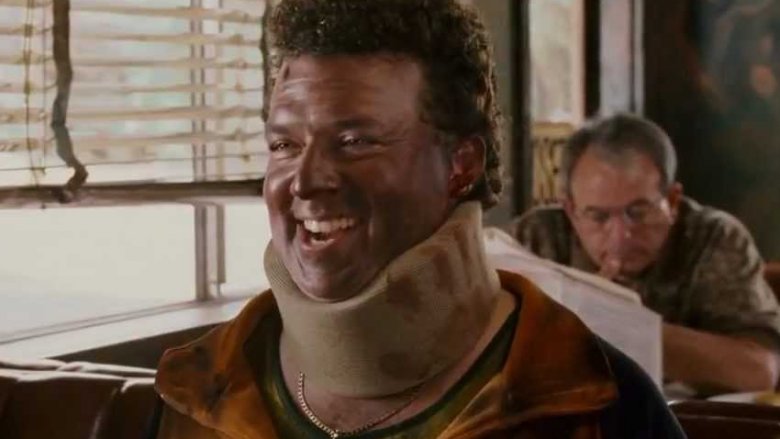 The year after casting him in Superbad, Rogen gave McBride a much bigger role in another film he co-wrote. The stoner action-comedy Pineapple Express introduced him to mainstream audiences as Red, the dumb but loyal marijuana dealer who delivers one of the movie's most memorable lines. After saving his friends from getting shot by the villain (Craig Robinson) by running him over with his car, a shotgun-toting Red quips, "You just got killed by a Daewoo Lanos, [expletive]. How you like me now?" Another movie business connection: Pineapple Express was the first big-budget studio movie directed by indie filmmaker David Gordon Green, who in 2003 helmed the mellow indie drama All the Real Girls. Co-starring in that movie as a rowdy, small-town dude named Bust-Ass: Danny McBride.
Tropic Thunder (2008)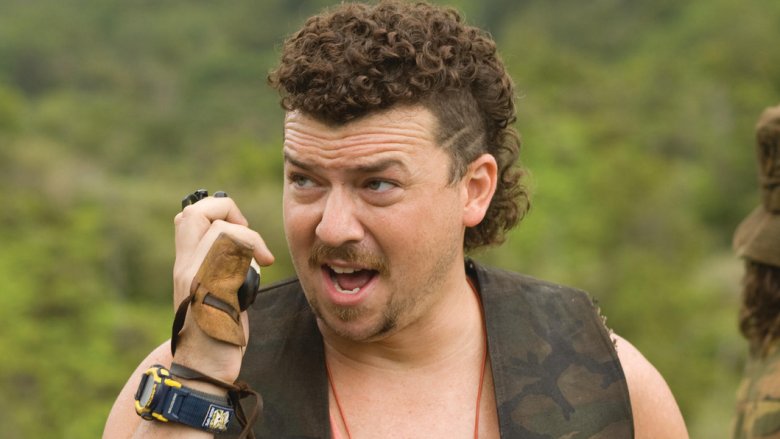 McBride makes his presence felt in Ben Stiller's Hollywood satire early on. While a quartet of spoiled actors are filming a Vietnam War movie, it's McBride's character, special effects guy Cody, who's responsible for making the film look as true-to-life as possible. McBride is all macho whoops and hollers as he orders planes to drop explosives and pyrotechnics to go off—a small role, but not a bad one. Who wouldn't want to get paid to set off fireworks and yell about it?
Observe and Report (2009)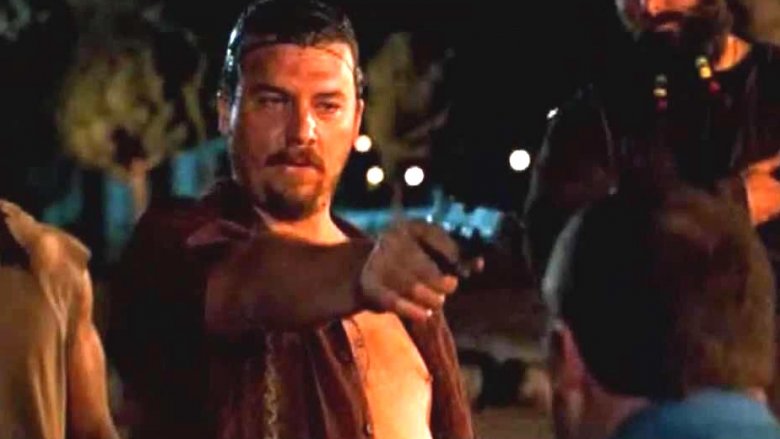 McBride's crew repaid the favor to Rogen's crew with 2010's Observe and Report, casting Rogen in the lead role of Ronnie, a bipolar, far-too-enthusiastic mall security guard who desperately wants to be a police officer. McBride only has a cameo in the dark comedy, written and directed by Jody Hill, but it's a memorable one. Billed as "Caucasian Crackhead," McBride plays a sweaty, unhinged, lisping drug dealer who nearly makes Rogen's character taste the barrel of a gun...until Ronnie whips out a nightstick and lays waste to him and his cronies.
Land of the Lost (2009)
Getty Images
Land of the Lost was a comic, more adult-oriented take on the classic cheesy '70s Saturday morning cartoon show about scientist Dr. Rick Marshall and his kids, Will and Holly, who are accidentally transported to a prehistoric dimension full of monsters. In the film, Will and Holly are adults—McBride plays Will Stanton, the guy who runs the gift shop at the cave where Dr. Marshall (Will Ferrell) thinks there might be a time warp (correctly, as it happens). While Land of the Lost was a Razzie-nominated commercial disaster, it didn't seem to slow McBride's momentum.
Eastbound and Down (2009)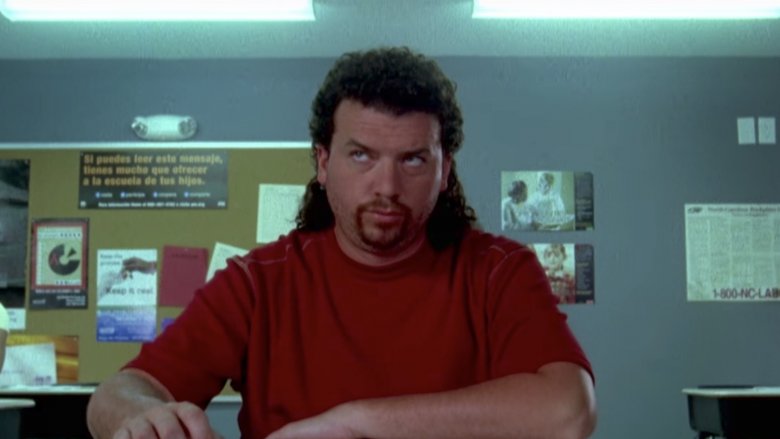 McBride, who co-created, gives a bravura performance in this dark HBO comedy series, which tells the redemption story of a man who doesn't deserve to be redeemed and does very little to redeem himself.
McBride portrays a disgraced former Major League Baseball pitcher named Kenny Powers, out of the game due to his temper, racist statements, and drug use. Kenny has little choice but to return to his North Carolina hometown, move in with his brother (John Hawkes) and his family, and take a job as a gym teacher at the high school where his former flame April (Katy Mixon) teaches and is engaged to the nerdy principal (Andy Daly). Kenny naturally self-sabotages every good thing he gets going; as the series goes on, his grating personality and poor decision-making sees him bungling a list of dwindling opportunities that includes playing baseball in Mexico and hosting a sports talk TV show.
Your Highness (2010)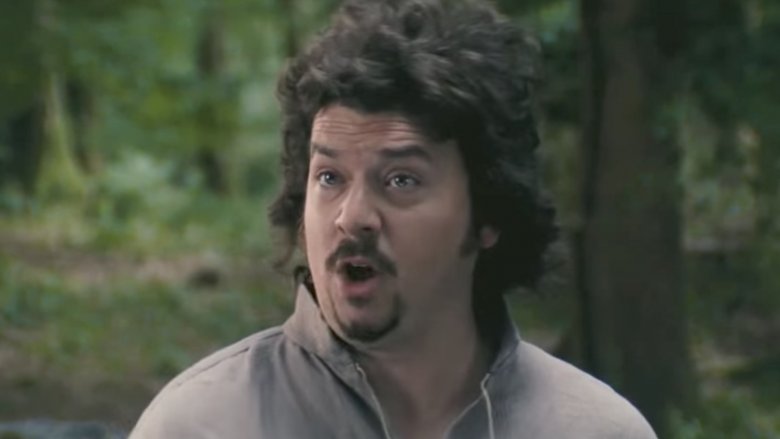 McBride and Best co-wrote this silly movie, which stars McBride and James Franco as a pair of princes and blends one part medieval adventure, one part mystical fantasy, and one part extremely profane stoner comedy. Fabious (Franco) is a brave warrior; Thadeous (McBride) is entitled, lazy, and rude. But they must team up on a mighty quest to rescue Fabious's true love Belladonna (Zooey Deschanel) from an evil wizard (Justin Theroux) who wants to fulfill a prophecy that involves impregnating Belladonna with a dragon which will grant him evil powers. There are also mechanical birds, eunuchs, swords, impalements, castrated beasts, and all other kinds of fun, ridiculous stuff.
Voice acting (2010 to present)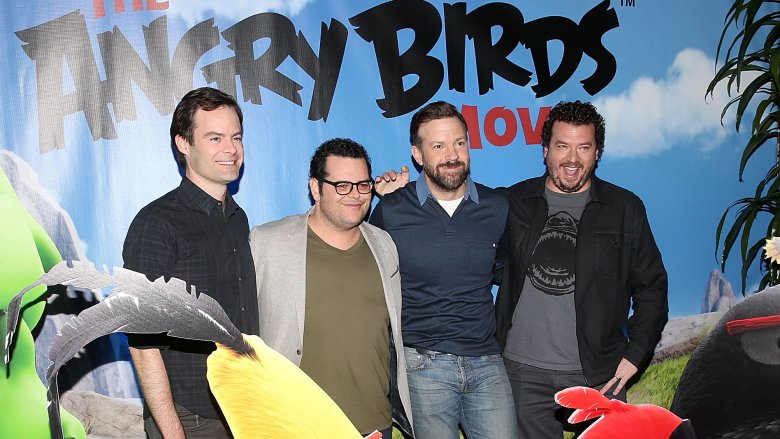 Getty Images
McBride might be just as well-known for his voice work as he is for his live-action roles. His crisp Southern twang, delivered in his rapid-fire diction, has put him in-demand in the vocal booth, and in between writing and starring in TV shows and movies, he frequently performs in animated projects and video games.
On Chozen, FX's animated series about a just out-of-prison openly gay rapper, McBride voiced Jimmy, a roadie-turned maker of creepy internet videos who's part of Chozen's posse. (McBride was also an executive producer on the series.) He had a pivotal role in Sausage Party as the suicidal bottle of honey mustard who tells all the other grocery store food the horrible truth that they're all going to be eaten, and he also played Bomb, one of the main angry birds in The Angry Birds Movie. Other notable voice roles include Gru's next door neighbor in Despicable Me and the host of a talk show called Beyond Insemination on one of the in-game radio stations in the video game Grand Theft Auto V.
Vice Principals (2016)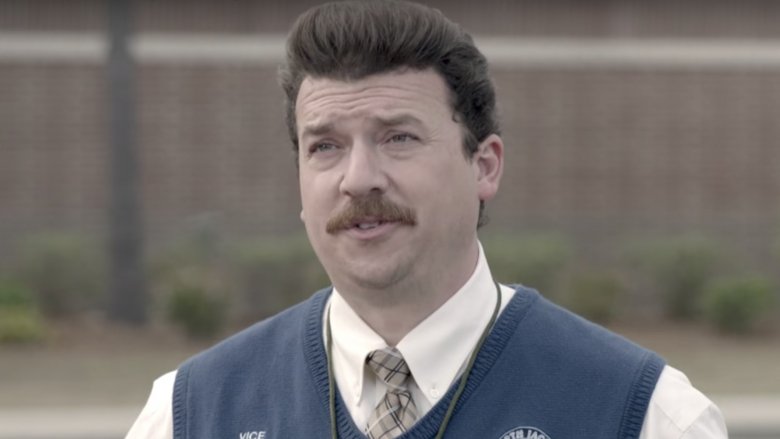 In 2016, McBride once more co-created and headlined the cast of a dark HBO comedy series set in a school: Vice Principals, in which he plays Neil Gamby, a divorced, cash-strapped high school vice principal who doesn't get much respect from his family or his students.
When the principal (Bill Murray) retires, Neil thinks he's a lock for the job, but the principal trusts neither Neil nor the other VP, the manipulative Lee Russell (Walton Goggins), and brings in a college professor named Dr. Belinda Brown (Kimberly Hebert Gregory). Mortal enemies Neil and Lee team up to drive Dr. Brown away, but their mutual mistrust—and generally poor impulse control—undermine their mission along the way. The show wasn't a huge hit with critics, but earned renewal for a second (and final) season set to debut in the fall of 2017.