The Real Reason Billy Crystal Turned Down Voicing Buzz Lightyear In Toy Story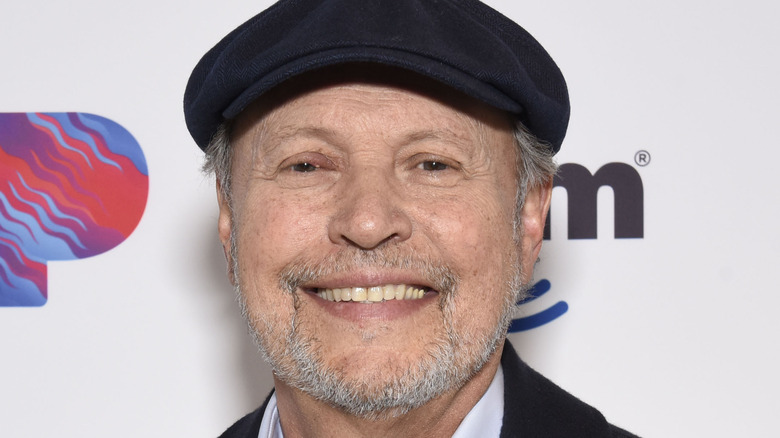 Vivien Killilea/Getty Images
It's hard to argue that comedic actor and director Billy Crystal is one of Hollywood's most valued treasures. Crystal started his career as a stand-up comic, and those skills served him well as the quick-thinking host of nine Oscar celebrations (via People). He's also a seasoned storyteller, as he emotionally recounted growing up in Long Beach, New York, and losing his father as a teen, in the Broadway smash "700 Sundays."
On TV, Crystal blazed trails early in his career with roles on series like the classic sitcom "Soap" in the late 1970s, and went on to join the likes of Christopher Guest, Martin Short, and Harry Shearer for the celebrated 1984-85 season of "Saturday Night Live." Arguably Crystal's biggest impact has come on film, first when he starred opposite Meg Ryan in director Rob Reiner and screenwriter Nora Ephron's definitive romantic comedy, "When Harry Met Sally..." in 1989. After that, he starred opposite the legendary Jack Palance in two "City Slickers" movies in the 1990s.
Yet for all of Crystal's success, he admits that he's had some regrets in his career. It's hard to believe, considering that on top of all of his achievements, he earned a whole new generation of fans voicing the lovable one-eyed green monster Mike in the "Monsters, Inc." movies. Ironically, Crystal recently revealed that he took on that iconic role because he wasn't about to make a mistake twice when it came to signing on to a Pixar production.
Billy Crystal simply didn't think he was the right voice for the toy astronaut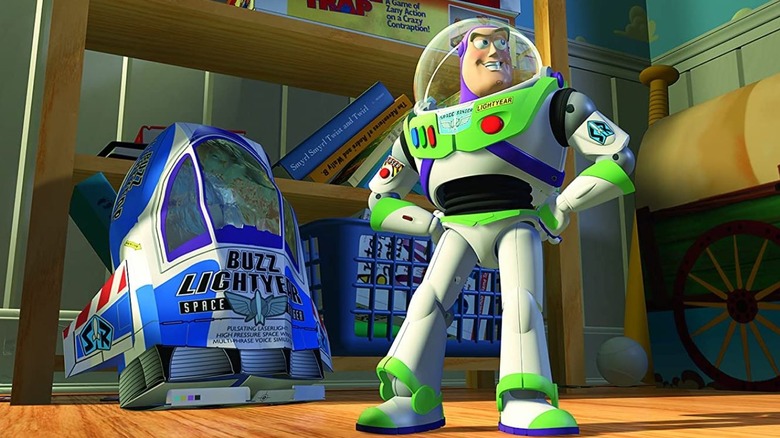 Disney/Pixar
In an interview with Yahoo to commemorate the 20th anniversary of the November 2, 2001, release of "Monsters, Inc.," Crystal said he didn't go to infinity and beyond to do the voice role of Buzz Lightyear for Pixar's first computer-animated feature, "Toy Story," for one simple reason. "At the time, it wasn't because of any work — it was something else. I didn't think I was the right voice for that [character]," Crystal told Yahoo! "And Tim Allen is great. He has this resonant, big voice of this character who's full of himself."
Directed by John Lasseter, "Toy Story" — which was released in 1995 — featured the adventures of a young's boy's action figures and other toys that came to life when no humans were around. Tom Hanks, of course, voiced the cowboy Woody, while Tim Allen assumed the role of Buzz Lightyear. The film was not only a box office bonanza with a worldwide take of $394.4 million in worldwide ticket sales (via Box Office Mojo), it also earned Lasseter a Special Achievement Academy Award (via Oscars).
John Lasseter used dialogue from a Billy Crystal classic for a 'screen test' of Buzz Lightyear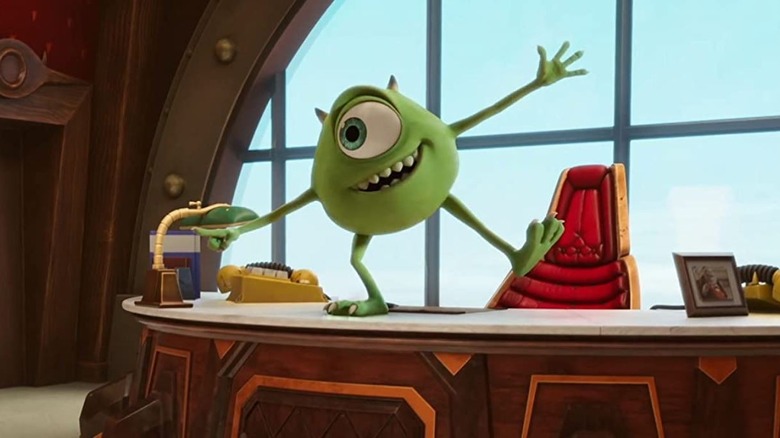 Disney+/Pixar
Apparently, Lasseter was pretty serious about getting Billy Crystal to voice Buzz Lightyear, and according to Yahoo, he assembled a "screen test" that featured Crystal's voice matched to the animated space cadet. It didn't consist of any original dialogue, though, but rather a clip from a scene from Crystal's beloved romantic comedy where he interacts with his co-stars Ryan, Carrie Fisher, and Bruno Kirby. After watching the clip, Crystal realized how he dropped the ball by not taking the role.
"They took dialogue from a scene in 'When Harry Met Sally' when I get mad at all of them ... [and I say] 'Someday you'll go 15 rounds over who is going to get this stupid wagon-wheel coffee table," Crystal told Yahoo! "So it's Buzz Lightyear doing those lines, and then at the 'stupid wagon-wheel coffee table' it cut wide and little Buzz is standing under a big stupid wagon wheel coffee table. And then when he goes, 'I was being nice,' the visor from his helmet closed. I went, 'You know what? I was wrong.'"
As we know, Allen turned Buzz Lightyear into a movie icon with three more "Toy Story" films after the original, which opened the space hatch to a new spinoff film about the real Buzz in "Lightyear," starring the voice of Chris Evans.
And while Crystal admitted to Yahoo that he's "the schmuck who turned down 'Toy Story,'" he did end up blessing the movie world along with co-star John Goodman (as the voice of the blue-haired beast Sully) in "Monsters, Inc.," its sequel "Monsters University," and the Disney+ series "Monsters at Work."