What Really Happened To Suni Lee On Dancing With The Stars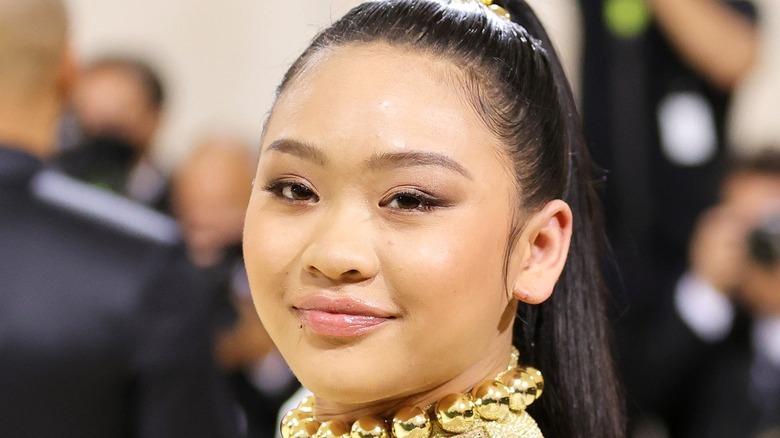 Mike Coppola/Getty
Olympic gymnast Suni Lee has been a front-runner throughout Season 30 of "Dancing with the Stars." She's currently seventh place on the show's leaderboard (per Newsweek) and has survived seven weeks of competition at press time. When she rushed offstage after dancing the paso doble to Queen's "We Will Rock You" during the program's November 1 episode (via YouTube), fans were both confused about her exit and expressed concerns about her health. 
Per ABC Dallas affiliate WFAA, "DWTS" host Tyra Banks tried to reassure viewers at home about Lee's abrupt exit. "Suni is not feeling so good," she stated after the gold medalist left her partner Sasha Farber alone on stage to accept their score from the program's four judges. "Not [COVID-19]. Not COVID at all, but she's not feeling well. So she danced sick, and she had to leave, but she's okay."
So, what forced Lee off the stage on Monday night? Here's what we know so far.
Suni Lee tweeted she wasn't feeling well before performing
Even before appearing on Tuesday night's new "Dancing with the Stars" episode, contestant Suni Lee tweeted to her followers that she was feeling unwell. "Hey, guys! Not feeling my best tonight, but I will still be dancing for Queen night! Make sure you guys vote for me and Sash! Each week is getting scarier & intense!! Love you all," she wrote.
A post-dance interview with host Tyra Banks later clarified the matter even more. "I know you've been struggling all day and, like, dude is like, you're throwing up. This is live TV, and you ran off!" Banks said, per Yahoo! News. Twitter posters later chastised Banks for making Lee's private matters public, with users such as @NoAlmonds declaring, "Tyra should be fired for putting Suni on the spot. She should know better."
Fortunately, Lee's illness didn't prevent her from advancing in the competition or participating in the episode's group dance. After receiving a combined total of 33 points out of 40 for their paso doble, Sasha Farber and Lee danced to "We Are the Champions" as part of a team relay event. Their work earned them one extra point, and it was enough to keep them from elimination when the audience vote was added to their score.