We Finally Have A Trailer For Money Heist Part 5 Vol.2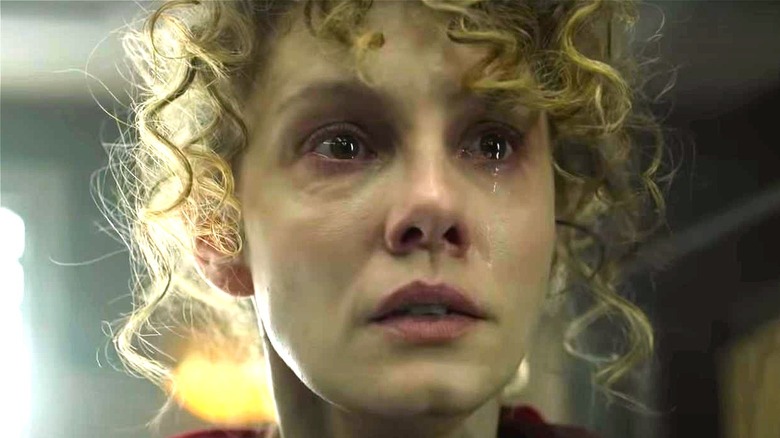 Netflix
In recent weeks, "Squid Game" fandom has taken Netflix by storm achieving record-breaking watch statistics. The Korean show's success likely owes a great debt to "Money Heist," however, the show that really proved Netflix's experiment with international dubs. Both shows were sleeper hits from oversees, with "Squid Game" centering around a violent version of South Korean children's games. "Money Heist" is definitely also up front with its violence, action, and social commentary about topics like capitalism and greed. Both shows proved that a mainstream U.S. audience will read subtitles or listen to English dubs to watch a good series in a foreign language. But while "Squid Game" is just getting started, "Money Heist" is preparing to say its final farewell. 
Netflix released the first five episodes of the final season of "Money Heist" back in September, leaving fans on some perilous cliffhangers. The Professor (Álvaro Morte) and his gang of Dali-masked criminals are doing their best to successfully escape the Bank of Spain with all its gold, but as we learned in the Season 5 Part 1 finale, no one is safe, as the heist reaches a new level of violence, thanks to the infiltration of the army.
The Professor takes the Money Heist finale into his own hands
Netflix released a trailer for the final five episodes of "Money Heist," and it's an emotional rollercoaster. The first half of the season was all about the action, with no shortage of explosives and weapons on both sides. But since Tokyo (Úrsula Corberó) sacrificed herself to kill Gandia (José Manuel Poga) in the bank, the remaining group isn ow mourning the loss of their de facto ground leader. Needless to say, the death of the often unreliable narrator was not part of the Professor's plan. 
The trailer shows the group grappling with Tokyo's death. Rio (Miguel Herran) is obviously torn up about losing his lover. Emotions seemingly take the place of action in the finale episodes, even for the always stoic Professor. The trailer shows him driving right up to the Bank of Spain and joining his team on the ground. This could either be the key to succeeding or a grave mistake. While it seems like there's no way for the bank robbers to escape with the gold, they are not afraid to die trying. 
Even though Tokyo is gone, she and her fellow slain co-conspirator, Berlin (Pedro Alonso), appear in flashbacks in the new episodes. The final five episodes of "Money Heist" have countless loose ends to tie up in just a handful of episodes, and after getting the fans so invested, it's clear the viewers expect a satisfying ending. Just ask the "Game of Thrones" fandom how it goes when you break that social compact.