The Real Reason Will Smith's Idea For His King Richard Character Was Shot Down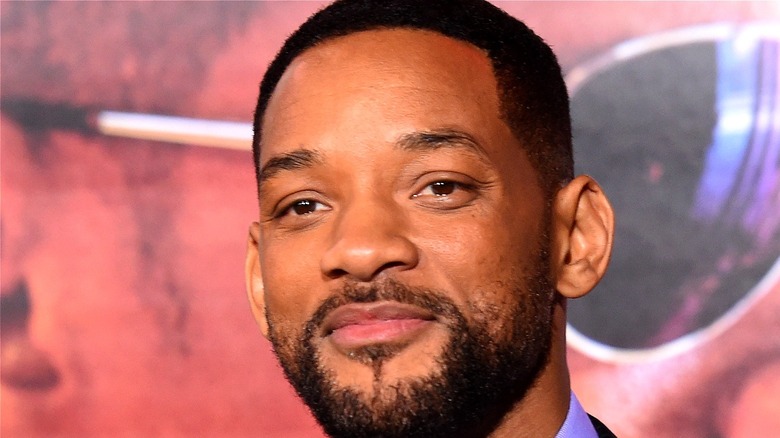 Jason Merritt/term/Getty
Will Smith is taking on a biopic role with the upcoming film, "King Richard," directed by Reinaldo Marcus Green and written by Zach Baylin. "King Richard" follows Richard Williams (Smith), the father and coach of tennis stars Serena and Venus Williams, as he works to raise and train two young and gifted tennis players.
The film premiered at the 48th Telluride Film Festival on September 2, 2021 and will premiere in theaters and on HBO Max on November 19. "King Richard" has already received rave reviews, with Smith's performance especially garnering attention and praise. Kevin Maher of The Times UK wrote, "A towering turn from Will Smith, his best since 'Ali' and one of the year's great screen performances, defines nearly every frame of this film."
According to all of the praise, Smith fully embodies Richard for a powerful performance. But, as it turns out, Smith's performance could have looked a lot different due to an idea that Smith had about his appearance — one that was ultimately shot down.
Smith wanted to incorporate prosthetics
Speaking with Insider, director Reinaldo Marcus Green revealed that Will Smith originally had the idea to transform himself via prosthetics to physically appear extremely similar to his onscreen character, Richard Williams. Green said that, with prosthetics around Smith's nose and cheeks, the likeness was "straight up shocking."
Ultimately, Green decided not to go down the prosthetics route, in which the actor would have been unrecognizable. He explained, "I was like, 'Look, you guys did an incredible job, but I don't want that' ... Will has his acting coach who has been with him for 30 movies, he had a dialect coach so he could speak similar to Richard, we have so much. And it would have been three hours of Will being in the makeup chair every day. Who wants to do that? I looked at Will straight in the eye and said, 'Look, we don't need that.'"
Green further explained that he wanted to find other ways to make Smith look different from himself, without the distraction of the almost identical likeness that prosthetics provide. Instead, the makeup and hair team worked on other ideas, putting grey into Smith's hair and beard. Green said, "We don't need him to look like Will Smith. We need him to sink in and disappear, but that doesn't mean making him look like Richard."