What Happened To Boston Rob From Survivor?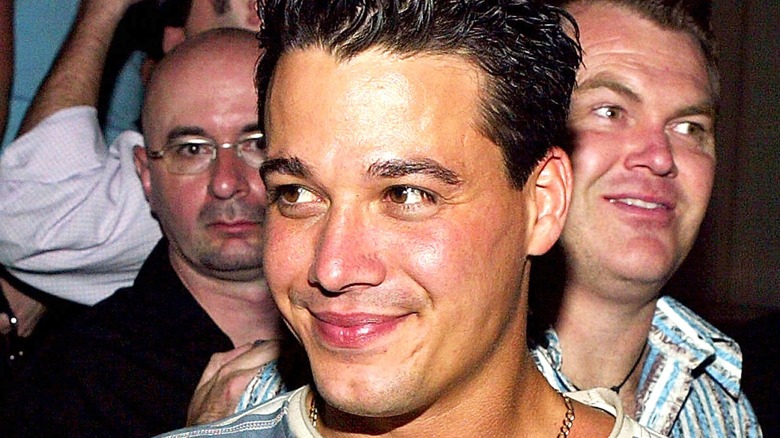 Scott Gries/Getty
We may receive a commission on purchases made from links.
It's hard to believe "Survivor" has been on the air (minus a one-year Covid hiatus) for over two decades, but with Season 41 recently debuting to timeslot-winning ratings (per Deadline), fans are still clamoring for more. Plus, the show gained new fans recently after select seasons came to Netflix, with seasons 20 and 28 hitting the Netflix Top 10 last year (according to Newsweek), and two more classic seasons, 16 and 37, on the way (per TV Guide).
Over the years, "Survivor" has introduced over 600 contestants competing for the $1 million prize ($2 million for the all-winners season) and the title of Sole Survivor, and fans instantly recognize the first names of those in the pantheon of greats — people like Sandra, Cirie, Tony, Ozzy, and Parvati. But one name looms the largest in Survivor lore, and it belongs, fittingly, to the person who has appeared on more seasons than any other: Rob Mariano, known to even the most casual viewers as simply "Boston Rob" (a nickname he originally got from Survivor host Jeff Probst, per Heavy).
Boston Rob has been a part of six seasons of "Survivor," not to mention two of "The Amazing Race," making him a legend in CBS reality history. His supremacy in that universe reached a crescendo when "Survivor" erected a giant statue of him on one of the islands for Season 39. It was quite a journey for a player fans first met back in 2002 when he was just a cocky 25-year-old contender who talked a good game but came up far short of the finish line.
Warning: Spoilers for past seasons of "Survivor" ahead!
Boston Rob's first season on Survivor was not very legendary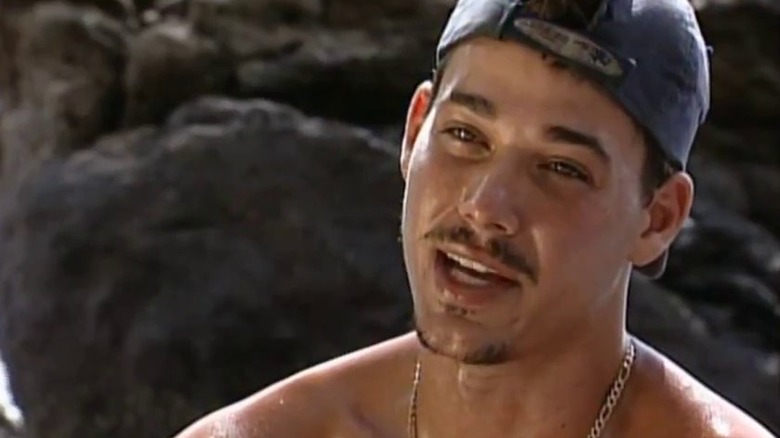 CBS
Indeed, Boston Rob's debut on "Survivor: Marquesas," the show's fourth season, was less than auspicious when it came to success in the game. Rob finished that season in 10th place, just short of making it onto the jury that chooses the game's ultimate winner. Effectively, that also meant that Rob was gone from the show about halfway through the season, because while players who make the jury still get screen time even after they are voted out of the game, the contestants booted before that are, typically, never heard from again after they've been voted off the island.
But Boston Rob was not a typical contestant, and while his game crashed and burned early, he still made a huge impression on the show's fans, thanks to his brash personality, clever confessionals, and his game-changing strategy of voting out the strongest members of his tribe early so that he could be the group's leader. Unfortunately, Rob's style — including some problematic homophobic statements that flew under the cultural radar back in 2002, as pointed out on Reddit — rubbed some contestants the wrong way, and they promptly voted him out as soon as the two tribes merged.
Despite his chaotic gameplay and early removal, Boston Rob remained one of the most memorable players from Season 4, so it was no surprise when he got the call two years later to be among the very first group of players to ever return to the game in the show's eighth season, "Survivor: All-Stars." It was in this "All-Stars" season that Boston Rob's true legend began — and also when Rob's life took a dramatic turn.
Boston Rob became a Survivor superstar during "All-Stars"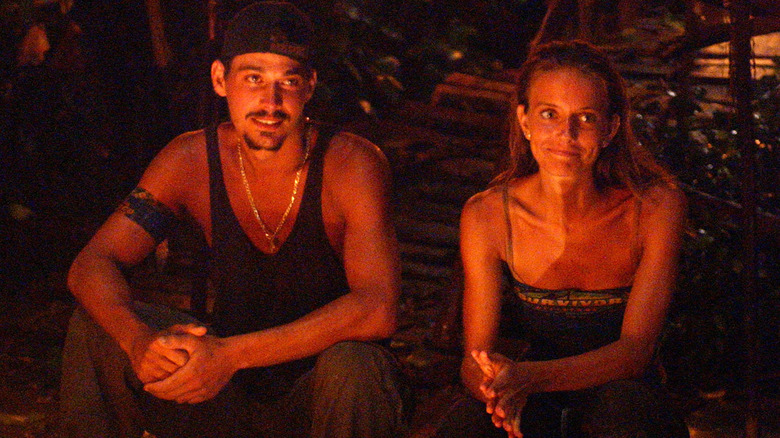 CBS
"Survivor: All-Stars" was the first big TV event of 2004, premiering after the Super Bowl (per Reality TV World) and bringing together some of the show's most memorable and successful contestants for the first time. Boston Rob was one of only two players who did not finish strong on his original season, but he nonetheless dominated the "All-Stars" season, taking out numerous top contenders on his sprint to the end. But he couldn't have done it without joining forces early in the game with his tribemate, Amber Brkich, an alumnus of the show's second season, "Survivor: The Australian Outback."
Rob and Amber formed an alliance in the very first episode of "All-Stars" that continues to this day. Their partnership developed quickly into a flirtation, and the duo soon became a power couple controlling much of the game. Only two years after he flamed out in Marquesas, Rob was able to combine a surprising prowess in challenges with an even more surprising evolution in his strategy, making it all the way to the end of the game with Amber by his side. But with Rob having played the bad cop to Amber's good cop, he alienated too many of his tribemates to bring home the win, losing to Amber by one vote in the Final Tribal Council.
But the story was only beginning there. After watching their romance blossom over the course of the season, fans watched as Rob got down on one knee and proposed marriage to Amber just moments before the final votes were read (as recounted by CBS News). She said yes — guaranteeing them both half of the $1 million winnings, no matter who won. Audiences swooned at the pair's love story, softening Rob's more villainous edges and cementing him as an all-time fan favorite.
Boston Rob and Amber starred in their own series and competed on The Amazing Race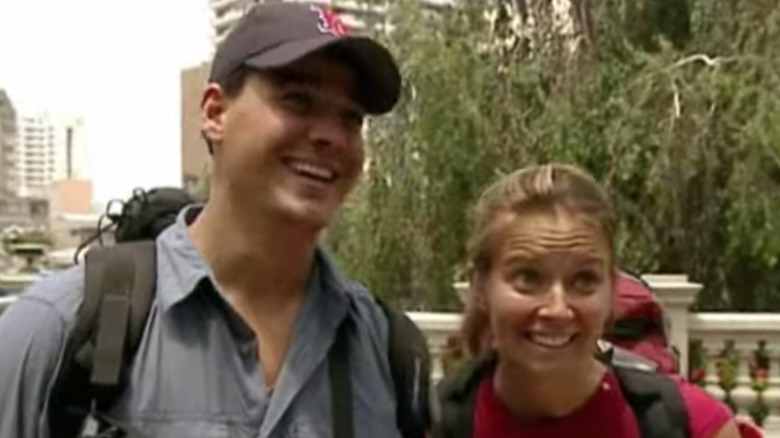 CBS
After "All-Stars," Rob and Amber were so popular that CBS even broadcast their wedding as a primetime special, and the two briefly starred in their own reality series on the now-defunct FOX Reality channel, "Rob and Amber: Against the Odds." More prominently, the then-engaged couple were recruited in 2005 to compete on Season 7 of "The Amazing Race," and Rob brought a new level of strategy and competition to that show, again making it all the way to the end. But Rob and Amber came up just short, landing in second place. It was the second time in a year that Boston Rob had come so close to victory, only to miss the mark again.
The couple, now married, returned two years later for "The Amazing Race: All Stars," where they dominated the first three legs of the race but were eliminated in the fourth. Things settled down a bit after that, and Boston Rob was absent from TV screens for a few years. Rob and Amber started a family — today, they are the parents of four daughters.
But in 2010, he returned to "Survivor" for the show's epic 20th season, "Heroes vs. Villains." Although Rob was placed on the Villains tribe, he played (or at least was edited) more like a hero, battling the even-more-villainous contestant Russell Hantz for supremacy on their tribe. To fans' dismay, Russell won that war, and Rob was once again voted out of the game before the jury phase began. Yet again, Boston Rob — who was becoming the face of "Survivor" — failed to win the game.
Boston Rob's journey finally paid off on Survivor: Redemption Island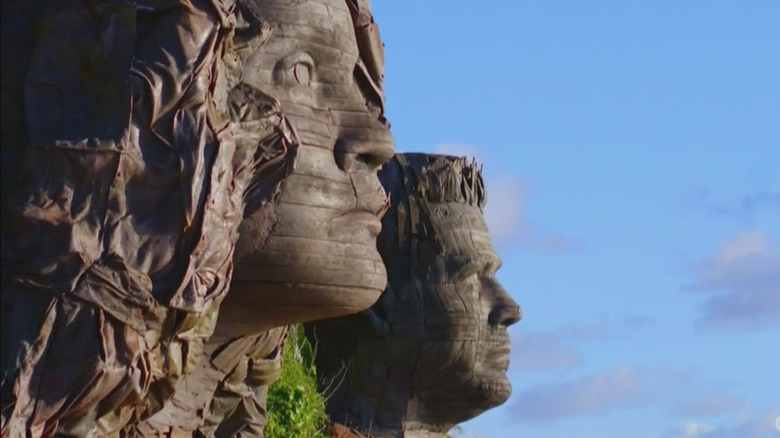 CBS
Yet one year later, CBS attempted to mine the Rob-vs.-Russell conflict by bringing them both back for Season 22, "Survivor: Redemption Island." This time, things played out quite differently. Russell — who by now had played twice before and come tantalizingly close to winning both times — was roundly rejected by his tribe early on, while Boston Rob went on to play one of the most dominating seasons in "Survivor" history. Rob ran circles around his less seasoned tribemates — he won challenges, found the Hidden Immunity Idol, and maintained an iron grip on his tribe, using his "buddy system" strategy to control who talked to whom, who was getting voted out, and who he would take with him to the end of the game. The result: at long last, Boston Rob won "Survivor." 
After his triumph on "Redemption Island," Rob swore he was retiring from the game. He released a book, "The Boston Rob Rulebook: Strategies for Life," to capitalize on his success, but otherwise fans did not hear much from him for a while. 
Then, in 2019, he was lured back to participate in Season 39, "Island of the Idols," not as a player, but as a mentor. Joining his fellow "Survivor" legend Sandra Diaz-Twine (the show's first two-time winner), Rob lived on a special island on which the production erected giant statues of his and Sandra's heads — they were the "idols" that players got to visit to learn about the game and gain advantages. The idea cemented Rob and Sandra as the best of the best who had played "Survivor."
Rob and Amber returned for one more shot in the most epic Survivor season yet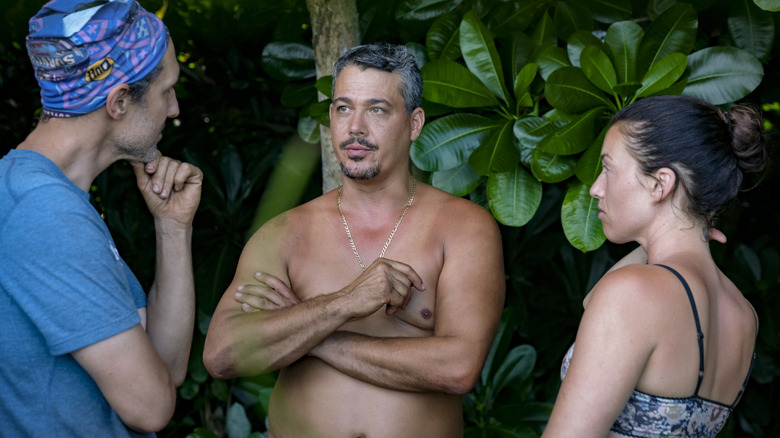 CBS
But there was still one more game left to play. For the show's landmark 40th season, "Survivor" gathered 20 of the show's best winners for an unprecedented battle royale, "Winners at War." This time, fans were happily shocked not only by Rob coming out of a retirement for another bite at the apple, but also his wife and fellow winner Amber returning to the game after a 16 year hiatus. Unfortunately, the powerful duo of Amber and Rob were (correctly) viewed as a major threat by the other players, and both were voted out of the game relatively early.
Still, viewers were treated to a first: on his fifth go-round, Boston Rob finally was a part of the jury choosing the season's winner, and he delivered by setting aside any personal disappointment and advocating for the player he felt played the best game, Tony Vlachos, who became the show's second two-time winner. Yet even though it was Tony and not Rob who joined Sandra in the two-timers club, it could be argued that Boston Rob — who gained love, a family, and fame from his eight seasons on "Survivor" and "The Amazing Race" — is the biggest winner in "Survivor" history.