The Chicago P.D. Actor You Forgot Appeared On Law And Order: SVU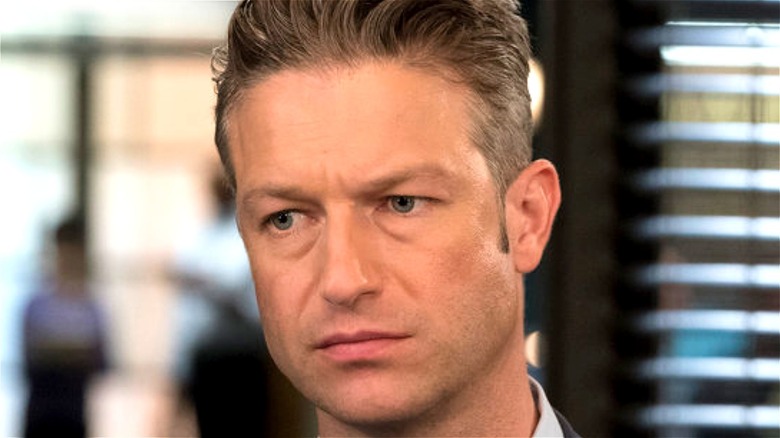 Virginia Sherwood/NBC
Today, the "One Chicago" franchise brings together some of the finest actors working in television to portray the emergency personnel who keep the Windy City safe. One of the shows found within the series is "Chicago P.D.," which follows patrol officers who clean up the streets and respond to any major emergencies going down. One of these officers is young Officer Adam Ruzek (Patrick John Flueger), who's often too overeager for his own good. At the start of the show, he's fresh out of the academy and ready to prove himself to his coworkers. At the beginning of his career, that often caused more problems than it solved, but he's mellowed out a bit in recent seasons.
Flueger has portrayed Adam for well over 150 episodes of "Chicago P.D.," and he's even branched out into other series within the franchise like "Chicago Med" and "Chicago Fire." It'd be easy to think he's grown into the character over the years, but the truth is that he had years of acting experience under his belt before becoming part of "One Chicago." He even had a small role on another show created by TV juggernaut Dick Wolf.
Patrick John Flueger appeared in the 'Families' episode of Law & Order
One of Flueger's earliest roles came in the Season 5 episode, "Families," of "Law & Order: SVU." He plays Aidan, the boyfriend of a murdered girl. Naturally, the team suspects him of the murder initially until DNA evidence proves there's no way he could've been the father of the child the girl was carrying. However, the team isn't ready to stop pursuing Aidan just yet. Things go from bad to worse when Aidan's father also winds up dead, so it would make the most sense for Aidan to be responsible for both the girl's death as well as his own father since he disapproved of the two kids being together.
As with any good "Law & Order: SVU" case, a few more twists and turns take place before they finally catch the perpetrator, who isn't Aidan. Instead, he's left without a family and without the girl he loved, so the cops tell him that all he can do is try to be there for his brother, who's also lost loved ones through this whole ordeal.
With "One Chicago," Flueger has gone from a suspect to a law enforcement official. It's a significant glow-up, and it's proof that it's good to have a firm gig in the Dick Wolf family.