Lucy Lawless Reveals The Reason She Never Chases Sci-Fi Roles - Exclusive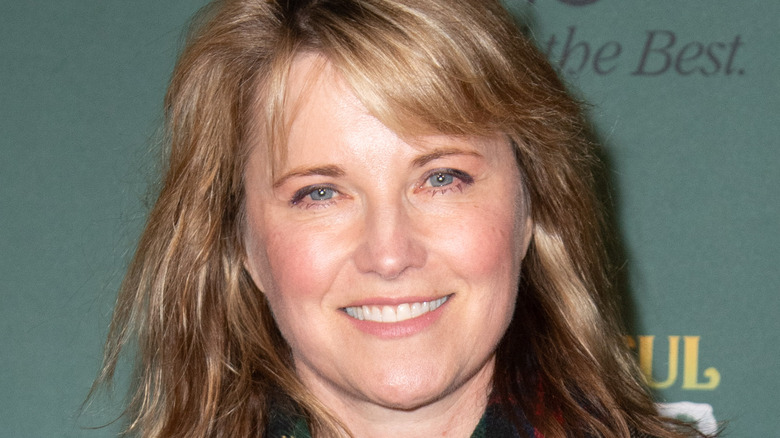 Earl Gibson Iii/Getty Images
While she's acted in various genres in film and television over the years, there's no question that beloved actor Lucy Lawless has a gift for creating memorable characters in the sci-fi and fantasy realm. Whether it be in the titular role of "Xena: Warrior Princess," major turns in "Spartacus" and "Battlestar Galactica" or the lead voice role as a medieval warrior in her latest film — the animated feature "The Spine of Night" — fans can always count on Lawless to rule the screen with her strength, charisma, and physicality.
Lawless's indomitable presence has also served her well in the horror genre. She played the wicked villain Ruby Knowby opposite Bruce Campbell's Ash Williams in the three-season run of the series "Ash vs. Evil Dead." In short, the actor has done nearly everything movie and TV geekdom could hope for, but if you ask her if she'd be interested in taking on a superhero role in the Marvel Cinematic Universe, Lawless, while entertained by the idea, has other acting gigs in mind.
"Can I be Mrs. Thing? Can I be Thing's girlfriend?" Lawless asked, laughing, in an exclusive interview with Looper. "I always liked him as a kid, the rock guy."
In the same breath, though, Lawless revealed her true wish: "No. I'm sorry. Like I said, I'm the wrong person to ask. I'm more like, 'I'd really like to work with Judi Dench.' It's never going to happen," she added, laughing.
While Lawless has her doubts in the Dench department, the door is sure to be open in the coming years for more sci-fi and fantasy. But is she interested?
Lucy Lawless believes her career was fated to intersect with her personal passions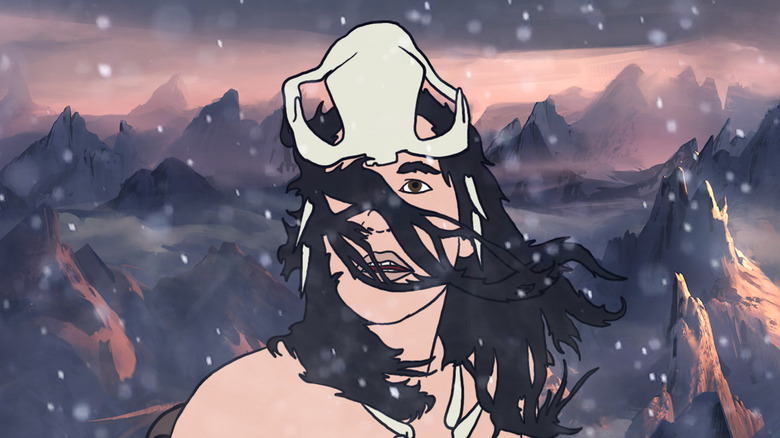 RLJE Films/Yellow Veil Pictures
Breaking down her voice role for "The Spine of Night" for Looper, there's no question that her part of Tzod — a warrior at odds with evil forces over magical blooms she possesses that can make people immortal — echoes past fantasy projects of the actor. And while she's mastered sci-fi and fantasy genres, Lucy Lawless, oddly enough, said she doesn't pursue roles in those sorts of films or television projects. On the contrary, sci-fi and fantasy find her.
"They hunt me down, and they hog-tie me and make me sign the contract," Lawless said, laughing. "No, it's never been my taste. I don't know how this has happened to me. It was never part of the plan, but I feel like I'm on some great river of some destiny that was beyond my imagining. So, here I am doing fantasy and genre stuff. But no, it's just been my ... I don't know. I was just fated to do all this stuff, and it ties up in my real life with my activism for the environment."
So, there's nothing to worry about for fans of Lawless in "Xena" and the like. The actor doesn't regret her sci-fi and fantasy turns; she wholeheartedly embraces them because they have given her a voice to share her passion for caring for the world around us.
"I was in the Amazon three days ago, speaking on behalf of these people who can't get paid for the cleanup of their homeland from the oil company. And I just realized, 'Oh, my God ... Everything I've ever done has come to this moment.' So, yeah, none of it was my planning, but I don't know," Lawless observed. "I feel this is all tied together, and there's environmental themes in 'The Spine of Night,' too. So, I mean, that's what it's all about, actually."
Get ready for even more Lucy Lawless in Minions: The Rise of Gru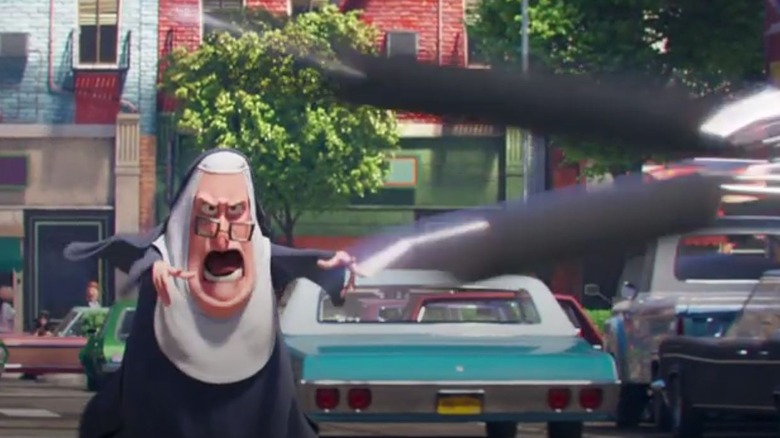 Universal Pictures
"The Spine of Night" isn't Lucy Lawless' only voice role that features the toughness the actor is known for. She's about to become an unlikely ass-kicker with her upcoming voice role of Nunchuck in "Minions: The Rise of Gru."
"She's a nun, but a bad one ... she's got a rough sense of humor and has technical skills," Lawless revealed to Looper. "I don't know what I'm allowed to say because that's been put off for a couple of years. She's in charge of some of the technology, and you'll see what I mean by that ... I am really thrilled."
Better yet, "Minions: Rise of Gru" — which once again stars Steve Carell as the voice of the "Despicable Me" supervillain Gru — also features a couple of action movie icons whom Lawless adores. "The other thing about 'Minions' — apart from what a great franchise it is and what a charming, charming set of characters — but to be working within the same cartoon as Dolph Lundgren and Jean-Claude Van Damme; They're like, for me, a kid from the '80s, it's like, that is super cool. I was like, 'I got to do this,'" Lawless gushed.
"Minions: The Rise of Gru" is set for a summer 2022 release. In the meantime, fans can catch Lawless' "The Spine of Night," which is playing in theaters and is available on digital and video on demand.