Dwayne Johnson Shares New Rampage Set Photos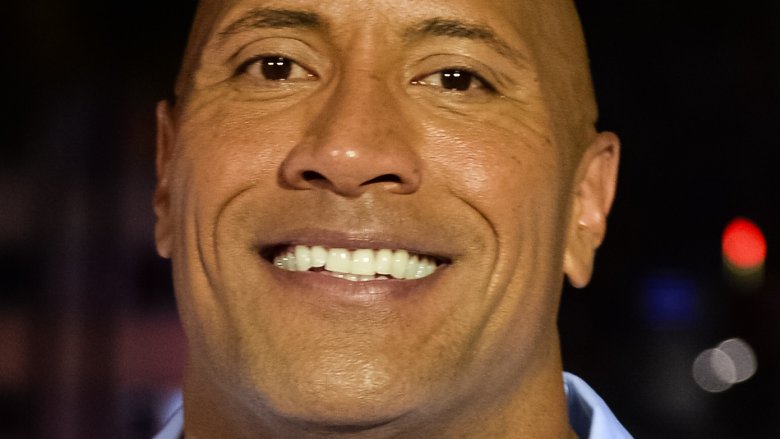 Getty Images
The Rock is certainly cooking up something quite special on the set of his new film Rampage.
Dwayne "The Rock" Johnson took to Instagram to share a pair of behind-the-scenes pictures from the Rampage set. The first features Johnson, who plays David Okoye, a primatologist and head of a Rwandan-based anti-poaching unit, holding a solider in a headlock. This close incited after a tense disagreement. "Enter Sandman," Johnson wrote in the photo's caption. "Before we got to this loving point, I told this very bad man that our current situation wasn't working for me and I'd like to see a peaceful change. He disagreed. Then felt 22 inches of h***. (Or heaven pending your perspective.)"
The second snap shows Johnson and co-star Naomie Harris, who portrays a genetic engineer who partners with Johnson's Okoye, in handcuffs, escorted by a crew of agents from the Department of Homeland Security. Sound intense? Johnson's photo commentary proves it is. According to the actor, the photo was taken in the wee hours of morning (4am to be exact) after Johnson and Harris had filmed all night. Caffeine was Johnson's remedy of choice to help him push through the powerful scene.
"I'm jacked up on caffeine but at least I'm getting in trouble with my partner in crime," Johnson wrote, referencing the "lovely and extremely talented Naomie Harris." Johnson continued, "Now if I can just break these military flex cuffs, I can do some real hero s*** and look cool in front of my leading lady. And by 'look cool,' I mean get my a** handed to me by these armed military boys. We're making a pretty mega monster movie down here. Hard work but a lot of fun."
Johnson flexed more than just his muscles in the photos, ensuring to work his social media prowess by tagging the photos with "#OnSet" and "#RAMPAGE." He also threw in some humorous hashtags with "#AndABadManGoingNightNight" in the first snap, and "#BonnieandClyde" and "#GiveMeMoreCaffeine" in the second.
The "mega monster movie" also stars Malin Akerman, Joe Manganiello, Jeffrey Dean Morgan, Jake Lacy, and Marley Shelton. Rampage is slated for an April 20, 2018 release. To prepare for the upcoming year of films, check out the ones we can't wait to see in 2018.