The Devastating Death Of Star Trek: Deep Space Nine Actress Camille Saviola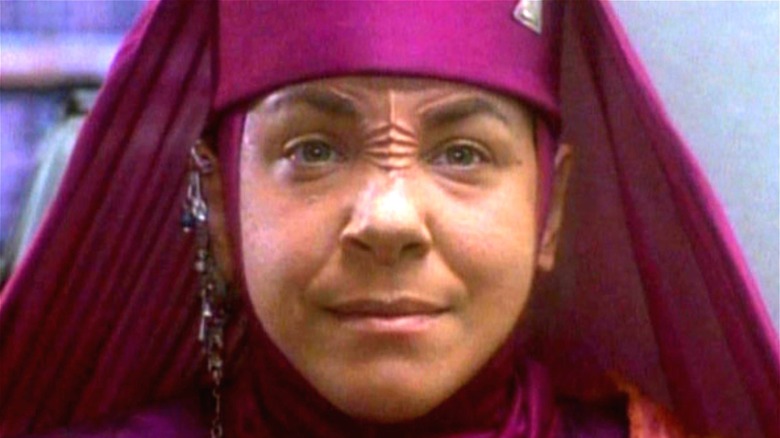 Paramount Domestic Television
Camille Saviola, an actress and singer best known for her role of Kai Opaka on "Star Trek: Deep Space Nine," has died at the age of 71. Details surrounding the stage and television star's death were not immediately known after it came to light from the "Star Trek" website WarpFactorTrek.com.
The Bronx native has worked in the industry since the 1970s, getting her start as the singer of the Margo Lewis Explosion (via Deadline). She'd make her Broadway debut in a 1982 production of "Nine" playing Mama Maddelena (via Playbill). However, her most memorable stage role came in 2003 when she joined the cast of "Chicago" as Matron Mama Morton.
On the television side of things, she was perhaps best known for starring in four episodes of "Star Trek: Deep Space Nine" as Kai Opaka, a spiritual leader of the Bajor community. Her other noteworthy T.V. roles included parts on "E.R.," "Judging Amy," and "Entourage." Upon her passing, numerous people in the entertainment industry voiced their sorrow and reflected on what an immeasurable talent Saviola was.
Camille Saviola's death was mourned by close friends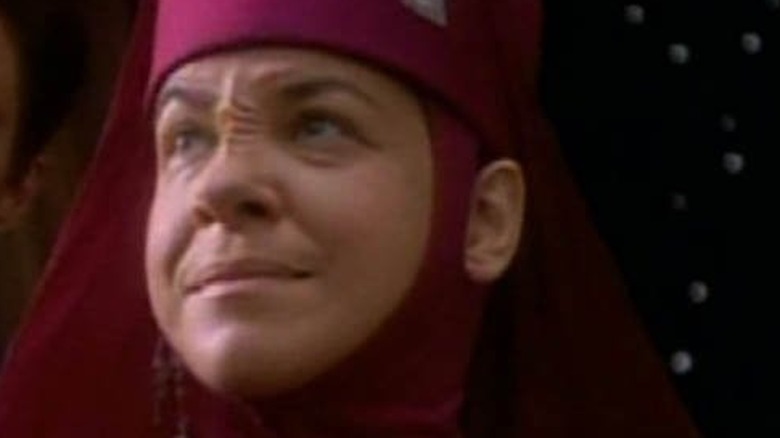 Paramount Domestic Television
It's abundantly clear Camille Saviola touched so many lives. Upon her passing, her longtime friend and fellow thespian Harvey Fierstein took to Twitter to write, "Camille Saviola.... How could you leave us like this? She was a friend for 40 years who could always be counted on for a laugh, a shoulder or a kick [in the] ass. The Italian Godmother of Soul! Farewell."
Wilson Cruz also posted a loving tribute. The two performed at AIDS benefit concerts over the years, and he tweeted, "What a presence this woman was! My heart is heavy. My love to Camille's family and family of friends throughout the industry. She will be missed." 
But it wasn't just Saviola's collaborators who were saddened by the news. Fans of her work, primarily through her appearance on "Star Trek: Deep Space Nine," took to social media to express how they were influenced by her short-lived but influential role of Kai Opaka. One user, @TopherTreks, tweeted these words of praise: "She was so much like her character on screen when I met her off screen. Immensely spiritual, kind, and generous. May you live on in our thoughts!"
Our thoughts go out to Saviola's family, friends, and loved ones at this time.