Bloopers That Make Us Love The Rock Even More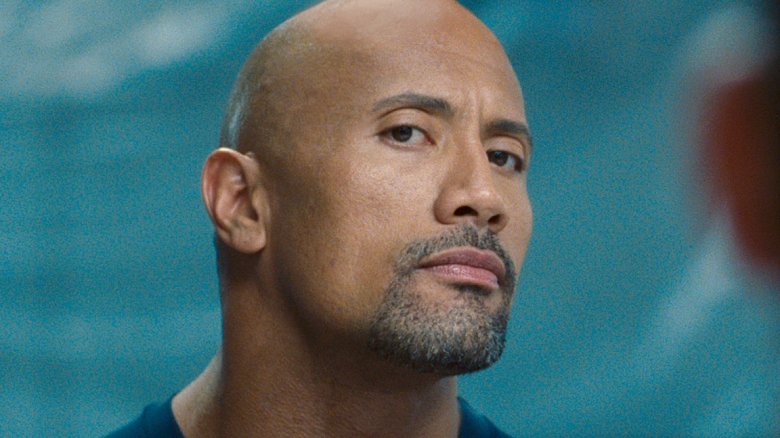 Dwayne "The Rock" Johnson can kind of do it all. Successfully transitioning from a career as one of the most popular and accomplished wrestling stars of all time, he's gone on to a Hollywood career that's spanned The Scorpion King to family films like The Tooth Fairy to comedies like The Other Guys. (Which is to say nothing of Baywatch, San Andreas, the Fast & Furious films, his voice work in Moana, or his starring role on HBO's Ballers.) Johnson is a likable guy who always seems happy to be wherever he is, and he never takes himself too seriously, particularly on movie sets. Can you smell these bloopers and goof-ups that the Rock has been cooking?
Walking Tall
Johnson is tough—the kind of guy who could easily smash things without a need for special props or stuntmen to do the dirty work for him. At least one would think that would be the case. But when the wrestler was cast in one of his first major lead roles, as Chris Vaughn, Jr. in the 2004 remake of the '70s classic Walking Tall, he ran into difficulties filming a scene in which he was supposed to smash the taillight of a car with a baseball bat—the signature tool of his character—and just couldn't get it done, despite a valiant effort. "I'm strong, I swear," Johnson jokes in this clip.
Journey 2: The Mysterious Island
A not-so-little-known fact about Dwayne "The Rock" Johnson: dude is seriously jacked. His muscles are absurdly large, and on the set of Journey 2: The Mysterious Island, he used them to fuel some goofy, self-deprecating humor, solely to crack up his costar Josh Hutcherson. Spoiler alert: He can make his pectorals jiggle, dance, and shake.
The Game Plan
It's almost like Johnson went full "Method" actor with this blooper. In The Game Plan, he plays a star quarterback who's thrust into the wackiness of fatherhood upon suddenly learning he has an eight-year-old daughter. While trying to get up from a tea party at a little kids' table, Johnson rises but the tiny plastic kiddie chair that he was sitting in stays with him, because it is a very small chair, and he is a very big guy.
The Other Guys
It looks like Johnson had cold feet when it came time to film his big scene in the cop comedy The Other Guys, in which he briefly co-starred opposite Samuel L. Jackson as two extra-awesome detectives who end up jumping off a building. They weren't really jumping off a building, of course, just a few feet down within the safe confines of a padded room rigged up with green screens, but it's still pretty funny to watch one tough guy let another tough guy literally take the fall for him.
Central Intelligence
In this clip, Johnson shows he's not too tough to take a little ribbing. After he admits to the character played by comedian Kevin Hart that his name is made up, Hart gives him a pep talk, arguing that having a made-up name isn't such a big deal. Hart then rattles off a bunch of cool names that everybody knows aren't real, like Mr. T, Sting...and the stage name of a certain well-known wrestler-turned-movie star. Johnson can't even keep a straight face.
The Tooth Fairy
Well, there's a magazine for everything and everyone: even tooth fairies. In this blooper from the set of the family-friendly comedy The Tooth Fairy, in which Johnson plays against type as...a tooth fairy, he shows that he's still a man—a man with needs. Johnson and costar Stephen Merchant pretend to ogle some fly flying fly girls in a what appears to be a dirty magazine for fairies.
Race to Witch Mountain
Johnson keeps the mood light and shows he's got some pretty agile improv comedy skills for a guy best known for big and flashy action movies. During the filming of this Disney remake, Johnson yells out the names of a bunch of different animals in an attempt to distract another character. One of those creatures he lies about being "right over there" is his Fast & Furious franchise costar Vin Diesel...or maybe it's just some other guy who's "better looking."
Fast Five
Speaking of Fast & Furious films, here's Johnson messing around on the set of Fast Five. He's only pretending to mercilessly pummel Vin Diesel about the head and face, over and over again. It's mainly to make himself and Diesel laugh, and also apparently to see if the sound effects guy can keep those fist-meets-face sound clips coming at a rapid clip.