The Teaser For HBO's Landscapers Tells An Extremely Dark Tale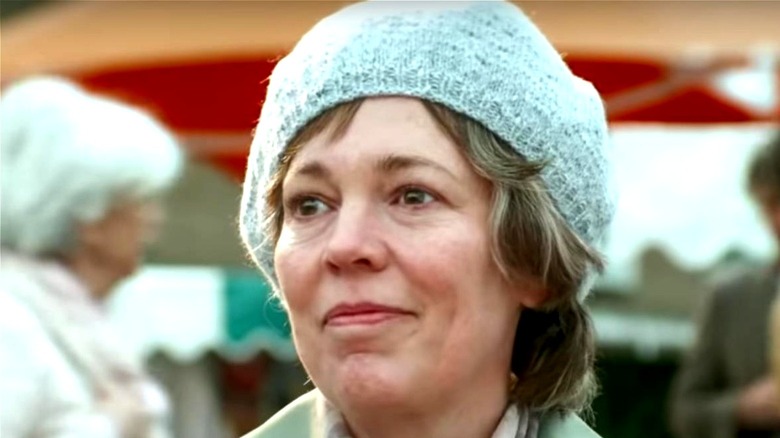 HBO
While she's made an art form of warming people's hearts for award speeches and promoting films she doesn't really remember (via YouTube), Olivia Colman has often ventured into rather harrowing territory in some of her past roles, and "Landscapers" looks to be another one to add to the list. Starring alongside David Thewlis ("Harry Potter," "Wonder Woman"), the two will pair up in the brand new show for HBO that tells the true-life story happy couple, Susan and Christopher Edwards, whose lives are ruined when two dead bodies are found buried in their backyard in 2005.
Colman's husband, Ed Sinclair, created the series, and will also be doing double duties alongside Colman as the show's executive producers, with Will Sharpe directing. All of the grisly and dark elements that made up this harrowing story were also applied via extensive research, as well as direct access with Susan and Christopher themselves. Now a trailer for the show gives fans a glimpse of what's in store.
Landscapers digs up true-life horrors for Colman
As disturbing as the material that the cast is working with appears to be, both of the main talents behind the show's leading couple look on top form. There also seems to be a dream-like quality to the show before the Edwards' world slowly starts to crumble, with both showing signs of damage after the horrifying discovery is made.
Colman's porcelain smile in the interrogation room is a perfect fit for the tense moment, as she's questioned about a crime that could put her behind bars for years. Meanwhile, Thewlis slowly cracking under pressure from his wife seems just as commendable. Joining both during the harrowing events are the supporting talents of Kate O' Flynn, Dipo Ola, Samuel Anderson, David Hayman, Felicity Montagu, and Daniel Rigby.
Did they do it, or didn't they? Do you really want to spoil it and do a Google search? If not, then be sure to wait to see what happens when the four-part series arrives on HBO, beginning on December 6.