Everything We Know About Bugsnax's The Isle Of Bigsnax Update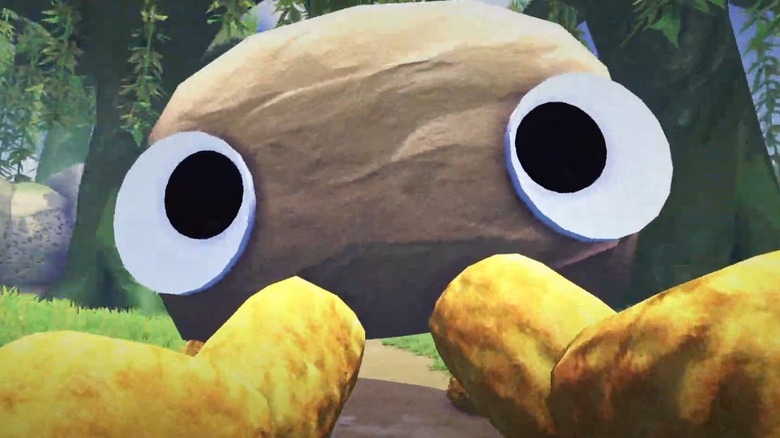 "Bugsnax" fans who haven't yet had their fill of delicious food-based creatures are going to finally get a second helping in 2022. During a Sony State of Play livestream on Oct. 27, developer Young Horses announced the imminent arrival of "The Isle of Bigsnax," which is set to make take the series to brand new heights — literally. 
As seen in the brief teaser trailer for "The Isle of Bigsnax," a new island has suddenly erupted from beneath the ocean bordering Snaktooth Island. A "prehistoric species" of gigantic Bugsnax have also appeared on this new island, throwing Snaktooth's delicate ecosystem into chaos. But there's a whole lot more to "The Isle of Bigsnax" than just a few larger than life versions of the titular creatures. 
In fact, the new trailer and promotional materials from PlayStation teases a great deal of new content on the way, which should have fans of "Bugsnax" salivating in anticipation.
What's new in Bugsnax: The Isle of Bigsnax?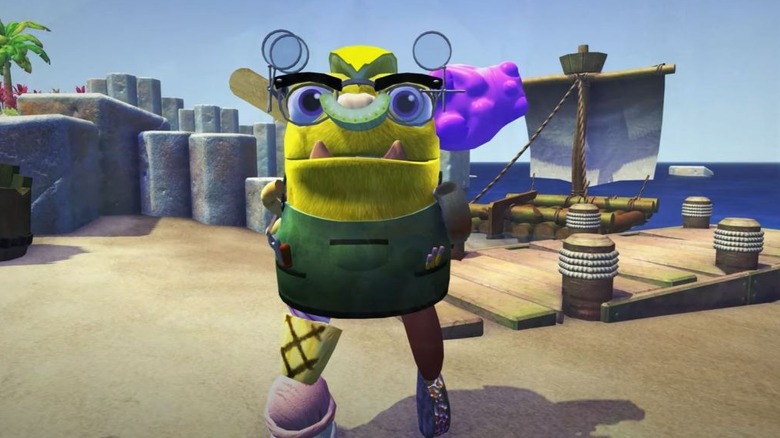 At about the midway point of the trailer, it is revealed that Bugsnax and grumpuses alike will be struck by a need to accessorize. Players can unlock different hats and other headwear to gift to their favorite characters and creatures. It's an unexpected wrinkle to a strange universe, but there's something oddly precious about seeing a Bunger wearing a backwards baseball cap. 
Players will also be able to customize their own hut in Snaxburg. In a PlayStation.Blog post, Young Horses Creative Director Kevin Zuhn explained, "You can take on challenges from your mailbox to earn furniture and accessories to customize your living space. These challenges put a few twists in the gameplay, and will shake up how you explore and catch." In addition to these new challenges and an all-new island (which probably has its own hidden areas to find and explore), Zuhn also teased that there will be 12 new Bugsnax to catch.
Meanwhile, according to a press release from Young Horses (via TheSixthAxis), "Isle of Bigsnax" will also feature a number of familiar voices returning from the main game. "We're beyond excited to be working with our beloved voice cast again!" Kevin Zuhn explained. "Yuri Lowenthal, Casey Mongillo, Debra Wilson, and Haviland Stillwell are back to dig deep into their characters, and the result is our favorite blend of goofiness and tragedy." It sounds like fans of the dark side of the original game will be pleased with where the story goes in the latest expansion.
How can you get Bugsnax: The Isle of Bigsnax?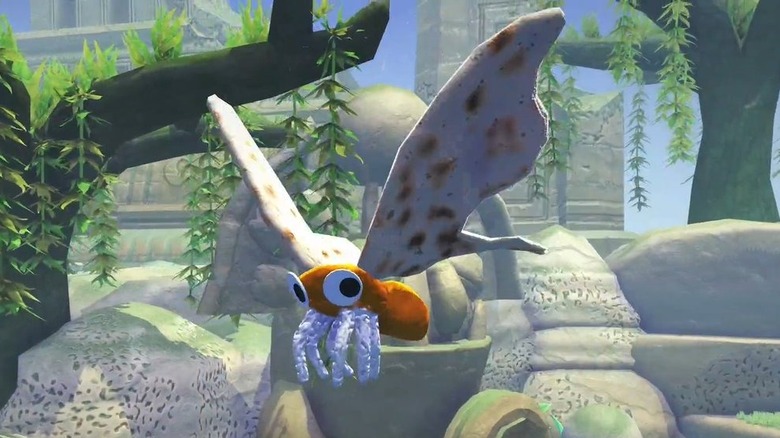 So now that you know about some of the wild new stuff being added in "The Isle of Bigsnax," you're probably wondering how you can get this expansion. Well, that might be the very best part: It's a totally free update. As explained by Kevin Zuhn on the PlayStation Blog, "If you're a returning player, you can start playing the Isle of BIGsnax by loading your completed save, which will put you back into Snaxburg before the point of no return. For new players, this content will show up organically as you play." Pretty simple!
It's interesting to note that the story content of "Isle of Bigsnax" will take place before the events of the crazy ending of "Bugsnax." In other words, this update will not only entice newbies to give the game a try, but it may also convince seasoned players to challenge the campaign once again.
"Bugsnax: The Isle of Bigsnax" will arrive Spring 2022, so start working up an appetite.