Zack Snyder's Latest Remarks About Rebel Moon Should Have Snyderverse Fans Pumped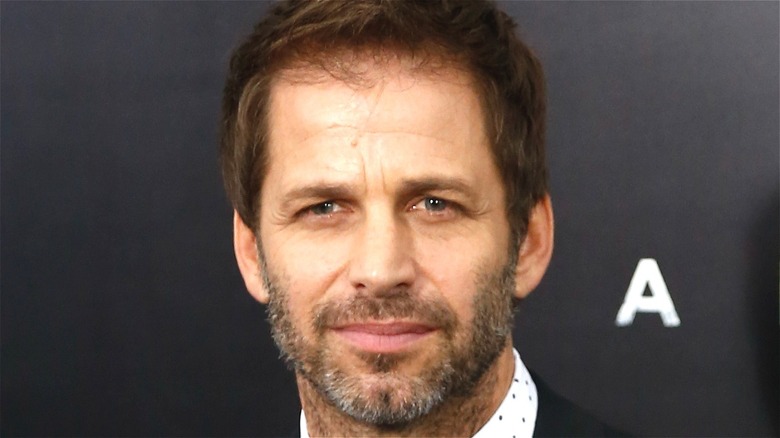 Debby Wong/Shutterstock
Throughout Zack Snyder's career, one of the most consistent features of his films, from early projects like "300" to more recent ventures like "Zack Snyder's Justice League," is an epic quality, often both visually and in a narrative sense. It seems like Snyder has no plans to scale down his filmmaking vision, and he recently made some remarks on his upcoming film "Rebel Moon" that should have his fans excited.
"Rebel Moon" is a new collaboration between Snyder and Netflix, the platform that premiered Snyder's zombie heist film "Army of the Dead" earlier this year, that will give the director the chance to develop his first true sci-fi adventure. When The Hollywood Reporter announced the project last summer, Snyder wasn't shy about listing some of the filmmakers and franchises he took inspiration from. The director told THR, "This is me growing up as an Akira Kurosawa fan, a 'Star Wars' fan," and that he hoped the film would lay the foundation for "a massive IP and a universe that can be built out."
While "Rebel Moon" might be an all-new franchise, Snyder recently compared it to some of his previous films to give fans an idea of some of the elements they can expect to see and the overall scale of the film. Here is why Zack Snyder's latest remarks will have fans of the Snyderverse excited.
Rebel Moon will be epic like the death of Krypton
While discussing "Rebel Moon" on the BroBible Post-Credit Podcast, Snyder made it clear that his first official entry into the sci-fi genre had the potential to be the most significant undertaking in his career. Considering that the director has massive films like "Justice League" on his résumé, that ambition alone should indicate that the Netflix film could be something special.
Snyder told BroBible, "Frankly what I'm really interested in with 'Rebel Moon' is creating a romantic sci-fi film on a scale that is, frankly, as big as you can make a movie." However, Snyder allowed that this presented new challenges for him as a filmmaker, noting, "I've never done a science-fiction film at this scale."
That said, one past project, in particular, did have sci-fi elements that fans can use as a reference point to imagine the scope of "Rebel Moon." Snyder explained, "The beginning of 'Man of Steel' on Krypton has pretty big sci-fi elements, but it's still Krypton and there are certain iconographic things that you have to do. And that's kind of what we're doing in 'Rebel Moon,' but on the biggest steroids I can give it."
While it will likely be years before "Rebel Moon" premieres on Netflix, fans of the Snyderverse can at least rest assured that the director is all-in on an epic experience in an all-new universe.