A Docuseries About John Belushi And Dan Aykroyd's Blues Brothers Is In The Works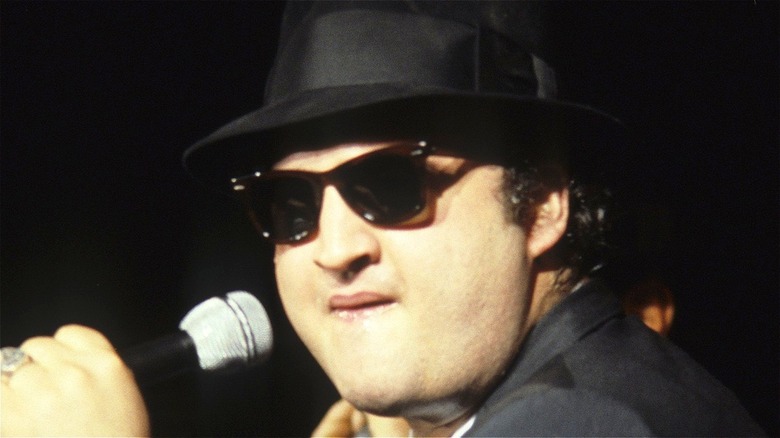 Richard McCaffrey/Michael Ochs Archive/Getty Images
Fans of classic comedy and great music have reason to rejoice thanks to the announcement of a new documentary series exploring the characters of the Blues Brothers. Jake and Elwood Blues were the creations of John Belushi and Dan Aykroyd, respectively, back when they were among the original cast of "Saturday Night Live." The comic writer/performers shared an instant bond and discovered their friendship extended to their mutual love of vintage American blues music. That shared affinity led them to don their now-iconic black suits and shades, forming a genuine musical duo that transcended the boundaries of a traditional "SNL" sketch.
The duo's meteoric success culminated in the hit movie "The Blues Brothers," in which the characters were "on a mission from God." The film was the first-ever "SNL"-inspired feature film, earning $115 million worldwide to make it the 10th highest-grossing movie of 1980, per Box Office Mojo. Belushi tragically died two years later, but his brother Jim teamed with Aykroyd and John Goodman for the sequel "Blues Brothers 2000," which oddly came out in 1998. 
Indeed, while audiences today might best remember Belushi from "Animal House" and Aykroyd as one of the Ghostbusters, back in the day, the Blues Brothers may have been their most famous personas. And this is what we know about their upcoming docuseries.
Dan Aykroyd will produce the Blues Brothers docuseries with John Belushi's widow Judith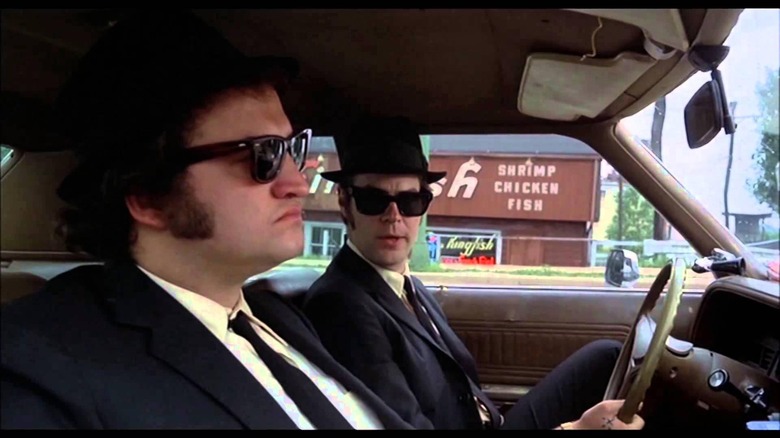 Universal Pictures
According to The Hollywood Reporter, Dan Aykroyd himself is teaming up with John Belushi's widow, Judith Belushi Pisano, to produce a new docuseries exploring the Blues Brothers phenomenon. Pisano's son Lucas Pisano will also produce the project for Utopia Originals ("Shiva Baby") and ALG Brands, which manages Belushi's estate. The series has neither a title nor a distributor yet, but the producers are promising a trove of never-before-seen footage from the archives. "Much will be revealed that even I, as one of the originators, might not have been aware of," Aykroyd said. "In the end, it will be all about the artists and their music."
Aykroyd said the project was inspired by a recent honor bestowed upon the "Blues Brothers" movie. "Last year, 'The Blues Brothers' film was selected by The Library of Congress to the National Film Registry, and being in this most worthwhile cultural preservation initiative made us realize there remains more to this story," Aykroyd said. He then seemed to channel his inner Elwood when he added, "Judy and I are pleased to collaborate with Utopia Originals to produce the only authorized, optimized, socio-forensic examination of the Blues Brothers and the world that created and embraces them."
Belushi Pisano said the series will "continue Dan and John's original mission to share their passion for this music and, foremost, to celebrate the artists who created it," adding that she expects it to be a "significant historical and cultural investigation." Additionally, Utopia content chief Danielle DiGiacomo promised "a fascinating, multi-layered story of two legendary comedians—driven by a pure love of music—embarking on a years' long, roller-coaster journey riddled with unbelievable ups and downs." 
In other words, they were on a mission from God.