The Charlie Hunnam Historical Flop Finding New Life On Netflix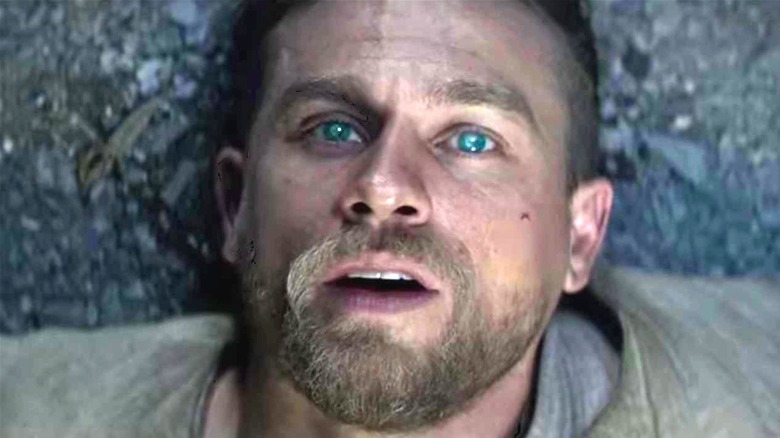 Warner Bros.
Charlie Hunnam is perhaps best known for his starring role as outlaw motorcycle club member Jackson "Jax" Teller on the FX drama "Sons of Anarchy," which ran from 2008 to 2014. His performance as Jax earned him a string of award nominations, including two Critics' Choice Awards.
Before "Sons of Anarchy," Hunnam had starred in two short-lived series, "Queer as Folk" and Judd Apatow's "Undeclared" (via IMDb), the latter of which maintains a cult hit status followings since its premature cancellation after one season. In recent years, the British actor has appeared in films such as 2013's "Pacific Rim," 2015's "Crimson Peak," and 2019's "The Gentlemen," as his IMDb page reminds us. Next up, he'll star in the action thriller film "Last Looks," directed by Tim Kirkby (via The Hollywood Reporter).
Before Hunnam teamed with Guy Ritchie on "The Gentleman," the two creatives worked together on the historical fantasy action epic "King Arthur: Legend of the Sword" (via IMDb). In the movie, Hunnam plays the titular King Arthur. Meanwhile, co-stars Jude Law, Eric Bana, Djimon Hounsou, and Aiden Gillen play gritty riffs on classic characters from Arthurian legend. 
Ritchie's 2017 movie didn't fare well with critics at the time of its release. But now, the historical flop is finding new life on Netflix, where it has found itself in the Top 10 list of the streaming site. Read on to find out more about "King Arthur: Legend of the Sword" — and why Netflix viewers are checking it out.
King Arthur: Legend of the Sword is flawed but fun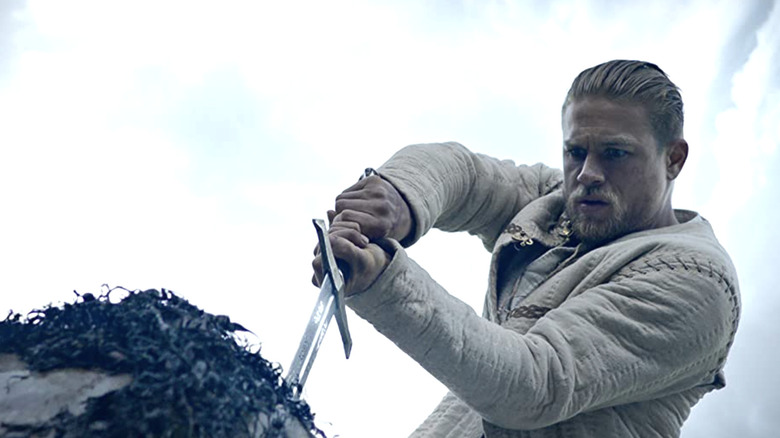 Warner Bros.
Warner Bros.' "King Arthur: Legend of the Sword" is directed by Guy Ritchie, who also serves as co-writer alongside Joby Harold and Lionel Wigram. In the movie, a young Arthur is kept from his rightful position as heir to the throne following his father's (Eric Bana) death and his ruthless uncle Vortigern's (Jude Law) seizure of the crown. After growing up on the streets, Arthur (Charlie Hunnam) discovers his true destiny when he pulls the sword Excalibur from a stone. Following this incredible feat, the exiled prince decides to fight to regain his rightful claim as king.
"Legend of the Sword" was a critical and commercial flop following its release in May 2017. At the box office, it made just $148.6 million worldwide against its $175 million budget (via Box Office Mojo). Critically, the Hunnam-led pic was largely panned by critics. Today, it holds a slight 31% Tomatometer score on Rotten Tomatoes. The audience score is quite a bit higher at 69%, which likely explains why the historical epic is doing so well on Netflix right now.
Summing up some of the criticism, The Ringer's review called the film "stale" and went on to say, "The problem is, Ritchie can't escape the material. And in trying to subvert it, he forgets what was so good about it to begin with." On the other side of the argument, /Film's review notes that "if you can bear the bad patches, there's something dazzlingly fun at the heart of it all." Additionally, NME declared it both "fun and excellently camp."
With the film currently available on Netflix, viewers can make up their own minds about "King Arthur: Legend of the Sword."