Here's Your First Look At Cate Blanchett And Bradley Cooper In Guillermo Del Toro's Nightmare Alley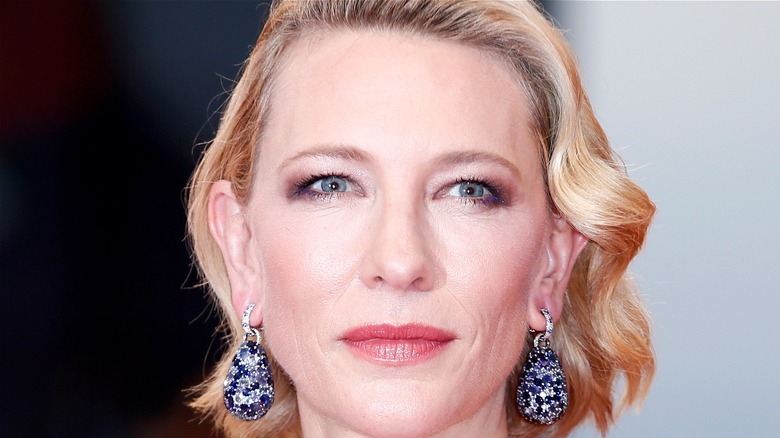 Andrea Raffin/Shutterstock
No stranger to ghouls and goblins, Oscar-winning filmmaker Guillermo Del Toro's next big gig is a terror that's both shrouded in mystery and set to shine with an incredible all-star cast. "Nightmare Alley" boasts the talent of Bradley Cooper, Cate Blanchett, Toni Collette, Willem Dafoe, Richard Jenkins, Rooney Mara, Ron Perlman, and David Strathairn is based on the book of the same name, written by William Lindsay in 1946, and was later adapted to the big screen in 1947.
The film tells the story of a carny who has a skill for manipulation and a psychiatrist called Dr. Lilith Ritter (Blanchett), who may be just as sinister. Details have been limited for Del Toro's next dive into darkness and how far it may deviate from the book, but now a brand new still for the film has been released via Empire, showing the corruptible couple at the center of it all. With both Cooper and Blanchett looking like they've just been ripped out of the '40s in this still alone, it's clear that Del Toro is bringing another era to life the same way he did with his award-winning "The Shape of Water."
Get a look at the 'flipside of the American dream' in Nightmare Alley
Speaking about what we can expect in our trip down "Nightmare Alley," Del Toro told the magazine that the 1947 film directed by Edmund Goulding wasn't factored in for the creative process when adapting the story. "We're [willfully] allowing that movie to exist in its own space. One of the things we decided is to not watch that movie again," said the director. "We both liked what existed in it, we think it has terrific things in it, but what I wanted to do was, no pun intended, closer to a nightmare. It belongs to a genre only in that it deals with the underbelly or the flip side of the American Dream, which is always a nightmare."
Given Del Toro's past efforts on the big screen, it's interesting to see more human characters who won't necessarily encounter otherworldly creatures. "Nightmare Alley" is a tale of deceiving individuals and the despicable acts they inflict upon one another. That's more than enough evil to go around, and you can see how bad things get when the film arrives in theaters on December 17.