Scandal To End After Season 7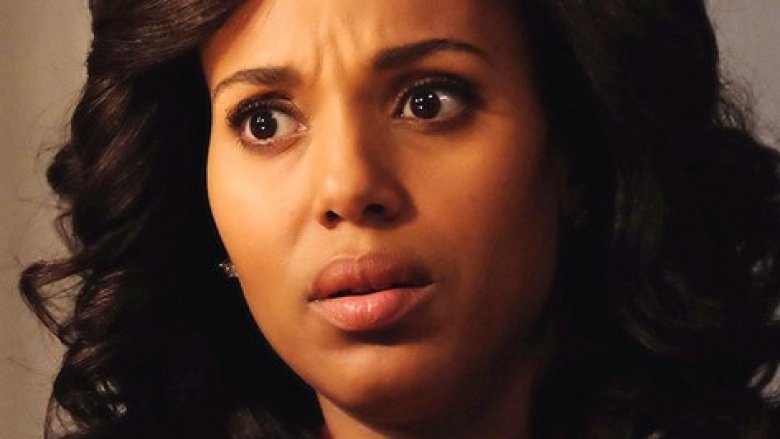 Here's one thing Olivia Pope can't fix.
Per The Hollywood Reporter, ABC is gearing up for an official announcement confirming that Scandal will wrap with its seventh season. The announcement is expected to be made at ABC's upfront presentation next week. Series creator Shonda Rhimes has reportedly made the decision to end Scandal next year more or less independently, and ABC has accepted. However, both ABC Studios and Rhimes' own production company, Shondaland, declined to comment on the news.
The Rhimes-backed drama-thriller series stars Kerry Washington as Olivia Pope, a professional crisis manager and revered "fixer" that specializes in political situations. Washington's Pope has become an iconic character in Rhimes' long list of successful networks series like the medical drama Grey's Anatomy and the Viola Davis-led legal thriller How to Get Away with Murder.
In the past, Rhimes has been candid about the rocky future of Scandal, especially now, given the United States' tumultuous political climate. The country's most recent election sat Republican nominee Donald Trump in the White House, and that complicated the show's trajectory. "I used to know how [Scandal] ended, and then Donald Trump was elected," Rhimes told THR (via TV Guide) during an exclusive oral history interview. "We had a destination, and I don't know if that's our destination anymore."
Though the series is soon coming to an end, Scandal has solidified Rhimes as one of the most prolific showrunners and television creatives in the industry today. Along with Grey's and How to Get Away with Murder, the show became part of ABC's "TGIT"-branded Thursday night lineup, a move that significantly bolstered the network's ratings.
Scandal has also helped shape a new face of TV, one that's more diverse than ever before. And that sentiment isn't lost on lead Washington, the first African-American to be nominated for a Best Drama Actress Emmy in the past 18 years. Of her role in the show and of Scandal as a whole, Washington had some touching things to say in the past:
"I feel really proud to live in a world where a show like Scandal people can see survive and succeed not just in the U.S. but overseas," Washington said in 2013 (via THR). "It's wonderful when the stories we engage in with the audience in such an intimate way are inclusive and diverse on a lot of levels. Our show is inclusive not only with race but also age, sexual orientation and with gender. It's really exciting."
Scandal, which is currently in its sixth season, will replace Tony Goldwyn's Fitzgerald Grant will an all-new president for season 7. Fans can still look forward to three more Grant-filled episodes before then, as season 6 hasn't yet wrapped.
While we wait for an official announcement regarding the end of Scandal, take a look at the real woman Olivia Pope is based off.