Here's Where You Can Watch My Hero Academia: World Heroes' Mission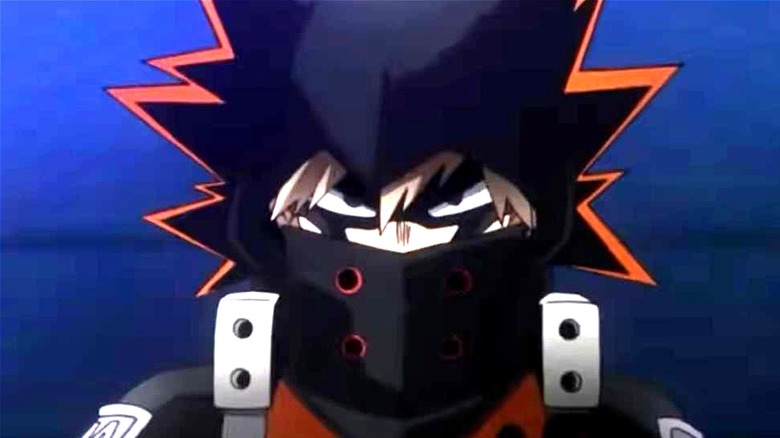 Funimation
Halloween weekend just got a bit more exciting for fans of the smash-hit anime series "My Hero Academia." On October 29, the franchise is releasing a third feature-length film, titled "My Hero Academia: World Heroes' Mission." Fans can expect to see the return of fan-favorite characters Izuku (aka "Deku"), Bakugo, and Todoroki. In the world of "My Hero Academia," 80% of the population has a unique ability, dubbed "Quirks," which allows them to do anything from manipulating clothing fibers to becoming invisible. With so many superpowers dispersed around the world, superheroes and villains constantly rise up to battle it out.
In the trailer for "World Heroes' Mission" (via Funimation's YouTube channel), UA High School students Izuku, Bakugo, and Todoraki train to become superheroes. The trio is selected to defeat an organization of villains that wish to wipe out Quirks in society. This evil organization places bombs around the world's most populous cities, and the superheroes must beat the clock to save humanity. While UA's heroes work tirelessly to stop the villains, they face another issue when Izuku goes on the run for a terrible crime.
If you're looking forward to all of the action in "My Hero Academia: World Heroes' Mission," here's where you can check out the upcoming anime movie.
My Hero Academia: World Heroes' Mission is releasing in theaters
Per the "My Hero Academia: World Heroes' Mission" trailer, the new anime movie is set to release exclusively in theaters on Friday, October 29. Funimation's official page for the movie also notes that anime fans have the option of seeing the movie's dubbed or subbed version, depending on the theater.
Given that "World Heroes' Mission" is sticking to a theater-only release plan, fans will likely have to wait a while before the latest film is released on DVD, Blu-Ray, and streaming services. The first feature-length movie, "My Hero Academia: Two Heroes," took about six months after its theatrical release to be released on DVD and Blu-Ray for U.S. audiences (via Funimation), while "My Hero Academia: Heroes Rising" took about eight months (per Cinelinx). Realistically, we can expect Funimation to have the latest film released to view in the comfort of our own homes within about six to eight months, and definitely within a year of its theatrical release.
So far, the film has been a massive success in Japan with a gross of about $21.9 million, claiming the title of the highest-earning "My Hero Academia" film (via Anime News Network). The success of "My Hero Academia: World Heroes' Mission" is sure to translate well in North America if fans will flock to the theaters as they did for the two previous movies.