Tsukimichi: Moonlit Fantasy Season 2 International Release Window, Cast, Director, Teaser Trailer And More Details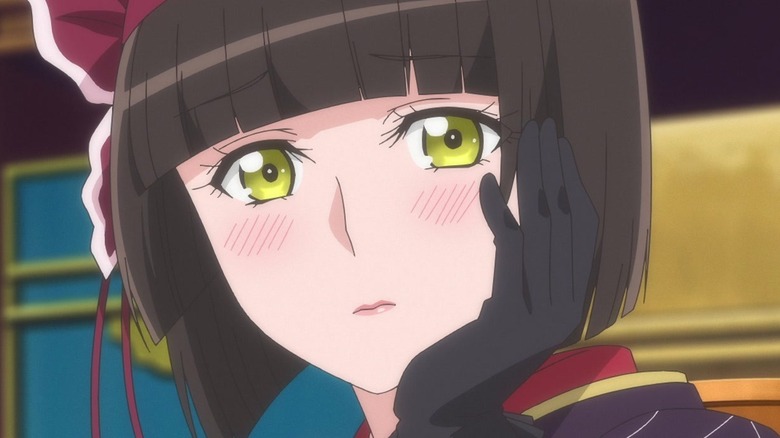 C2C
Most heroes of isekai anime find themselves transported to a fantasy world with some sort of blessing from the gods. When it comes to the protagonist of the anime "Tsukimichi: Moonlit Fantasy," however, the opposite could not be more true. The fact that the show's main character is actually despised by a god makes him unique among isekai protagonists, even as his story of traveling to another world falls into many tropes of the isekai genre of anime.
Nevertheless, this 2021 anime proved popular enough that a second season was greenlit. Based on the light novel series of the same name by Kei Azumi, the show's website describes it as an "alternate-world social reform fantasy." The unique concept of "Tsukimichi: Moonlit Fantasy" has been enough to capture the attention of anime fans both in Japan and around the world. Here is what we know so far about the release date, characters, and plot of "Tsukimichi: Moonlit Fantasy" Season 2.
When will Tsukimichi: Moonlit Fantasy Season 2 be released?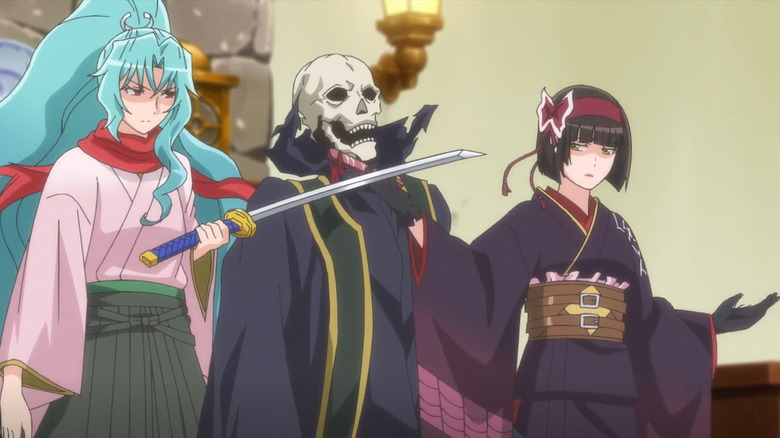 C2C
The second season of "Tsukimichi: Moonlit Fantasy" was confirmed right after the first season came to a close in September 2022, with a teaser and key visual released alongside the announcement. The reveal was met with excitement by fans of the series, but the teaser was only 15 seconds long and didn't reveal much about the upcoming sophomore season. It didn't include a release date, either, leaving fans to make guesses about when Season 2 might come out.
The first season was made by the anime studio C2C. For context, C2C's previous series "Wandering Witch — The Journey of Elaina" came out around a year after its initial announcement in October 2019. This led fans to expect that Season 2 of "Tsukimichi: Moonlit Fantasy" would experience a similar production cycle. In other words, fans believed they were likely to see the show resume airing sometime in late 2022 or early 2023. This never came to pass, but 2023 did bring some new details about Season 2, including more information on the planned release date.
In July 2023, it was revealed that "Tsukimichi: Moonlit Fantasy" would be airing as part of the Winter 2024 season, with a premiere set for January of that year. It was also confirmed that the show would be airing in two back-to-back cours, meaning that Season 2 is likely to have around 24 episodes. This will be music to the ears of "Tsukimichi: Moonlit Fantasy" fans, especially as the first season only contained 12 episodes.
What is the plot of Tsukimichi: Moonlit Fantasy Season 2?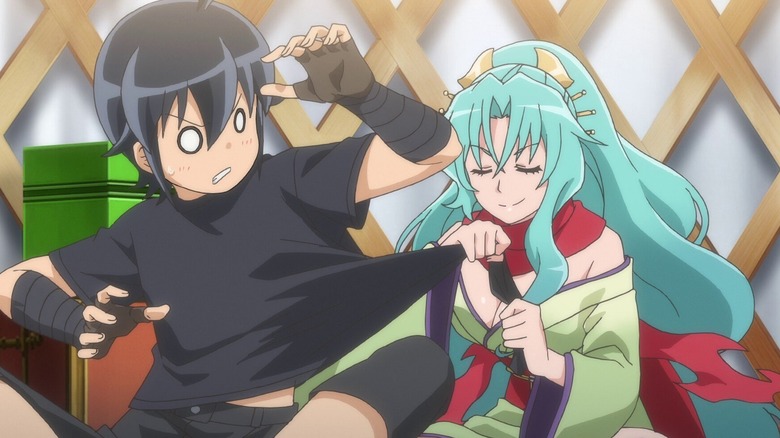 C2C
Light novel spoilers ahead.
In the finale of "Tsukimichi: Moonlit Fantasy" Season 1, Makoto encounters and defeats Sofia Bulga, a powerful adventurer, and Mitsurugi, a dragon. The two, for some reason, have elected to join the demon army's quest to destroy humanity. However, Makoto prevents this, possibly playing directly into the hands of the unkind goddess who first summons him. It's unclear exactly what her plans are, but given that she is beginning to view Makoto as a rival for his increased power, it likely does not bode well for our hero.
Nevertheless, Makoto continues doing what he does best, growing the community of villagers, traders, and adventurers that he has helped build within Tomoe's personal dimension. At the same time, he wants to connect more with the humans of this world, something which the goddess has done her utmost to prevent. Whether or not Makoto achieves any of these goals will be revealed when "Tsukimichi: Moonlit Fantasy" Season 2 is released. If you want to know the main plot points of Season 2, you can check out the source material.
"Tsukimichi: Moonlit Fantasy" is based on a light novel series by Kei Azumi, and the first season of the anime roughly covers the first four volumes. If Season 2 is based on the next four chapters, then it will see Makoto enroll as a student at the academy in Rotsgard, where he is surprised to discover that he's good enough to become a teacher himself. He doesn't get along with his students to begin with due to his hard, combat-focused lessons, but they eventually come to respect and admire him. A big event in Volume 7 of the light novels is the school festival, in which Makoto's students compete in a fighting tournament. There's a good chance we'll see this play out on screen in the second season of the anime.
Who is starring in Tsukimichi: Moonlit Fantasy Season 2?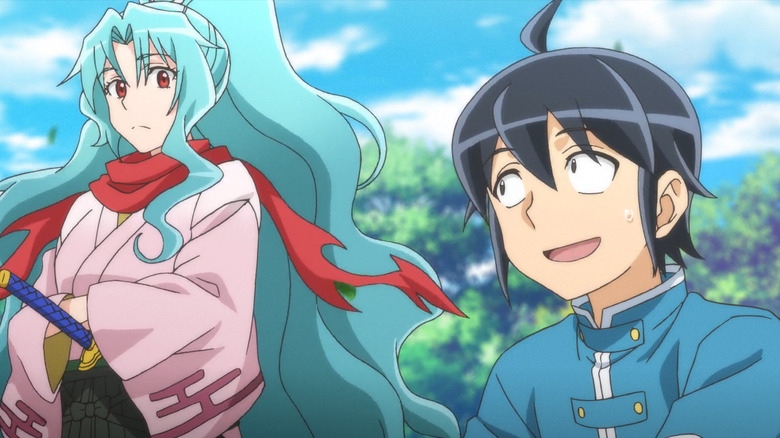 C2C
Like many isekai anime, "Tsukimichi: Moonlit Fantasy" is all about an average guy who is summoned from real-world Japan to a new and wondrous fantasy world by a powerful being. In the case of "Tsukimichi: Moonlit Fantasy," this particular everyman is Makoto Misumi, who is voiced by Natsuki Hanae in the original Japanese version of the show. Hanae is best known for voicing Tanjiro Kamado, the protagonist of the popular "Demon Slayer" series. In the English dub, Makoto is voiced by anime veteran Dallas Reid, who has plied his trade on such well-known shows as "One Piece," "Attack on Titan," and "Black Clover," in which he voices the main character Asta.
Makoto has a few allies in the fantasy world he finds himself in, mainly Tomoe and Mio, who are voiced by Ayane Sakura and Akari Kitou, respectively. Sakura has worked on a number of hit shows over the years, including "Your Lie in April" (Tsubaki Sawabe) and "Attack on Titan" (Gabi Braun). She's perhaps best known for playing Ochaco Uraraka, one of the main characters in "My Hero Academia." Kitou, meanwhile, is famous for voicing "Demon Slayer" deuteragonist Nezuko Kamado, the cursed sister of Tanjiro.
In the English dub, Tomoe is voiced by Monica Rial, a name that will be very familiar to anime fans. Rial has famously voiced Bulma in the "Dragon Ball" franchise for decades, but she's also worked on the likes of "My Hero Academia" (Tsuyu Asui), "Saga of Tanya the Evil" (Tanya Degurechaff), "Yuri on Ice" (Mila Babicheva), and "Seraph of the End" (Krul Tepes). She's got over 600 credits to her name. The English version of Mio is played by Kara Edwards, who will also be known to "Dragon Ball" fans — she's the voice of both Goten and Vidal.
It's been confirmed that the main Japanese voice cast are reprising their roles for Season 2, and it's expected that the English dub cast will also be back.
Is there a trailer for Tsukimichi: Moonlit Fantasy Season 2?
The first trailer for "Tsukimichi: Moonlit Fantasy" Season 2 was as big of a tease as you can get. It's really a small promotional clip and doesn't give anything away regarding the plot of the upcoming sophomore season. While the first teaser lacked any real detail, the official Season 2 announcement on the show's website was accompanied by some interesting comments from the main Japanese voice cast, who are clearly very excited to continue the story.
"It is exciting to see the scale of the show expanding," said Natsuki Hanae, who voices protagonist Makoto, adding that he wants fans to still "pay attention to the story that unfolds." Tomoe voice actor Ayane Sakura is a fan of the source material and was keen to see more of it adapted for the screen. "I am very grateful for the opportunity to play the role of Tomoe again," she said. Akari Kitou is also a fan and she's looking forward to more adventures with her "Wakasama" (meaning "young master"), Mio's nickname for Makoto. "I will do my best to convey to my fans the charm of the strong and lovely Mio," she said. "In the second season, the number of characters increases dramatically, the environment surrounding Mio and her friends expands, and the story becomes more epic."
These comments were all that fans had to go off for a while, but in July 2023, the first full-length trailer for Season 2 dropped on YouTube, giving viewers their first real look at the sophomore season. It went down well with fans, who shared their enthusiasm in the comments section. "Animation is looking great," @iknowtech7181 said. "I hope we get another banger opening just like Season 1." User @qhayiyadantile3208 was happy with the portions of Makoto's story that Season 2 will evidently adapt, writing, "They're gonna cover everything that happened between his preparation to head to Rotsgard and the events that involve Trashmoki and Hibiki."
Which studio is making Tsukimichi: Moonlit Fantasy Season 2?
The first season of "Tsukimichi: Moonlit Fantasy" was animated by the studio C2C, best known for adapting light novels such as "Wandering Witch: The Journey of Elaina" and "Reincarnated as a Sword" into anime. Their animators did a great job on "Tsukimichi: Moonlit Fantasy" Season 1, and fans assumed that the studio would be handling Season 2. However, when the first trailer for Season 2 dropped in July 2023, it was confirmed that a new studio was handling the sophomore outing, the well-established anime house J.C. Staff.
Founded in 1986 by former Tatsunoko Production producer Tomoyuki Miyata, J.C. Staff has made over 200 animated works across the decades, including some beloved anime shows. The studio is behind the likes of "Food Wars!: Shokugeki no Soma," "A Certain Magical Index," "Toradora!," "Is It Wrong to Try to Pick Up Girls in a Dungeon?," "The Disastrous Life of Saiki K.," "The Familiar of Zero," "Revolutionary Girl Utena," and "Bakuman," to name but a few.
However, despite all this experience, some "Tsukimichi" fans were understandably nervous about their favorite show switching studios. On the My Anime List forums, some people pointed out that J.C. Staff's output over the last few years hasn't been quite as impressive as years gone by. However, the core staff who worked on the first season for C2C will be making the jump to J.C. Staff to oversee Season 2. This should make for a smooth transition, and some fans think that this already shows in the first trailer. "It looks JUST like when C2C did S1," YouTube user @lesliekilgore648 said.
Who is directing Tsukimichi: Moonlit Fantasy Season 2?
Fans will be pleased to learn that Shinji Ishihira is returning to helm the second season of "Tsukimichi: Moonlit Fantasy." An experienced storyboard artist and director with dozens of titles to his name, Ishihira is mainly known for his work on "Fairy Tail" and "Log Horizon" — he directed the first two seasons of the latter show, totaling 50 episodes. In more recent years, he's become known for the likes of "The Seven Heavenly Virtues," "Edens Zero," "Sasaki to Miyano," and the C2C show "Reincarnated as a Sword." Just like many fans of the show, Ishihira was drawn to the project (based on Yuu Tanaka's light novel of the same name) after hearing the name of the books.
"For 'Reincarnated as a Sword,' I decided [to do it] right at the moment I heard the title," Ishihira told Anime Herald. "It was so intriguing! I do a lot of fantasy work. Just by hearing that title, I decided that 'Oh, this is a work I want to do.'" Of course, "Tsukimichi: Moonlit Fantasy" is also based on a light novel. Ishihira went on to reveal that, whenever he gets the chance to adapt a light novel into an anime, he will always go out of his way to familiarize himself with the books. "With light novels, I'll read the source material quite seriously. If I get a definite idea 'Oh, I can make this happen this way!' then I'll decide to join the animation production."
Ishihira isn't the only member of the creative team coming back for Season 2 of "Tsukimichi: Moonlit Fantasy." Kenta Ihara ("Saga of Tanya the Evil") is overseeing series composition; Yukie Suzuki ("Fight League: Gear Gadget Generators") has designed the characters; and Yasuharu Takanashi (who worked with Ishihira on both "Fairy Tail" and "Log Horizon") is once again composing the music.
Where to stream Season 1 of Tsukimichi: Moonlit Fantasy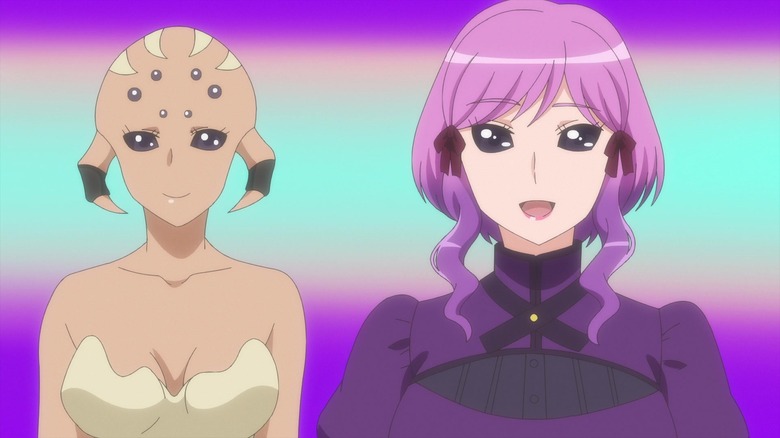 C2C
The great thing about anime series is that they are widely available to stream online and usually on more than one platform. That's the case for "Tsukimichi: Moonlit Fantasy" — the first season is available on Crunchyroll and HBO Max.
Both streamers have all 12 episodes of the first season, which run about 23 minutes apiece. There are a few different dubbed versions on Crunchyroll, with viewers able to watch the show in English, Latin American Spanish, and Brazilian Portuguese at the time of this writing in 2023. If you prefer to watch your anime in Japanese with subtitles, there are also plenty of options on Crunchyroll, which has subs in English, German, Spanish (both Latin American and European), French, Italian, Portuguese (Brazilian), Russian, and Arabic.
Crunchyroll is always free for users, but you will need a subscription if you want to avoid those pesky ads. For new users, you can test out the premium access feature for 14 days for free but will have to pay when time is up. Crunchyroll offers three tiers of membership to its United States subscribers for $7.99, $9.99, and $14.99 a month. All include ad-free streaming. There are no free options for HBO Max at the time of this writing, so if you don't have it already and you want to watch "Tsukimichi: Moonlit Fantasy" Season 1 via that platform, you'll need to cough up $9.99 a month.