What The Final Girl From Psycho Looked Like In Her Most Recent Film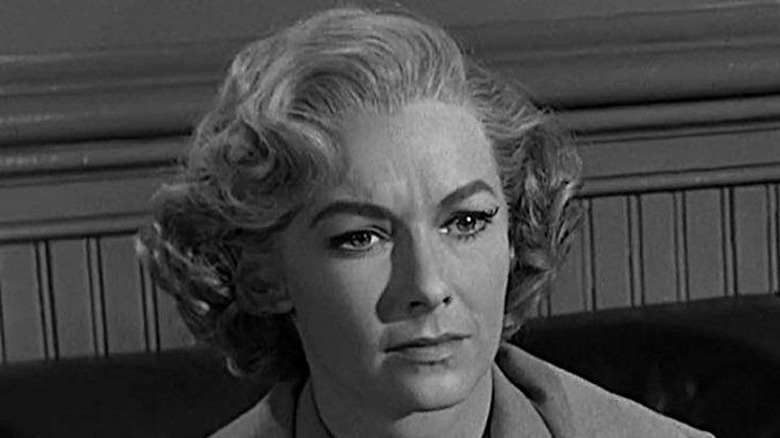 Paramount Pictures
In Alfred Hitchcock's beloved thriller "Psycho," which premiered in 1960, Vera Miles made a lasting impression with her portrayal of Lila Crane, a young lady desperate to be reunited with her sister, Marion Crane (Janet Leigh), who gets into some trouble when she pockets $40,000. Unfortunately for Marion, she makes a fatal error when she pays a visit to the Bates Motel, where Norman Bates (Anthony Perkins) murders her. Lila — along with Detective Arbogast (Martin Balsam) and Marion's evasive love interest Sam Loomis (John Gavin) — soon realizes that Marion had made Norman's acquaintance. While searching the Bates Motel, Norman takes Arbogast's life and nearly wounds Lila with his knife. However, Sam prevents the killer from doing so.
Lila, who is the final girl of "Psycho," also made an appearance in "Psycho II," which debuted in 1983, per IMDb. During a promotional interview for the film, Miles discussed acting alongside Perkins for the sequel. She shared that the co-stars "didn't really get acquainted" while filming "Psycho." She noted that their lack of friendship may have been due to their shyness or "because the nature of Hitchcock's set does not lend it to people becoming acquainted." She did admit, however, that she became friendly with Perkins during the sequel's production and asserted that he was "delightful."
Over three decades have passed since Miles last stepped into Lila's shoes. Here is what the 92-year-old has been up to since then.
Vera Miles stopped acting in the mid-1990s
According to IMDb, Vera Miles was a professional actress for only 12 more years following the premiere of "Psycho II," working on shows like "Crazy Like a Fox," "The Love Boat," and "Murder, She Wrote." Her last film role was as Dr. Ruth Goldin in 1995's "Separate Lives," where she starred alongside Jim Belushi, Elisabeth Moss, and Linda Hamilton.
Prior to calling it quits, the actress played various contrasting characters. In a 1958 interview, she explained that she refused to be pigeonholed. She revealed that she did not want to rely on her looks, stating she was "much more interested in becoming an actress rather than a physical actress." She also noted that she had a desire to play "all different sorts of roles." 
"I hate very much just being a respectable type or on the other hand, I would hate very much to be a sexy type actress. Or a Shakespearean-type actress. You know, we all want a bit of variety," shared the mother of four. The 92-year-old former actress is currently a California resident. In 2019, filmmaker Ted Geoghegan shared on Twitter that Miles still "loves hearing from her fans."