The Supernatural Romantic Drama Hidden Gem You Need To Watch On Netflix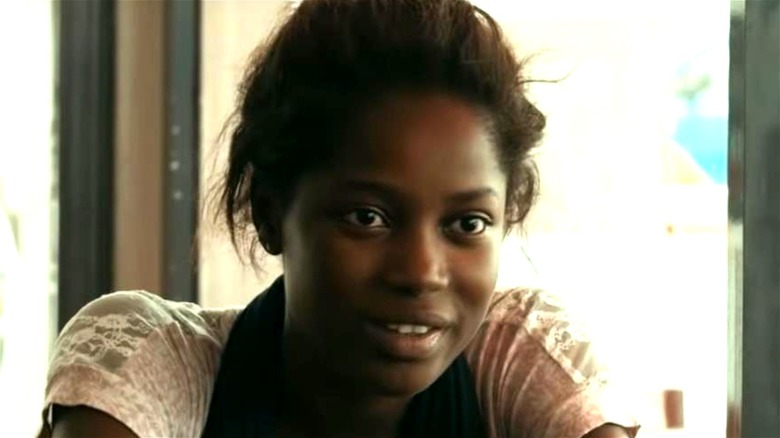 Netflix
Although she's since received acclaim for her work as a director, Mati Diop's first film credit was as one of the stars of the underrated "35 Shots of Rum." At that film's heart is the relationship between single father Lionel (Alex Descas) and his daughter Josephine, portrayed by Diop. The movie's loose, character-driven story chronicles Josephine's gradual transition into a married life away from her father and it depicts the bittersweetness of Lionel having to see his daughter move on from their life with one another.
While "35 Shots of Rum" may have marked Diop's debut in the film world, it wasn't her first connection to the medium. As it happens, Diop is the niece of Djibril Diop Mambéty, who directed the acclaimed Senegalese film "Touki Bouki" (via RogerEbert.com), which makes her work as an actor and eventual debut as a director feel like the continuation of a, perhaps unofficial, family tradition.
Diop's acclaimed directorial debut, "Atlantics," is a supernatural, zombie story of sorts, though, its zombies are far from traditional. It's streaming now on Netflix and is among the best zombie films available on the service.
Atlantics is a stunning supernatural romance
At the center of "Atlantics" are two core tensions, around which the entirety of the film revolves. On the one hand, there is the wealthy businessman in charge of the construction of a large tower in the Senegalese city of Dakar, who has failed to pay his workers — spurring them to leave on a boat in the hopes of finding better work in Spain. 
On the other hand, there is Souleiman (Ibrahima Traoré), one of the tower's workers, who also — prior to setting out to sea — was romantically interested in Ada (Mame Bineta Sane). However, shortly after Souleiman's departure, strange things begin happening around Ada. As the film's story progresses, the viewer gradually becomes aware of not only what's causing these various strange occurrences, but also how they connect to both the tower's construction and Ada's romance with Souleiman.
Notably, by the time "Atlantics" screened at the New York Film Festival in 2019, Mati Diop was already the first Black woman to enter a movie into the official competition at the Cannes Film Festival (via BBC), where she won the festival's Grand Prix prize for the film (via Variety). On Rotten Tomatoes, "Atlantics" holds an impressive 95% Tomatometer score, while The Atlantic critic Hannah Giorgis described it as "a drama of palpable yearning and astonishing grace" that features "soft camerawork and pointed dialogue." Indeed, it's a magical and surprising movie — one that truly needs to be seen to be believed.