Samuel L. Jackson Just Dropped Exciting News About Secret Invasion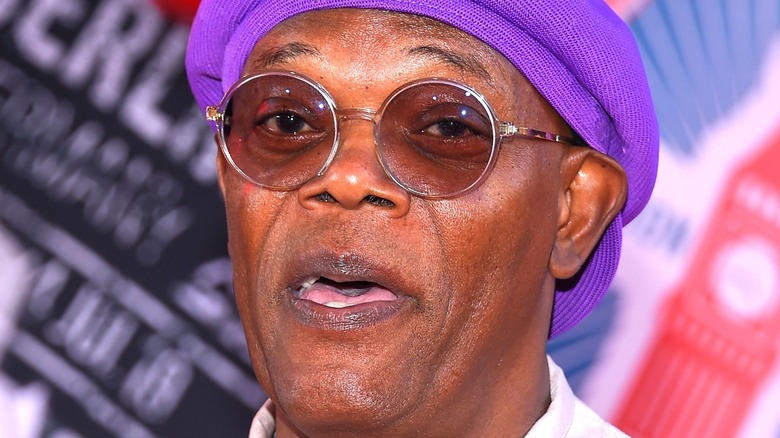 DFree/Shutterstock
There are more projects in the works at Marvel Studios than fans know about, all of which are in various stages of production. The Disney+ series have been a major success for the studio, with a handful set to debut within the next year. Samuel L. Jackson finds himself in one of those very series, where he will return as Nick Fury. It's been quite a while since we've seen the former head of SHIELD, with his last appearance in "Spider-Man: Far From Home" in 2019. 
Thankfully, it looks like we won't have to wait much longer before we see Fury again. On October 16, Jackson continued a long-standing tradition of showing off his pre-costume look with a post of himself in a T-shirt that features a real low point in his character's career. The graphic tee features the moment when Fury loses the great cosmic coin flip of The Snap and begins to dissolve into dust. (Maybe there's one of Fury getting scratched by a Flerken in Jackson's closet too.)
But it's the hashtags that Marvel fans will want to pay most attention to, as the actor revealed a major milestone in the production of the highly-anticipated "Secret Invasion" series on Disney+.
Samuel L. Jackson reveals Secret Invasion is on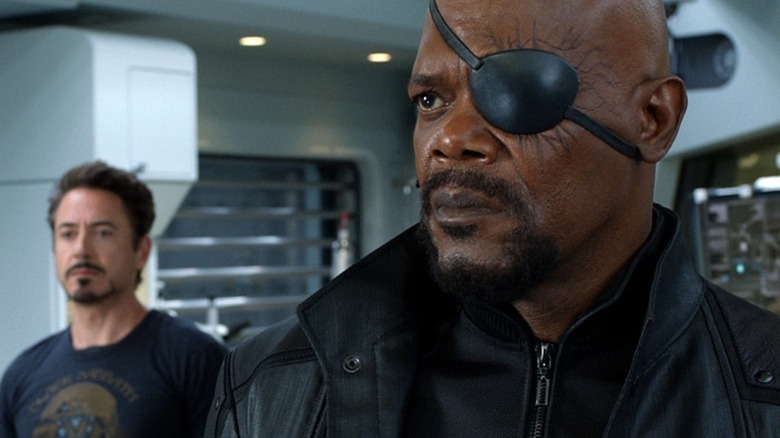 Marvel Studios
In Samuel L. Jackson's new Instagram post, he reveals in one of his hashtags that he is "#backwithafury." He also added in his caption that it's "Time to get back in the groove" and said he was "Happy to be back on the attack!" It looks like production has officially begun on "Secret Invasion," and MCU fans can rejoice.
While the series is believed to have started filming in September according to Film London, this is Jackson's first reference to being involved, and we finally have an official confirmation on the project.
Jackson joins a high-powered cast on the "Secret Invasion" set as Ben Mendelsohn returns as Fury's Skrull ally Talos. Oscar-winner Olivia Colman and "Game of Thrones" star Emilia Clarke will join them, along with Kingsley Ben-Adir ("One Night in Miami"), Killian Scott ("Love/Hate") and Christopher McDonald ("Happy Gilmore"). Considering the original comic storyline features shape-shifting Skrulls pulling a long-con invasion of Earth by posing as various superheroes to infiltrate the planet and disrupt its defenses, safe to say the cast could end up including anybody.
"Secret Invasion" is likely to drop on Disney+ in 2022.