The Office Actor Who Had Help With Their Medical Bills From Fans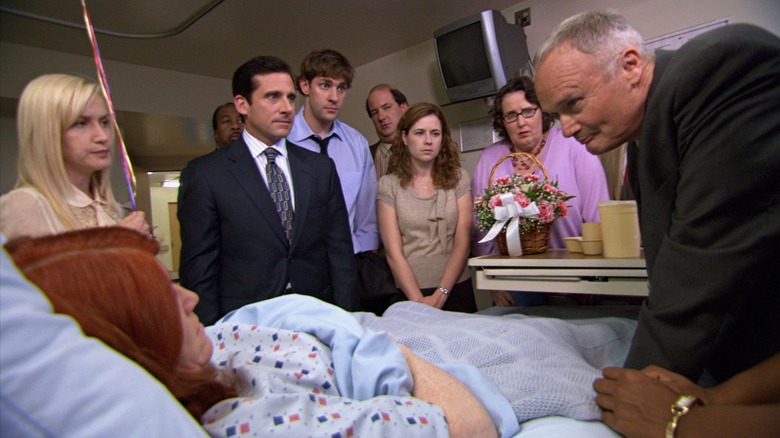 NBCUniversal
"The Office" remains one of the most beloved workplace comedies of all time. The NBC mockumentary series, adapted from the British series of the same name, follows the trials and tribulations of the employees at Dunder Mifflin Paper Company, Inc. in Scranton, PA. Except for Steve Carell, who plays branch manager Michael Scott, the remainder of the cast were relative unknowns at the start of the series. However, over the course of nine seasons, many members of the comedy ensemble became household names and fodder for water cooler chatter for years.
Although "The Office" focuses mainly on the series' white-collar employees, the warehouse staff of Dunder Mifflin occasionally pops up as well, and whenever the two factions collide, comedy, chaos, and awkwardness ensues. While David Denman's Roy Anderson, Craig Robinson's Darryl Philbin, and Ameenah Kaplan's Val all figure more prominently in the series than their counterparts, one lesser-known character, who only appears in eight episodes, left a lasting impression on fans. Best remembered for the Season 6, Episode 21, "Happy Hour," in which Michael Scott's tragically hilarious alter-ego "Date Mike" makes an appearance, this character actor found an overwhelming amount of support from fans of "The Office" when a real-life tragedy struck him and his family. 
Fans rallied around The Office's Hidetoshi 'Hide' Hasagawa
The beloved, but rarely seen member of the Dunder Mifflin warehouse crew we're talking about is Hidetoshi "Hide" Hasagawa, who is played by actor Hidetoshi Imura (who, incidentally, also goes by the nickname "Hide"). The character Hide reveals that he is a prominent heart surgeon in his home country Japan, who fled after intentionally botching the surgery on a Yakuza crime boss. Thanks to Darryl, Hide gets a fresh start in the U.S.
In September 2020, the real-life Hide suffered a massive heart attack. The actor's wife, Noriko Imura, informed fans via Instagram, posting a photo of the hospitalized star and revealing that he was in the ICU and conscious. Noriko also started a GoFundMe account to help with medical expenses, explaining that Hide's heart attack occurred on his first day back to work after a long hiatus due to the pandemic. Although his condition initially stabilized, two days later, there were complications, and Hide was put on a ventilator. Redditors spread the word, with one particular user, u/thebiglebroski1, rallying support with a reference to Hide's "Office" character: "Let's make sure our #1 Heart Surgeon gets well!" Fans of "The Office" didn't hesitate, and the family's modest $40,000 was quickly met. 
In April 2021, Noriko announced via the GoFundMe that her husband was doing much better, although he still needed "open heart bypass surgery." She expressed her gratitude for everyone who donated, which enabled Hide's family to meet their day-to-day expenses as well as pay his medical bills. In May 2021, Hide made a YouTube video updating fans on his health, and the actor was visibly emotional when thanking his fans, signing off with the same two thumbs up as his character did after his shocking and hilarious confession on "Happy Hour."