Why Gerry From Hall Pass Looks So Familiar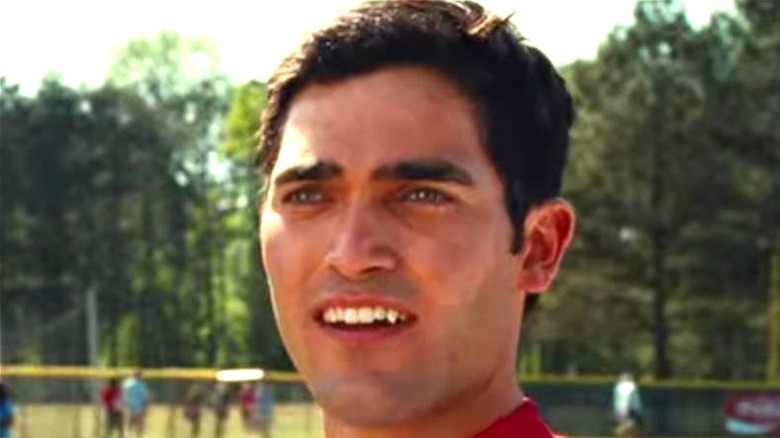 Warner Bros.
It is a truth universally acknowledged that any sex comedy starring protagonists above the age of, say, 30 will also feature younger, more attractive potential partners for them to pursue.
The Farrelly Brothers' "Hall Pass" is no exception. And while there are plenty of female options for Rick (Owen Wilson) and Fred (Jason Sudeikis) to pursue during the "hall pass" week their wives have given them, the wives also have the opportunity to lust after someone still in the bloom of youth. This is how Fred's wife Grace (Christina Applegate) finds herself in bed with the young baseball stud Gerry, an encounter they both agree should remain a one-time deal. 
But just because Gerry and Grace promise never to see each other again doesn't mean Gerry has vanished from sight forever. "Hall Pass" wasn't even actor Tyler Hoechlin's last time portraying a baseball player on screen — for good reason — but he's appeared in far more than just sports films. Here are some places you might recognize him from.  
Tyler Hoechlin took a ride on the Road to Perdition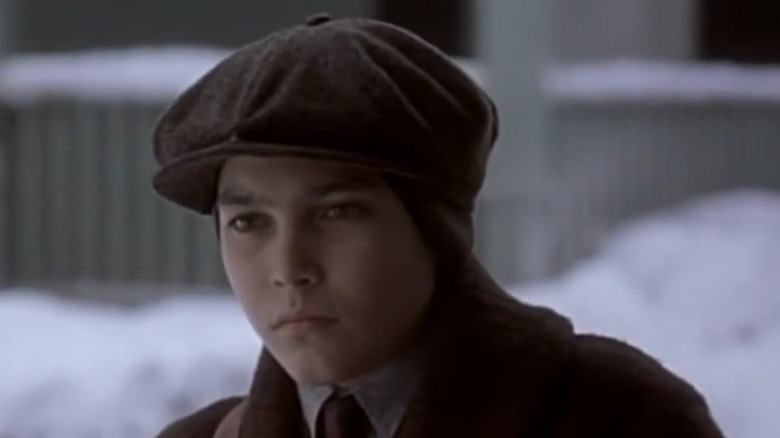 DreamWorks Pictures
Tyler Hoechlin wasn't yet a teenager when he landed his first screen credits, playing supporting roles in family-friendly fare like "Family Tree" and "Train Quest." His big break didn't come until 2002, and when it landed, it was nothing like those.
Instead, Hoechlin was cast as Michael Sullivan Jr. in Sam Mendes' 2002 R-rated graphic novel adaptation "Road to Perdition," starring Tom Hanks as mob enforcer Michael Sullivan Sr. The pair are the only survivors of a hit undertaken on their family, and much of the film finds them navigating the thriving criminal underbelly of the early 1930s trying to enact their revenge on the killer. Through it all, Sullivan tries to preserve his son's innocence even as he takes him deeper into his sordid world and quest for revenge.
"Road to Perdition" was quite the deep end for a young actor to get thrown into. In addition to sharing plenty of screentime with Hanks, the film features a murderer's row of a supporting cast, including Jude Law, Daniel Craig, Stanley Tucci, and Paul Newman. Hoechlin held his own though, and even won the Saturn Award for Best Performance by a Younger Actor, beating out the likes of Hayden Christensen, Daniel Radcliffe, and Elijah Wood in their big-budget blockbuster roles.
Tyler Hoechlin took a bite out of Teen Wolf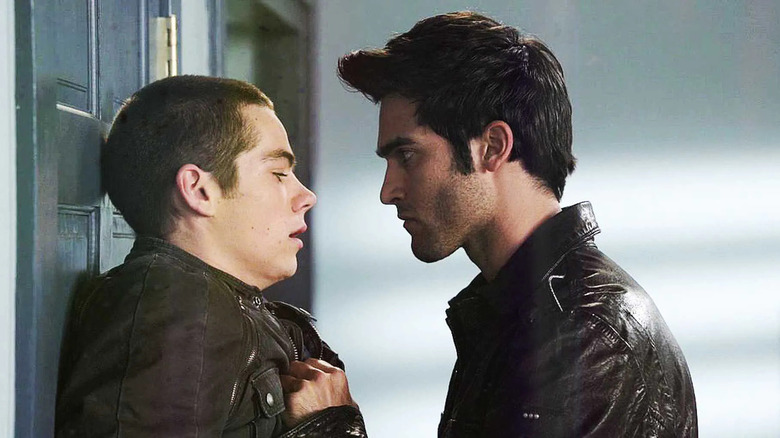 MTV
For much of the next decade, Hoechlin worked steadily but not constantly as he pursued a baseball career up to the collegiate level at Arizona State University and the University of California at Irvine. He had a long-running recurring role as a teenage contemporary of the younger Camden children on "7th Heaven," and appeared in episodes of "CSI: Miami" and "Castle" before landing "Hall Pass" in 2011. But it was arguably his other big part of 2011 that jumpstarted his career when he was cast as the sullen werewolf Derek Hale on the MTV drama series "Teen Wolf."
Derek begins the series a frustrated and reluctant mentor to new wolf Scott (Tyler Posey), though the two eventually develop a mostly friendly rivalry as the series progresses and they find themselves wrapped up in ongoing battles between werewolves and werewolf hunters, including members of Derek's family.
Hoechlin told Collider that one of his favorite parts of playing a supernatural fighting machine was the opportunity to perform his own stunts, which boded well for his future career. "Our stunt coordinators and our stunt players are amazing at what they do. I'm so grateful that they let me participate as much as they do because I thoroughly enjoy it," he said. "As much as they allow me to do, I'm always very excited and happy to do it."
Tyler Hoechlin played a baseball star in Everybody Wants Some!!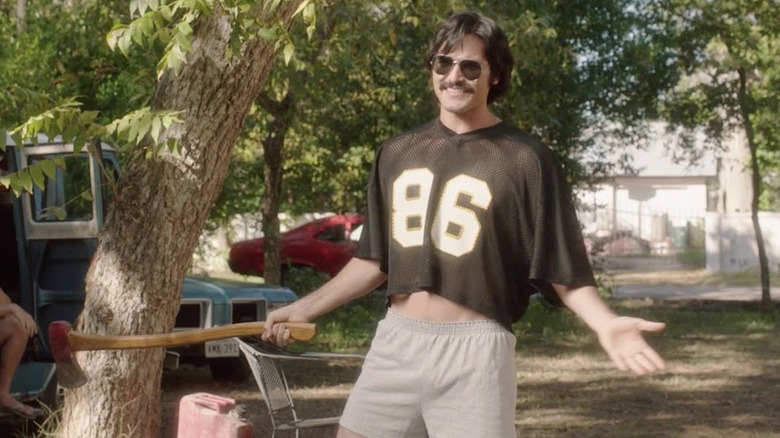 Paramount Pictures
Tyler Hoechlin didn't need much help from stunt performers for his next big role when he signed on to play team captain Glen McReynolds in Richard Linklater's 2016 college baseball comedy — and spiritual sequel to his classic "Dazed and Confused" — "Everybody Wants Some!!"
McReynolds spends much of the film in something of a different orbit from the rest of his teammates. With the school year just starting, they're more interested in goofing off and partying than the baseball they're going to end up playing later. While he's not above partaking in hijinks and parties, his status as the team's best prospect and his potential to keep playing after school means baseball –– and all other forms of competition –– is something a little more serious for him. He's the Benny "The Jet" Rodriguez of the movie, basically, and his prowess is introduced when he splits a tossed baseball in half with an ax.
In a group interview, Hoechlin and his castmates did with GQ, it's clear the camaraderie between the teammates depicted in the film wasn't something that had to be faked, but the actor credits Linklater with channeling that energy into their characters and the final film. "Obviously he knows what he wants, but he's so giving in the creative space of making the film, allowing us to have so much freedom to find out who these guys were... To be like, 'Hey, this is the guy. I cast you in it for a reason. I want you to bring what you see in this character to the character," Hoechlin said.
Tyler Hoechlin has taken off as The CW's Superman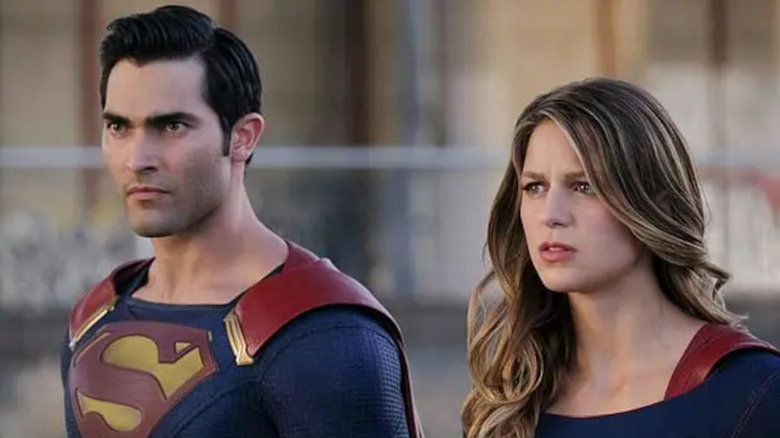 The CW
Later that year, Tyler Hoechlin ditched McReynolds' mustache to play a role with presumably a little bit less freedom: Clark Kent and his super-powered alter-ego on The CW's "Supergirl."
The show's version of the character has been on Earth a long time and serves to help Kara/Supergirl (Melissa Benoist) come into her own as a hero but not overshadow her. In an interview with Empire in 2016, Hoechlin used a sports metaphor to describe his version of the character in his initial appearances on the show from its second season onward, saying he's like the veteran trying to encourage the rookie to be her best self. "Superman's only hope and idea at that point is to encourage others to reach their potential as well, and that's all he wants to do," he said, later adding that his time on the series was "just the most pure fun that I've had playing a character and shooting something."
That was good for him because he would have plenty of chances to reprise the role. In addition to appearing in the Arrowverse's "Elseworlds" and "Crisis on Infinite Earths" crossover events, Hoechlin now stars with Elizabeth Tulloch in the CW's "Superman & Lois," which sees the titular pair move to Smallville to raise their teenage children. The series has been renewed for a second season and is expected to return to the CW in 2022.