The First Look At The Next Scream Movie Will Give You Chills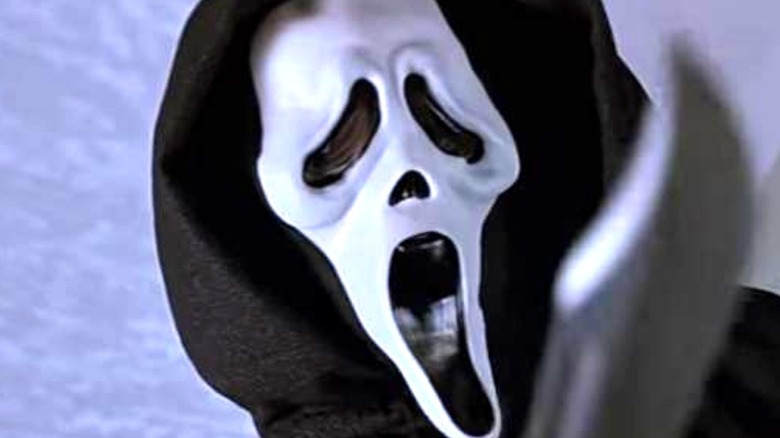 Dimension Films
"It's always someone you know," reads the tagline on the poster for the fifth "Scream" movie, which is due in theaters on January 14, 2022 — and that's more than just an accurate description for the "Scream" franchise. No one donning the Ghostface mask is ever some random person; in fact, they are sometimes the person the victims think they can trust the most.
Moreover, the notion of someone we know collectively as fans is of paramount importance as the latest film in the self-aware slasher franchise gears up its promotion. The new "Scream" is the first to be directed by someone other than the late horror master Wes Craven — and that makes it more important than ever that there be people we know in front of the camera to ensure this is still a "Scream" movie.
Part of the "Scream" franchise is that there are rules. At this point, other than Ghostface, there is a trio of people we expect to see in a "Scream" movie to the point that you might even define their required appearance as a "Scream" rule itself. Those three characters are: "Scream" final girl Sidney Prescott (Neve Campbell), star reporter Gale Weathers (Courteney Cox), and the ever-capable (former) deputy, Dewey Riley (David Arquette).
Old faces returning and new faces with a history of horror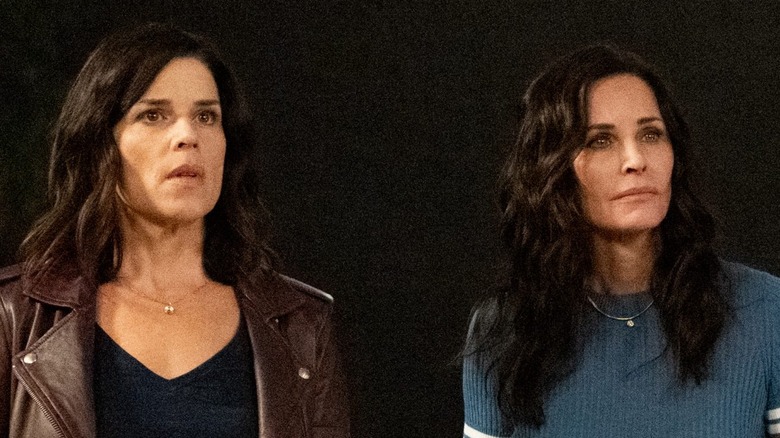 BROWNIE HARRIS/PARAMOUNT PICTURES AND SPYGLASS MEDIA GROUP
If we take away nothing from these first official images of "Scream," we know first-hand that those three key players are back — and bearded in the case of Dewey Riley. Of the images dropped, there are two featuring the iconic original cast members, one of which includes both Sidney and Gale staring in shock at something off-screen.
"I genuinely was in two minds," Campbell said in an interview with Entertainment Weekly to coincide with the first images. "The idea of making these films without Wes Craven seemed challenging to me. I loved the man very much. But [co-directors] Matt [Bettinelli-Olpin] and Tyler [Gillett] wrote me a letter, speaking of their appreciation and great respect for Wes Craven, and speaking of the fact that the very reason that they are directors today was because of these movies and because of Wes, and that meant a great deal to me."
Those aren't the only faces which will be familiar to horror fans. Jenna Ortega, who plays Tara Carpenter in "Scream," got one of her first big gigs as Annie in "Insidious 2," and Dylan Minnette, playing Wes Hicks, has horror credits that range from "Supernatural" to "Don't Breathe." If you were wondering how much the previous "Scream" movie (other than the original) would factor in, we also see a knife-wielding Marley Shelton as Judy Hicks, whom audiences first met in "Scream 4".
Original "Scream" scriptwriter Kevin Williamson is also back. "Knowing that Kevin Williamson was an executive producer on it set me at ease," David Arquette said. "He really knows the tone. I mean, he set the whole world up!"
"Scream" is in theaters on January 14, 2022.