Jake Gyllenhaal Opens Up About His Anxiety While Shooting Spider-Man: Far From Home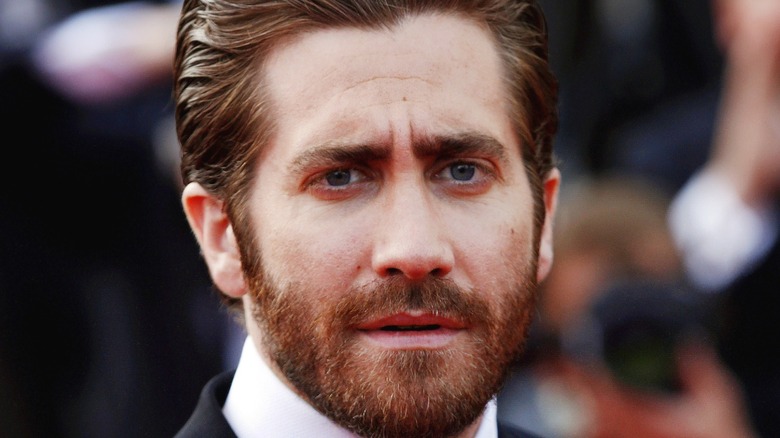 Andrea Raffin/Shutterstock
Jake Gyllenhaal first appeared in the Marvel Cinematic Universe in "Spider-Man: Far From Home," where he portrays a newly-introduced character named Mysterio. He initially presents himself as a heroic ally to Tom Holland's Spider-Man, but before long, it's clear that this is a deception in service of some sinister aims.
Timeline-wise, "Spider-Man: Far From Home" follows "Avengers: Endgame." While the film is largely focused on Peter Parker and those close to him, some greater Marvel lore nevertheless factors into its story, predominately by way of the prominent inclusion of Avengers Initiative architect Nick Fury (Samuel L. Jackson) — whose role is complicated by the film's post-credits scene in a manner only comprehensible through an understanding of additional Marvel lore.
In short, upon his introduction to the Marvel Cinematic Universe, Gyllenhaal was joining not just the second film in the Tom Holland "Spider-Man" series, but a film with parts that require knowledge from throughout the twenty-plus franchise entries that proceed it. Gyllenhaal discussed how the weight of that fact affected him in a recent discussion with Howard Stern, revealing that he developed anxiety early on in his portrayal of Mysterio.
Jake Gyllenhaal was so nervous at first, he forgot some of his lines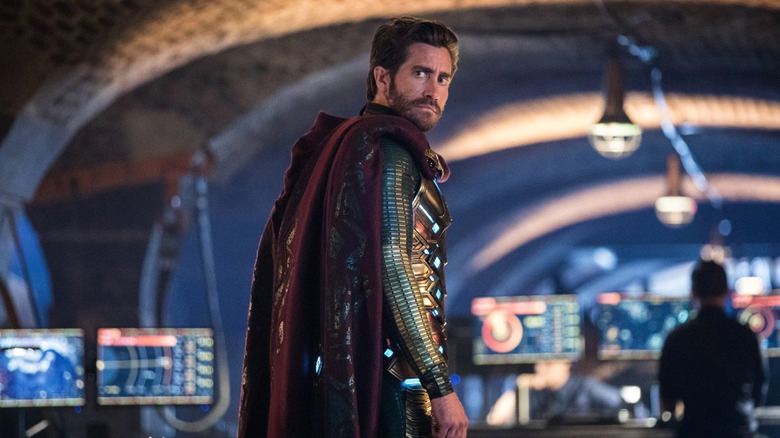 Sony Pictures/Marvel Studios
As recounted by Variety, Jake Gyllenhaal told Howard Stern that during his first day on the set of "Spider-Man: No Way From Home," he forgot some of his lines, which he characterized as an unusual occurrence. "That acting is hard. All of it," Gyllenhaal said. "That world is enormous. And I joined that world way into that run; a train that was already moving. Normally, I come in way early on, and I get to figure it out."
He went on to describe how the first scene during which he froze up while filming was opposite Tom Holland and Samuel L. Jackson. His anxiety, he explained, was a result of pressure he felt due to his personal admiration for the MCU. "I remember not being able to remember my lines. I was the wooden board," he said. "And they were like, 'Whoa.' And I went up to Tom Holland and was like, 'Dude, help me out.' He's like, 'It's all good, man. Just relax.' It was like he was me in so many situations."
Gyllenhaal ultimately assured the "Far From Home" crew that this was not representative of his usual capabilities, citing an hour-and-a-half long one-man show he performed on Broadway as evidence he was normally capable of reciting lines with precision. Gyllenhaal persevered and finished the film.
The next Marvel "Spider-Man" movie, titled "No Way Home," will be released on December 17.