The Jaden Smith Remake That Is Heating Up On Netflix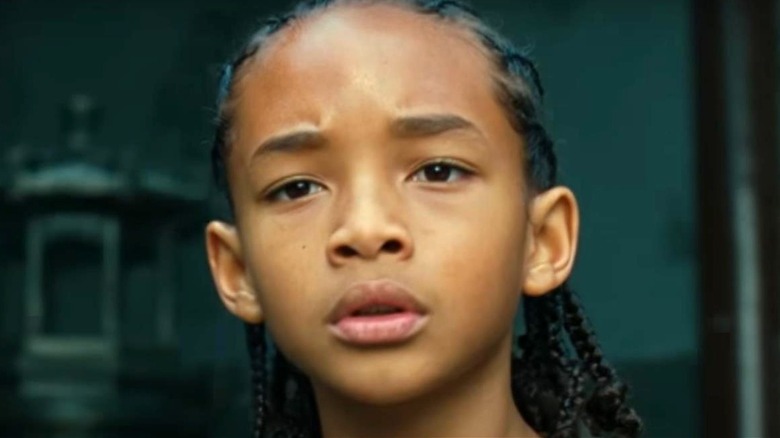 Sony Pictures
Remakes seem to be a dime a dozen these days. From all the Disney live-action adaptations, to classic monster movies like "King Kong" and "Dracula," to "The Secret Garden," "Death on the Nile," and the upcoming "West Side Story," it often feels like there are no new ideas in Hollywood.
However, a new stab at an old classic isn't always a bad thing. Revamping a beloved tale for a more modern audience just means another opportunity for a new audience to enjoy a taste of movie magic. Luckily, many of these cherished remakes are only a click away.
One film, based on a 1980s classic, is heating up on Netflix. "The Karate Kid," starring a young Jaden Smith, is a 2010 remake of the cherished 1984 film of the same name. Both films have the same main plot, wherein a boy is taught martial arts by a wise older man to defend himself against ruthless bullies. The 1984 film was sleeper hit, becoming one of the highest-grossing films of the year (per Box Office Mojo), and in the years since, it has cemented itself as part of our pop culture lexicon.
The 2010 version was not as well-received, not even breaking the top 10 highest grossing films of the year (per Box Office Mojo). The adaptation was largely rejected by devoted fans of the original, too, and is not considered part of the "Miyagi-verse," including the popular Amazon series "Cobra Kai." 
However, 2010's "The Karate Kid" is definitely worth your time, and deserves to be celebrated on its own merits. 
Jaden Smith and Jackie Chan make The Karate Kid a must-watch
Jaden Smith's performance is largely what makes "The Karate Kid" such an enjoyable watch. As The Guardian's Andrew Pulver says of Smith, "To possess such heavy-lidded charm at the age of 11 is almost miraculous," calling Smith a "natural." Dana Stevens at Slate had similar praise, comparing Smith's talents to that of his father Will, saying "As a performer, Smith is a bit of a show pony, with his father's habit of deploying charm as a defense. But just like Will, this even-fresher prince gets away with it 90 percent of the time."
The enormous talents of Jackie Chan are not wasted in this kung fu film, either. A veteran of the genre (and the one responsible for popularizing it in the West), Chan's performance is celebrated. Though he's known best as an action star, his emotional performance stands out in "The Karate Kid," with Stevens saying he "provides the film's emotional center," and that "his grave expression suggests such untold depths that a backstory seems almost unnecessary." Sandra Hall of The Sydney Morning Herald echoed these sentiments, remarking on "Chan's way of tenderising his approach to martial arts with humour and humility."
The relationship between mentee and mentor is at the heart of 1984's "The Karate Kid," and it's just as emotional and impactful in the 2010 adaptation. If you're looking for a heartwarming and action-packed film for the whole family, you can't go wrong with "The Karate Kid," now streaming on Netflix.