The Disturbing Accident That Could Only Happen On The Set Of Dexter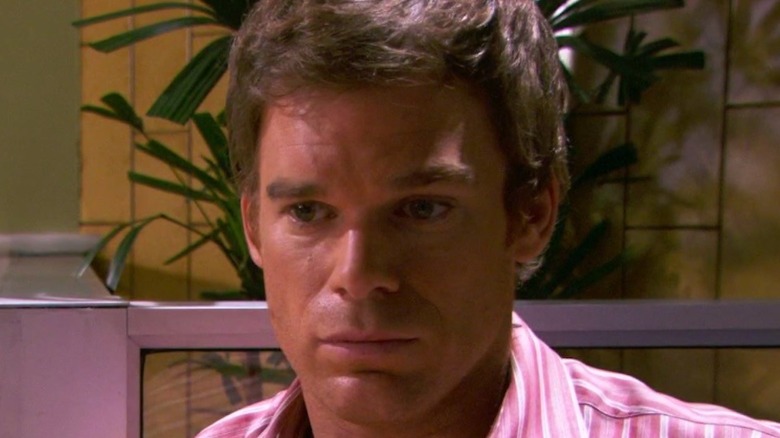 Showtime
Developed by James Manos Jr. and based on the novel, "Darkly Dreaming Dexter" by Jeff Lindsay, Showtime's "Dexter" ran for eight seasons from 2006 to 2013. The series has remained popular since its series finale — despite a widely disliked ending — and will soon be coming back for a limited-series revival, "Dexter: New Blood," in November.
The original series focuses on Dexter Morgan (Michael C. Hall), a blood splatter analyst working for the Miami Metro Police Department, who has sociopathic tendencies that cause him to have intense urges to kill people. To quell his desires, Dexter only kills other serial killers, working by a code his police officer father, Harry (James Remar) introduced to him before his death to keep Dexter — and innocent civilians — safe. Throughout the series, we see Dexter take on other deadly serial killers while trying to maintain the guise of a normal life.
"Dexter," despite plenty of comedic moments, is undeniably a dark and disturbing show — after all, its protagonist is a serial killer and someone dies in nearly every episode. And, as it turns out, the show also has some dark moments behind the scenes as well, including one especially disturbing incident.
A stuntman was accidentally stabbed on set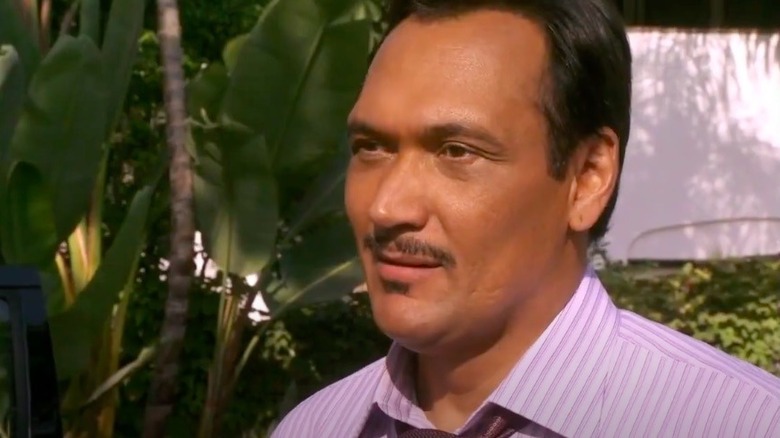 Showtime
In an incredibly scary on-set accident, a stuntman, Jeff Chase, was stabbed while filming a scene of "Dexter" back in late 2008. As reported by Digital Spy, actor Jimmy Smits — who played Miguel Prado in Season 3 — accidentally picked up a real knife instead of a prop knife and stabbed Chase in the chest. Luckily, Chase had a piece of plastic placed over his heart in case of accidents.
In an interview, Chase said, "For the scene, I was bound in Saran Wrap, duct tape over my mouth. I couldn't say a thing as I saw Jimmy grab at the knife. He picked up the real one by pure mistake. It was a mean-looking knife. I heard fellow actor Michael C. Hall yelling at Jimmy to stop – but it was too late. I felt the thud in my chest. I didn't have on a metal breastplate like a lot of actors do in a scene like that. Instead, I had a piece of acrylic clear plastic about the size of a Post-it note over my heart."
The whole accident gets even scarier — but luckily Chase survived. He continued, "[The piece of plastic] was a quarter of an inch thick and not attached. In eight out of 10 takes with the prop knife, Jimmy had missed the plastic. But by a miracle, an act of God, the knife landed at the very edge of the plastic."