Why Netflix's Escape The Undertaker Has WWE Fans So Divided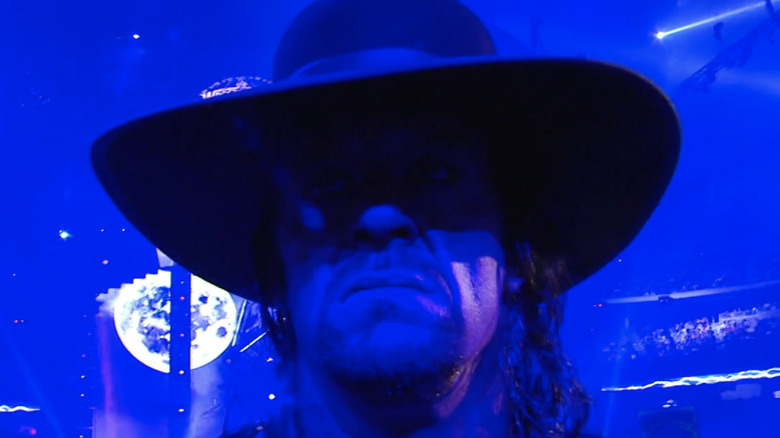 WWE/NBC
The Undertaker is one of the most iconic wrestlers to ever enter the squared circle. In fact, most wrestling fans would probably add him to their Mount Rushmore of the all-time great characters in the history of the business. That's an impressive feat considering that his persona — a supernatural cowboy mortician who occasionally rode motorcycles — is inherently silly. Yet, somehow, The Undertaker made it believable.
Debuting at WWE's 1990 "Survivor Series" pay-per-view, The Undertaker went on to enjoy an illustrious 30-year career that saw him win numerous titles, headline "WrestleMania" and take part in some classic matches. However, the character will be remembered for being at the center of some of WWE's wackiest storylines, many of which were supernatural in nature. Whether he was shooting lightning bolts or performing ritualistic sacrifices with his Satanic cult on "Monday Night Raw," you could always rely on The Undertaker to bring a macabre edge to WWE television.
Understandably, then, Netflix turned to the legendary superstar to play the antagonist in "Escape the Undertaker," a "Bandersnatch"-esque interactive adventure which sees him chase current WWE superstars Xavier Woods, Kofi Kingston and Big E Langston through a spooky mansion. Some viewers might think that sounds like Halloween fun, but "Escape the Undertaker" has stirred controversy among some Netflix subscribers.
The Undertaker holds divisive political views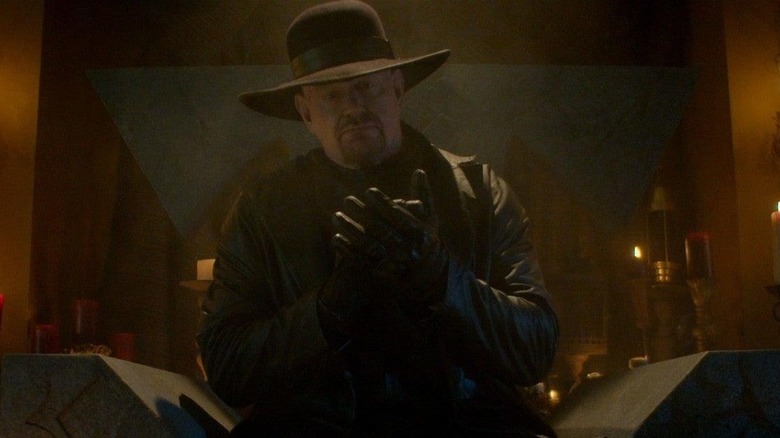 Netflix
While The Undertaker is one of WWE's most beloved performers, the man behind the persona, Mark Calaway, is a divisive figure. As Pop Culture points out, he's been called out for sporting Blue Lives Matter and other politically-themed clothing in the past. Similarly, as Sportskeeda notes, he reportedly donated to Donald Trump's re-election campaign in 2020.
Given that "Escape the Undertaker" sees him on the prowl for three Black superstars, some viewers have taken issue with the casting and the film's concept. According to Reddit's u/FanGirl86, the movie has already aged badly due to Undertaker's "anti-BLM, MAGA, political views, and the premise of this film being him trapping & hunting black men in his house."
However, some fans disagree with this sentiment as The Undertaker and his co-stars appear to be friends behind the scenes. "Seems [Kingston, Woods, Big E] and Undertaker like each other," wrote u/Starman4520. "People don't realize you can have different political views and still be friends."