Why Hank From Netflix's Maid Looks So Familiar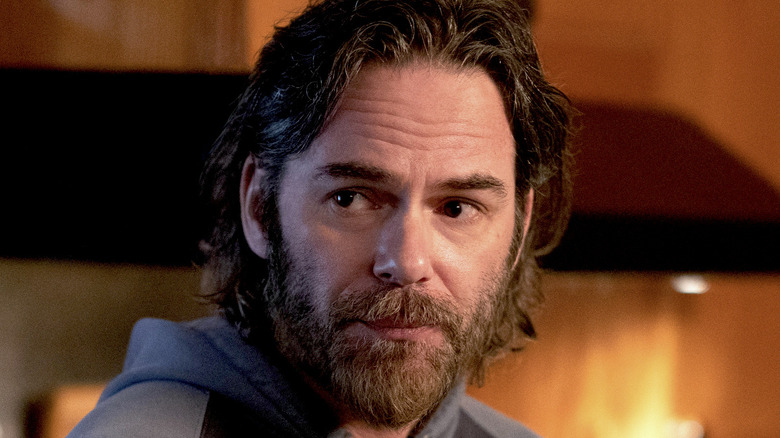 Netflix
Netflix has a new limited series called "Maid," based on the memoir "Maid: Hard Work, Low Pay, and a Mother's Will to Survive" by Stephanie Land and created by Molly Smith Metzler. The show has quickly become a hit, currently standing at 100% on Rotten Tomatoes. "Maid" stars Margaret Qualley as Alex Russell, a young woman who flees her abusive ex, Sean Boyd (Nick Robinson), with their young daughter, living in poverty and working as a for-hire maid to support them. Qualley's real mother, Andie MacDowell, plays her character's mother, Paula Langley, while Alex's estranged father, Hank Russell, is played by none other than Billy Burke. 
For many viewers, Burke is likely to seem very familiar, and for good reason, as the actor has played many significant roles over the years. In "Maid," Burke's character is not the best father or partner, having physically abused Paula in the past, and although he wants to be there for his daughter and granddaughter, he only perpetuates the cycle of abuse and won't admit his own problems. Seeing Burke in "Maid" might have you wondering what else Burke has acted in over the course of his long career, so here's exactly why Hank from Netflix's "Maid" seems so familiar.
Burke played Charlie Swan in the Twilight Saga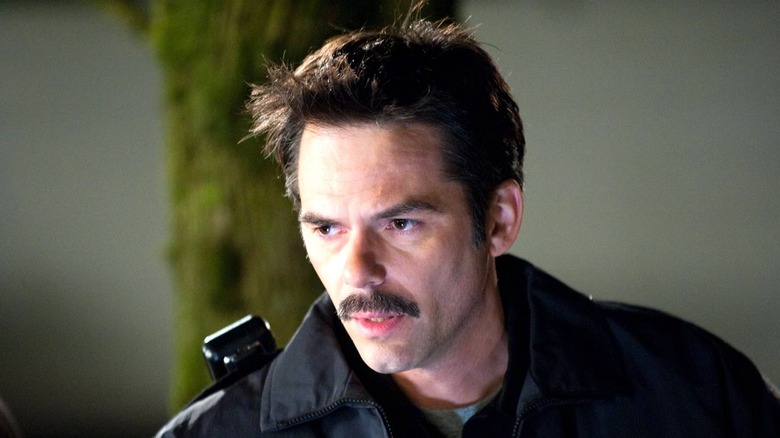 Summit Entertainment
Probably the role that Burke is most known for is Charlie Swan from "Twilight" and the following films in the series. Starring Kristen Stewart and Robert Pattinson as Bella and Edward, "Twilight" is based on the book series of the same name by Stephenie Meyers about a vampire and a human who fall in love. Arguably one of the best parts of the film series is Charlie, Bella's father and the Chief of Police in Forks, Washington, where Bella's involvement with Edward brings supernatural trouble. 
Through all the crazy things he experiences throughout the films, Charlie never fails to be grounded and hilarious. He is extremely protective of Bella, making sure she always has pepper spray on her, even though that's not likely to make a difference against vampires and werewolves. Charlie has good instincts and slowly learns to like and trust Edward, despite many warnings against the Cullen family. In the end, Bella and Edward reveal the truth of their life to her father, and he adjusts surprisingly well to the strange new world he's exposed to. 
He portrayed Miles Matheson in Revolution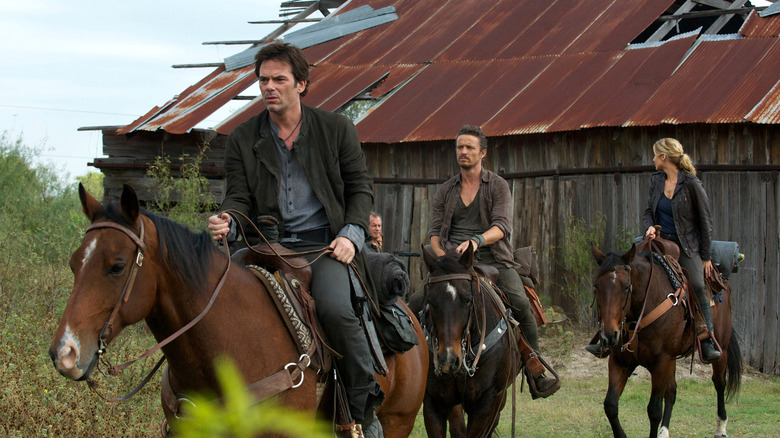 NBC
Right around the time that "The Twilight Saga: Breaking Dawn – Part 2" came out, Burke joined a new science fiction series called "Revolution" premiering on NBC. In the show, there is a worldwide blackout in 2012 that leaves everyone unable to use any electricity, with no clear reason why. "Revolution" takes place 15 years after the blackout, with the world having adjusted to this new reality and built a restructured society. 
Burke's character is Miles Matheson, the biological father of Charlie Matheson (Tracy Spiridakos), the show's main character. Initially, Charlie doesn't know who her real father is, as Miles's brother Ben adopts Charlie and raises her as his own until 2027, when the Monroe Militia, a new organization founded in the aftermath of the blackout, comes after the Mathesons. Ben is killed, Charlie's brother Danny (Graham Rogers) is kidnapped, and Miles and Charlie go on the run, as the militia believes that they have the key to figuring out how to reverse the blackout. Miles also has another reason to hide from the militia, as he helped found it years before, until one day he walked away and was labeled a traitor. 
Burke starred in "Revolution" throughout the show's two seasons, before NBC cancelled the series in 2014.
Zoo starred Burke as Dr. Mitch Morgan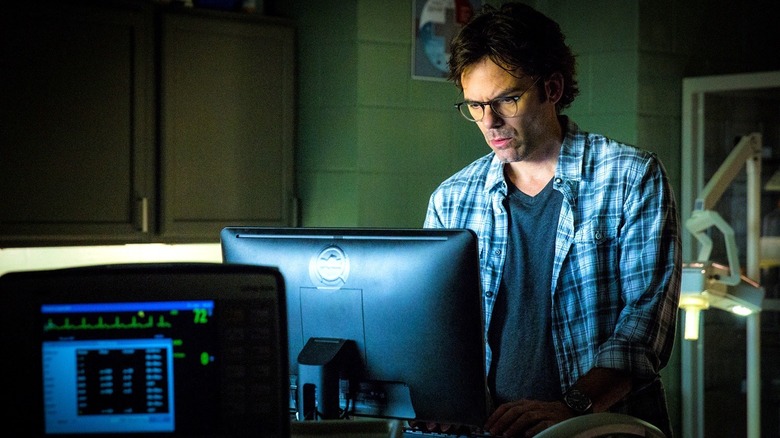 CBS
Shortly after "Revolution" ended, Burke found another starring role in CBS's "Zoo." Based on the novel of the same name by James Patterson and Michael Ledwidge, "Zoo" follows a group of people that includes zoologist Jackson Oz (James Wolk), a safari guide named Abe Kenyatta (Nonso Anozie), reporter Jamie Campbell (Kristen Connolly), and Burke's veterinary pathologist Dr. Mitch Morgan, as they investigate what's causing strange animal attacks across the world. Over the course of the show's three seasons, "Zoo" goes to many wild, indescribable places with its story, as the main crew tracks the virus at the center of the animal chaos.
Burke's character Mitch is very eccentric and memorable, determined to use his knowledge of animals to help stop the spread and mutation of whatever virus is causing the animals' behavior. Throughout Seasons 1 to 3, Jackson, Abe, Jamie, and Mitch become a close-knit family, depending on each other for support as they deal with loss and complicated emotions, while also battling things like swarms of hornets, ginormous snakes, and hybrid wolves that can't die, among other obstacles. 
Burke is currently playing Billy Tyson in 9-1-1: Lone Star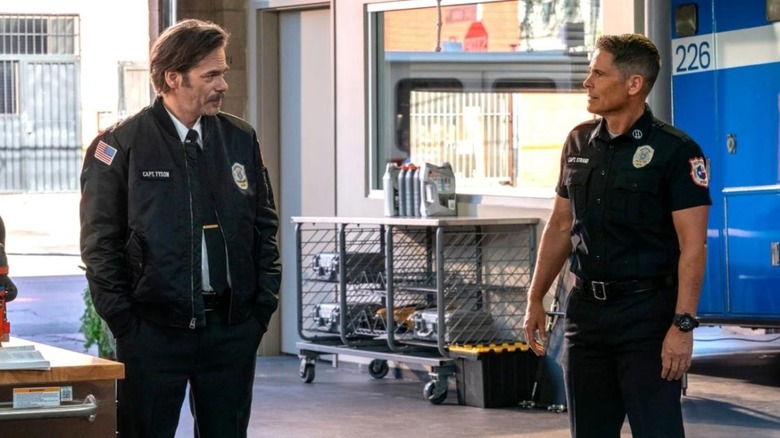 Fox
Along with his appearance in Netflix's "Maid," Burke is currently playing the role of Billy Tyson in the "9-1-1" spinoff, "9-1-1: Lone Star." The series follows the police, ambulance, and fire departments of Station 126 in Austin, Texas as they deal with everyday personal drama and rescue missions. 
Rob Lowe stars in the series as Owen Strand, a firefighter captain who moves to Austin from New York City with his son TK Strand (Ronen Rubinstein), who is also a firefighter. Burke first appears in "9-1-1: Lone Star" in the sixth episode of Season 1, "Friends Like These," as Billy Tyson, the former captain of the 126 until Owen arrives and takes over. There is a little tension between the two men, who act friendly but aren't exactly friends. But after Owen saves Billy's life in the next episode after he is hit by lightning, there's a bit more trust and respect between them. 
After that, Billy doesn't return until midway through Season 2, when he helps Owen catch a serial arsonist. Everything seems well and good from then on, but then in the Season 2 finale Billy arrives and drops some horrible news on Owen, announcing that Station 126 was going to be shut down due to lack of funds. On top of that, Billy is now taking on the position of deputy fire chief. The "9-1-1: Lone Star" finale sets it up for Billy to be one of the main antagonists of the upcoming third season, with Burke's role expanded even more going forward.