The Character Everyone Forgets Mandy Moore Played On Grey's Anatomy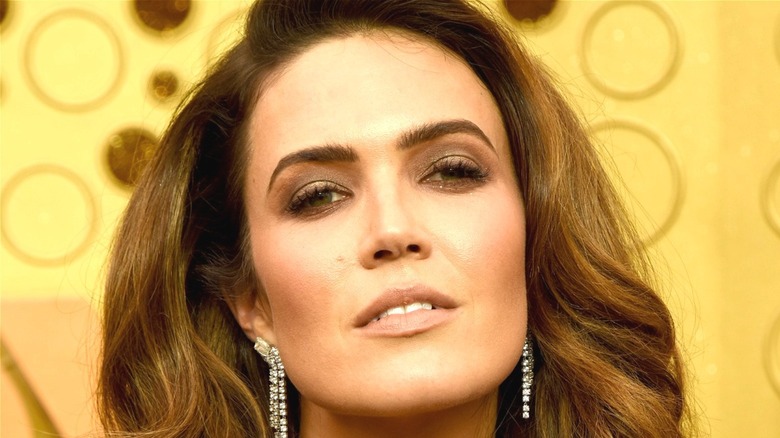 Kathy Hutchins/Shutterstock
Despite being only 37 years old, actress Mandy Moore has had quite the successful career already. She currently stars in the critically acclaimed drama "This Is Us" — which earned Moore her first Emmy nomination — and before that she starred in many different movies and television series, while also managing a music career. Some of her most notable roles include Jamie Sullivan in "A Walk To Remember," Anna Foster in "Chasing Liberty," and the voice of Rapunzel in Disney's "Tangled." You'll find very few romance fans who don't know the love story of Jamie and Landon Carter (Shane West) from "A Walk To Remember," and Moore also had a memorable appearance in "The Princess Diaries," two films that defined the early 2000s.
But along with Moore's strong history with the romantic comedy genre and her newer focus on voice work, playing roles in projects like "TRON: Uprising," "High School USA!", and "Sheriff Callie's Wild West," Moore also has an extensive resume of television roles, both minor and major. While her appearance on "Entourage" was playing herself, Moore also had a small role on "Scrubs" as a character named Julie, and she played Dr. Erin Grace on the well-liked yet short-lived series "Red Band Society." But there's actually one past performance as a hospital patient that is often overlooked, and that's Moore's turn as the character Mary Portman on ABC's long-running medical drama "Grey's Anatomy."
Moore portrayed Dr. Bailey's patient Mary Portman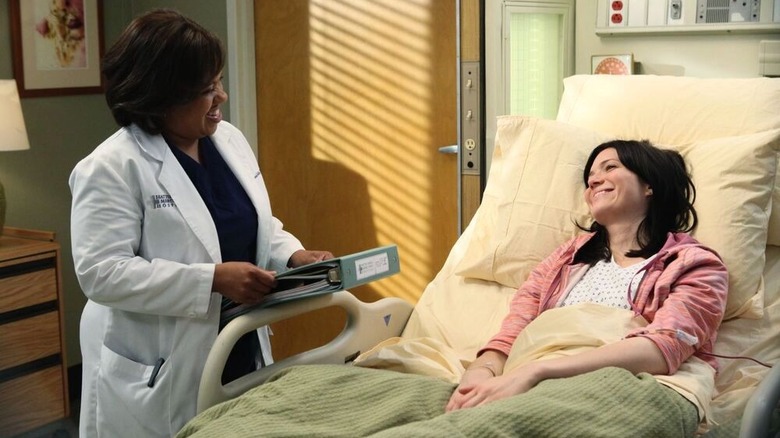 ABC
Moore played a patient named Mary in four episodes throughout Seasons 6 and 7 of "Grey's Anatomy" in 2010. Mary first visits the hospital in Season 6, episode 24, "Death and All His Friends," which finds Grey Sloan Memorial Hospital in the middle of a lockdown after Gary Clark (Michael O'Neill) comes to the hospital with a gun, shooting doctors who he blames for the death of his wife. Mary is at the hospital with her husband Bill (Ryan Devlin) to see Dr. Bailey (Chandra Wilson), who is supposed to perform her colostomy bag reversal surgery. Throughout the lockdown, Dr. Bailey helps Mary stay calm and protects her from Clark, saving her life, but she is unable to perform the colostomy surgery that day.
In Season 7 of "Grey's Anatomy," Mary and Bill return to the hospital after traveling around the world so that Mary can finally receive the surgery she needs. At the time, Mary and Bill are being featured in a documentary about the hospital shooting, so the couple is interviewed on the day Mary comes back to Grey Sloan Memorial Hospital. Mary states that she and Bill are considering having kids after the surgery, and she seems happy. While the surgery goes very well, Mary doesn't wake up from the anesthesia and enters a coma, and soon after, she dies. Both Dr. Bailey and Bill never find out exactly why this happens, so it's left for the audience to wonder.