It Fans Have A New Way To Celebrate Pennywise With This New Documentary
ABC
The year was 1986, author Stephen King had just surpassed 21 books in his bibliography, and he wasn't showing any sign of slowing down. That September, number 22 would arrive in the form of "It": the story of an extraterrestrial child-eating clown that awakens every 27 years to prey on children and the group of kids that band together to stop its reign of terror. Now 35 years past its release date, "It" has become one of King's biggest titles, selling millions of copies and earning the famed author several awards. Naturally, it has been translated from page to screen as well.
To many, the defining adaptation of the "It" story — broken up into 2017's "It" and 2019's "It: Chapter 2" — arrived at the movies courtesy of director Andy Muschietti. However, this wasn't the first attempt to bring the tale into a live-action format. That honor belongs to the "It" two-part miniseries that aired on ABC in the fall of 1990, starring the one and only Tim Curry as the horrifying Pennywise. Though antiquated by modern standards, the original "It" is still as beloved today as it was way back when with most of its fanbase holding fast in the face of its modern successor.
Luckily, for those who still embrace 1990's "It" with all of their might, a new documentary is on the way that will give them the chance to appreciate its version of Pennywise in a whole new way.
Get ready for Pennywise: The Story of It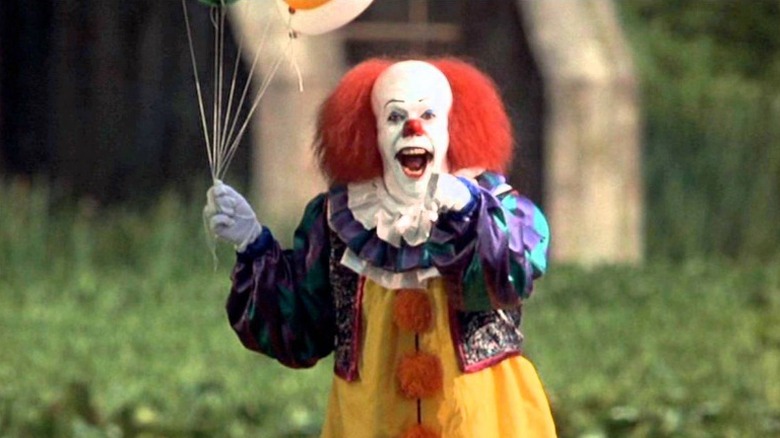 ABC
As reported by Bloody Disgusting, the team of John Campopiano and Chris Griffiths is ready to unveil "Pennywise: The Story of It" to the world. This feature-length documentary dives deep into Tim Curry's take on the iconic clown, how it came to be, and its lasting impact on pop culture. The creators stated they hope to "tell a story heard by few and showcase a wealth of behind-the-scenes footage and photos seen by even fewer" through the project, utilizing predominantly archival media from decades past to make it happen.
"We live in an era where adaptations of Stephen King's work have never been more prolific and culturally relevant," Campopiano told Bloody Disgusting, stating that "this documentary is arriving at precisely the ideal moment." Smart tossed in a quick word as well, adding, "This film project has been a remarkable journey, and I'm just so pleased that Tim Curry joined us and graciously spent time sharing his thoughts and memories of his iconic role in this beloved miniseries."
"Pennywise: The Story of It" is set to make its world premiere at Catalonia, Spain's Sitges International Fantastic Film Festival, on October 15. Keeping the party going, it will then stop by Arrow Video Fright Fest in the United Kingdom on October 30, acting as the perfect primer for the festivities of Halloween the next day. According to Variety, it is still in search of a wider distributor, and we can only hope it finds one soon so the entire world can give it a watch.