Billy Magnussen Dishes On Tony Sirico's Visit To The Many Saints Of Newark Set - Exclusive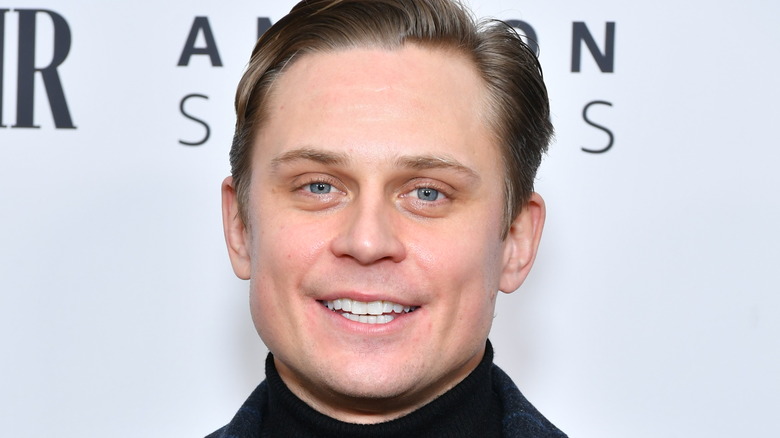 Amy Sussman/Getty Images
Like several of his co-stars in "The Many Saints of Newark," Billy Magnussen was faced with the daunting task of assuming a role made famous by another actor in the landmark Emmy-winning mob drama "The Sopranos." Lucky for Magnussen and many of this castmates, however, they were playing younger iterations of these cultural icons. That allowed each actor a bit more creative freedom to define who their characters were before fans got to know them on "The Sopranos."
Magnussen was tasked with the challenging job of slipping into the stylish duds of wisecracking crewmember Paulie "Walnuts" Gualtieri, brought to life in the series via the sparkling talents of Tony Sirico. While preparing for his role in "The Many Saints of Newark" — which is new theaters and streaming exclusively on HBO Max — Magnussen said he did not allow himself to get intimidated by Sirico's beloved version of Paulie Walnuts that preceded him.
"I definitely did not operate from a place of fear. I think this is what I got into acting for — the challenges and the hurdles — and just profoundly going deeper into yourself, weirdly, by finding this character from within," Magnussen said. "Fear is not the driving force for me. I didn't go into the film worrying about the fans or anything like that. I looked at it as any job I would approach with any characters. I wanted to find the authentic voice and the spirit and the essence of this individual, and bring it to life."
Becoming Paulie Walnuts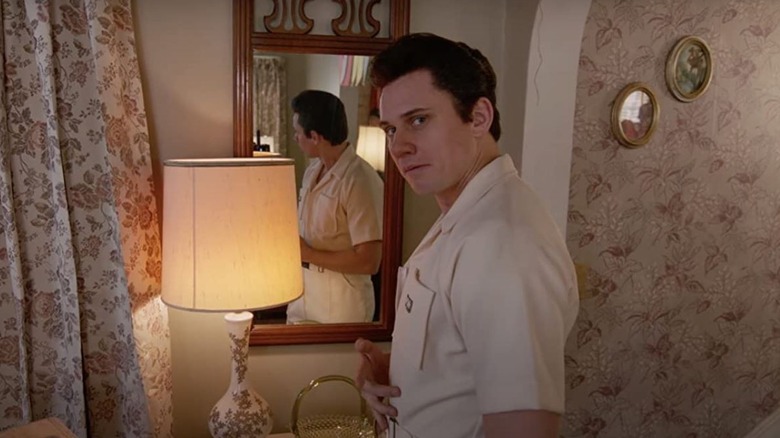 Warner Bros.
Naturally, part of Magnussen's preparation for the role of the young Paulie Walnuts included a deep study of what Sirico contributed to "The Sopranos." For reinforcement, Magnussen said he was blessed to have access to "Sopranos" creator David Chase — who also produced and co-wrote "The Many Saints of Newark."
"[By doing the] research and all the stuff to prep, you fully learn [Tony Sirico's] mannerisms and the cadence of the speech. You learn that this well is just so profound, that you can keep going down further and further into it," Magnussen said. "I think there's still so much more to discover, but I felt comfortable in having David Chase there to give you the thumbs up or thumbs down while you're doing it. That is a good indication. So, we never really went forward unless we got the thumbs up, you know?"
Billy Magnussen had a hairy encounter with Tony Sirico on set
HBO
Looking to seize an opportunity, Magnussen brought a special request to Chase. "Luckily, I had the fortunate opportunity to talk with David Chase and asked him, 'Hey, we got Tony around still. Can he record the lines, so I can just have the cadence and hear how he would do it?' [David's] approach to it was to make everyone feel comfortable and safe," Magnussen recalled.
While Sirico didn't end up recording any of Magnussen's dialogue to be used as a frame of reference, the actor ended up getting something better: Sirico in the flesh. "Tony did finally come to set one day, which was cool. I had prosthetics, fake eyes, fake hair and all that stuff. And it took him longer to do his hair than me putting on all that stuff," Magnussen told Looper, laughing. "That kind of tells you the type of guy Tony is, you know, just for him to do his hair."
Directed by Alan Taylor, and also starring Leslie Odom Jr., Jon Bernthal, Michela De Rossi, and Ray Liotta, "The Many Saints of Newark" is now in theaters and streaming exclusively on HBO Max.