J.K. Rowling Apologizes For Killing Snape In Harry Potter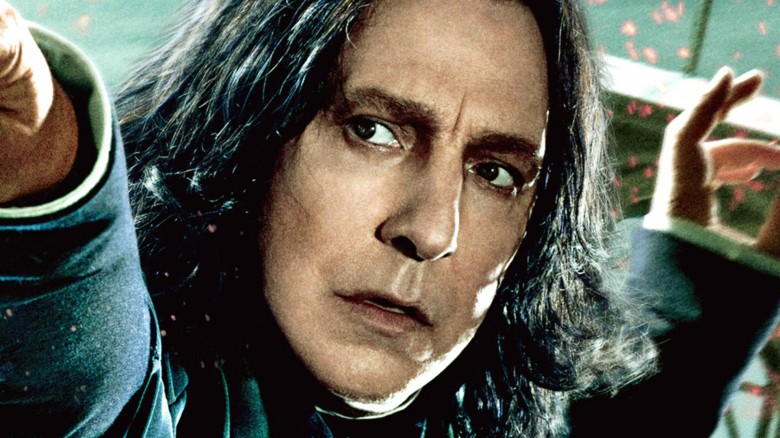 Warner Bros.
Severus Snape is the definition of a "complicated" character. Obviously.
But whether you love or hate the hero in disguise of the Harry Potter films (played brilliantly by the late Alan Rickman), it's clear that author J.K. Rowling has a special affection for him.
Rowling has taken to apologizing each year for killing off one of the Potter characters, doing so in the past for Fred Weasley and Remus Lupin. This year, however, on the anniversary of the Battle of Hogwarts, she said on Twitter that she's sorry for killing Professor Snape.



OK, here it is. Please don't start flame wars over it, but this year I'd like to apologise for killing (whispers)... Snape. *runs for cover*


— J.K. Rowling (@jk_rowling) May 2, 2017
Of course, Snape is an exceptionally divisive character, especially among Potter faithful. Initially attracted to the Dark Arts and Voldemort's ideas about wizard supremacy, Snape's love for Harry's mother Lily eventually causes him to turn his back on the Death Eaters. He becomes a double-agent for Dumbledore and the Order of the Phoenix and vows to protect Harry.
While, yes, he killed Dumbledore, he only did so because Dumbledore (who was actually dying from a powerful curse) insisted that Snape had to be the one to do it. Harry eventually learns this during Snape's final moments after Voldemort has his snake Nagini bite Snape through the neck. Harry was convinced that Snape was actually a good guy, and he eventually named his first son Albus Severus Potter in honor of "the bravest man" he ever knew.
However, Rowling's apology has prompted a wide range of responses from fans on Twitter. Some express fondness for the character, while others are less than accepting. Check some out below. Meanwhile, take a look back at a few more Harry Potter moments that outraged fans.



@jk_rowling pic.twitter.com/YOrm7nXARk


— prawn jem 🦐 (@fandompatronus) May 2, 2017



When you were excited to see who JK was gonna apologize for killing for the BoH anniversary today and it's Snape https://t.co/SUbM3VZExr pic.twitter.com/j7nUBgg0Ef


— Slum Beautiful (@TheJazzyBelle) May 2, 2017



@jk_rowling yeah but why'd you kill all the hufflepuffs though? Justice for hufflepuffs


— Calum McSwiggan (@CalumMcSwiggan) May 2, 2017



Out of every character you've killed, you're apologizing for SNAPE?!?!?!?!?!?!?! https://t.co/0fBkqOV9km


— e m m a (@emmmabooks) May 2, 2017



Snape might be dead but his is alive in our heats! Raise my wand for Snape! @jk_rowling @HarryPotterFilm #harrypotter #snape LOVE HIM!! pic.twitter.com/BHyAG5daN5


— Jourdan with a U (@jourdan_maria) May 2, 2017



@jk_rowling He was terrible and vindictive. He was also wholesome and good-hearted. He was, in short, human ❤ RIP Sev! pic.twitter.com/uuWYjfotKB


— Tshego Khunou (@xoxo_Tee) May 2, 2017