Bee And Puppycat Season 2 - What We Know So Far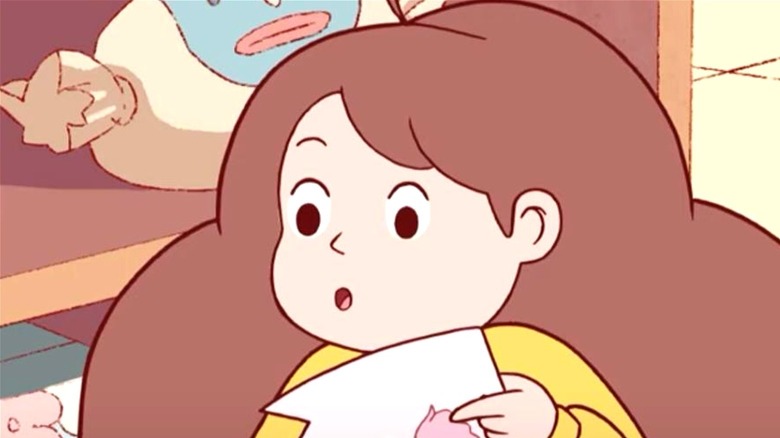 Frederator Studios
Over time, animation has evolved to become one of the most creative styles of storytelling. Whether it's anime, classic cartoons, or a more modern animated series, the medium presents a level of freedom that you can't find in live-action projects. Some of the most innovative animated series of recent years include "Steven Universe," "Over the Garden Wall," "Avatar: The Last Airbender," and "BoJack Horseman," to name a few. But there are also plenty of fantastic shows that go under the radar, including the cult favorite series "Bee and Puppycat."
The animated series is created and written by Natasha Allegri, and tells the story of an unemployed twenty-something woman who meets a mysterious creature who becomes her everyday companion. Together, the two travel to a different world in order to take on odd jobs and experience new things. The first season of "Bee and Puppycat" was released from 2014 to 2016, and now — about seven years after the show first premiered — the second season is finally on its way.
Here's everything we know so far about "Bee and Puppycat" Season 2. 
What is the release date of Bee and Puppycat Season 2?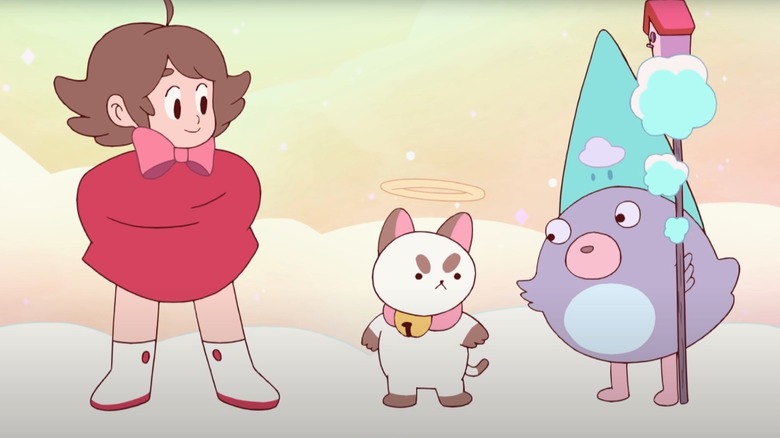 Frederator Studios
Devoted fans of "Bee and Puppycat" have been waiting a very long time for Season 2, also known as "Bee and Puppycat: Lazy in Space." The first episode of Season 2 actually debuted all the way back in 2019 at the Ottawa International Animation Festival, and it won for Best Animated Series (Frederator Studios). But like with many other shows, the pandemic caused a delay, and there were likely a lot of other factors that led to the long wait. Luckily, fans shouldn't have to wait too much longer, as it was announced in October 2020 that "Bee and Puppycat: Lazy in Space" would be released on Netflix in 2022 (via Polygon). Netflix also hosts another Frederator Studios show called "Castlevania," so clearly the two companies have an existing business relationship that helped this happen. Right now, Netflix has not released any more information on when in 2022 to expect "Bee and Puppycat: Lazy in Space," but hopefully they will reveal the official release date soon. 
What characters will be in Bee and Puppycat Season 2?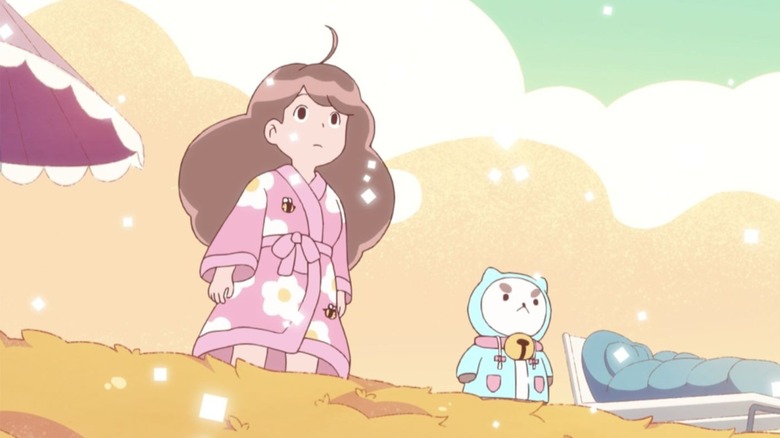 Frederator Studios
The story of "Bee and Puppycat" mainly centers around Bee, a twenty-something young woman who has horrible success at keeping a job. Then she meets Puppycat, who looks exactly as his name describes, a combination of a puppy and a cat, but in reality, he is actually an interdimensional creature with a dark and mysterious past. The two cross paths one day and quickly become best friends, doing pretty much everything together. 
Throughout their many adventures, Bee and Puppycat meet plenty of interesting characters along the way. TempBot is the robot character that assigns Bee and Puppycat jobs in his dimension, while a lot of other important supporting characters are people in Bee's normal life, including Deckard, her neighbor and former coworker. Bee has romantic feelings for Deckard but is unaware that he feels the same. There's also Cass, Deckard's sister, and Bee's landlord, Cardamon, who will all likely make an appearance in Season 2.
What is Bee and Puppycat Season 2 about?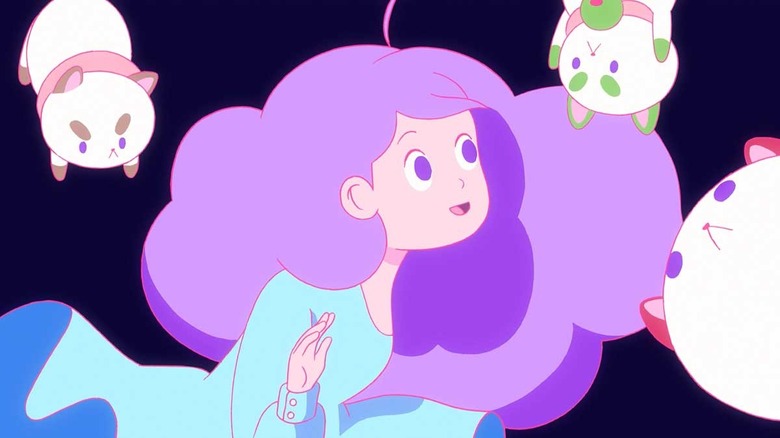 Frederator Studios
Season 2 of "Bee and Puppycat" will share the same theme as Season 1, with the two friends doing all they can to make money and pay the rent, but there will be a bit more going on. In Season 1, each episode was around 10 minutes long, but Season 2 will reportedly have half-hour episodes, allowing the story to be expanded. 
As the first episode of Season 2 was released at the Ottawa International Animation Festival, it allowed fans to get a sneak peek at what "Bee and Puppycat: Lazy in Space" would look like. In the first episode, Puppycat causes a huge dilemma for himself and Bee when he wastes $500 on a silly mobile game, leading them to scramble for the money needed to pay rent on time (Lee Daily). Hopefully in Season 2 Bee will figure out what she truly wants to do with her life, instead of jumping around from job to job, and the new episodes will likely delve deeper into Puppycat's backstory as well. 
For fans of "Bee and Puppycat" who have patiently been waiting years for the second season, "Bee and Puppycat: Lazy in Space" is officially on its way, but keep an eye out for more news from Netflix as we get closer to 2022.