Dave Chappelle's Comeback Standup Special Gets Its First Teaser
Dave Chappelle established himself as one of the preeminent comedians of his generation with "Chappelle's Show." His brand of humor was both insightful and gut-bustingly hilarious. And then, he pulled a move that would shock the world. The funnyman walked away from a third season, and for years, no one heard from him. It seemed like just when Chappelle's star was starting to rise, it faded just as quickly. That was until he returned for another stand-up special on Netflix, re-introducing himself to the world and proving he was still one of the all-time greats in the pantheon of comedians.
Chappelle wasted no time giving audiences the content they missed so dearly from him. Over the last few years, he's released five specials on Netflix and another more intimate set on YouTube, titled "8:46." It'd be easy to assume Chappelle would run low on content after a certain point, but he's still going strong, as evidenced from the latest teaser promoting his sixth Netflix special.
Dave Chappelle: The Closer comes out October 5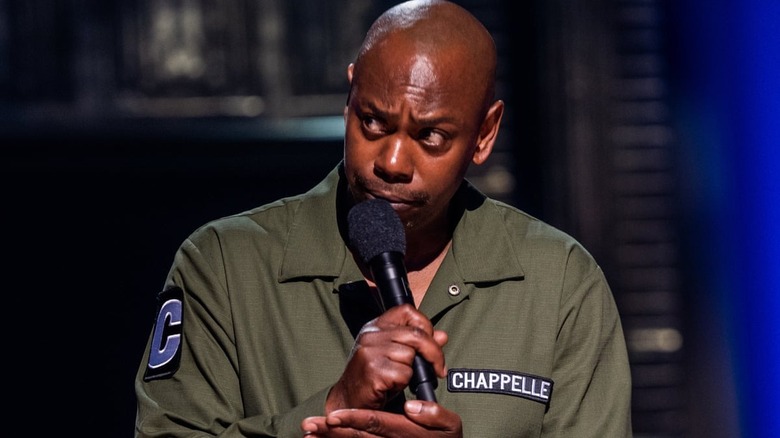 Netflix
Dave Chappelle is such a well-known talent at this point that a trailer for his next special doesn't even have to include any new footage. All it has to do is promise more Chappelle, and fans will tune in to receive the comedian's viewpoints on what's going on in the world right now. That's precisely the case with the trailer for "The Closer," which contains older footage from previous specials. You know Chappelle's going to bring his unique take onto what's going on in the world today, and judging by the comments underneath the video, fans are here for it.
Some are excited as ever to see what Chappelle has to say about the state of society. Others think it's the perfect time for a new stand-up special from one of the greats, as one user writes, "Now with Norm [Macdonald] gone, I'm in need of a new Chappelle special to serve a youthful porpoise."
You'll be able to see the comedian in all his glory on the streaming service on October 5. It should make for the perfect mid-week pick-me-up to get you laughing yourself silly in a way only Chappelle can manage.