The Romantic Comedy That Almost Ruined Ben Affleck's Career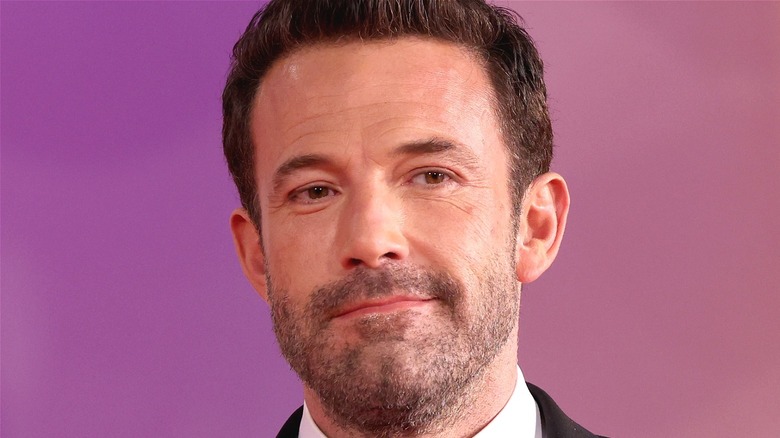 Franco Origlia/Getty Images
Ben Affleck has come a long way. He got his start in Hollywood in the early 1980s with minor roles, before landing a more substantial part in the short lived TV series, "Against the Grain," in 1993. He started getting more attention when he starred in a few Kevin Smith movies, and by 1997, Affleck — alongside Matt Damon — co-wrote and co-starred in the theatrical film, "Good Will Hunting," which proved to be his breakout moment. The following year, the duo won an Oscar for the film's original screenplay (via IMDb). 
Since that Oscar win, Affleck has become a household name, and one of the busiest actor-producer-directors in the business. His career is now packed with notable roles, including 2014's "Gone Girl," 2016's "The Accountant" and even the Dark Knight himself, whom he first played in 2016's "Batman v Superman: Dawn of Justice," and will play one final time (alongside fellow Batman actor Michael Keaton) in 2022's "The Flash." Affleck also wrote and directed the 2012 political thriller, "Argo," which earned an Oscar win for best picture (per The Guardian).
Despite all of these successes, Affleck's career has not been without a number of critical and commercial flops. In fact, there's one romantic comedy in particular that some might say almost ruined Affleck's career.
Gigli is even worse than you remember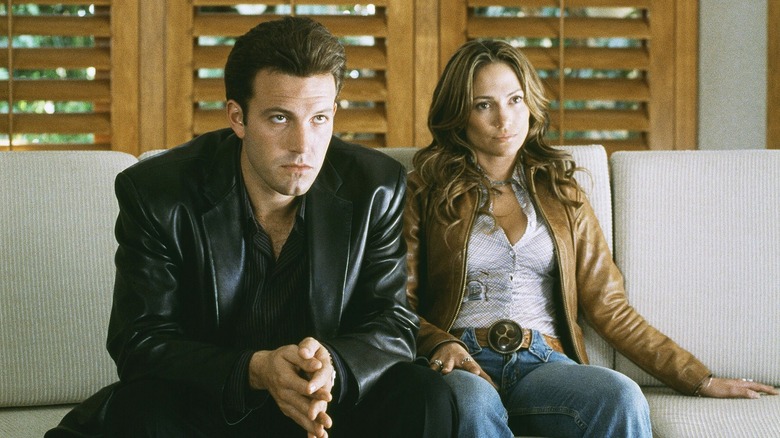 Sony Pictures
That romantic comedy was "Gigli," the 2003 flop starring Affleck and Jennifer Lopez. Written and directed by Martin Brest, "Gigli" follows a down-on-his-luck mobster Larry Gigli (Affleck), who is assigned to prevent a mob boss from going into the slammer by kidnapping a federal prosecutor's younger brother, who is developmentally disabled. Because of Gigli's less-than-stellar record, he's told to work with the more successful Ricki (Lopez). Gigli is attracted to Ricki (though, note, Ricki is a lesbian), but he resents being forced to team up with her, largely for sexist reasons. Yes, there's a lot of problematic stuff here, to say nothing of how outright bad the movie is, in general.
"Gigli" was an absolute box office bomb, making just over $7 million worldwide compared to its $54 million budget (via Box Office Mojo). It was completely panned by critics, with a mere 6% score on Rotten Tomatoes. In a scathing review, Joe Morgenstern of The Wall Street Journal wrote, "More stupefying follies may come, but it's impossible to imagine how they'll beat this one for staggering idiocy, fatuousness or pretension."
When "Gigli" was released in 2003, it hit Affleck's career hard. In the years following that disaster, he was still able to work consistently — and appeared in films such as 2006's neo-noir mystery "Hollywoodland" and the rom-com "He's Just Not That Into You" — but did nothing of high critical acclaim for years. 
Eventually, in 2010, Affleck directed "The Town," which was positively received and even earned quite a few award nominations, including a couple Satellite Award nominations for Affleck (per IMDb). A couple years later, Affleck made "Argo" and thus fully got his career back on track. However, no one is likely to ever forget "Gigli," in all of its atrociousness.