The Big Lie Bruce Campbell Used To Tell About The Evil Dead's Ending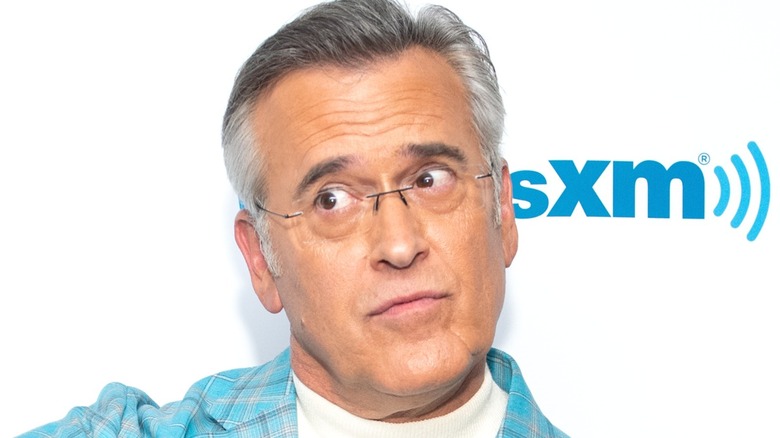 Noam Galai/Getty Images
There is no better way to describe the supernatural horror film "The Evil Dead" than to call it legendary. The gruesome movie, which follows five college students who become possessed by demonic spirits while vacationing in an isolated cabin in the woods, was barely able to get off the ground in the late '70s. Since its release in 1981, though, the movie has continued to find new fans with every subsequent generation, eventually becoming successful enough that a horror franchise was born. It features multiple films — including direct sequels "The Evil Dead II" (1987) and "Army of Darkness" (1992) — multiple video games, a 2013 reboot, and a modern TV show titled "Ash vs. Evil Dead," which ran on Starz for three seasons from 2015 until 2018.
Directed by Sam Raimi and executive produced by Raimi, Rob Tapert, and star Bruce Campbell, "The Evil Dead" is now considered a classic horror film, with many myths surrounding its legacy. In a new interview ahead of the film's one-night only theatrical re-release for its 40th anniversary, Bruce Campbell spoke with Den of Geek about the film and some of those myths, including one about the ending that the men behind the movie perpetuated for decades even though it wasn't true.
Sam Raimi did not ride a motorcycle for the last shot of The Evil Dead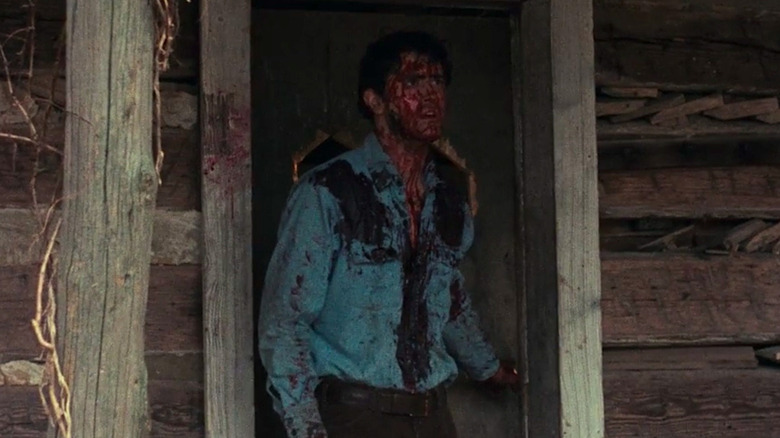 New Line Cinema
"The Evil Dead" famously ends with a scene in which the evil entity in the woods busts through the doors of the remote cabin and right up into Campbell's face. For years, Campbell and Raimi both supported and encouraged a lie about how the shot was filmed.
"We had a whole story about Sam riding a motorcycle in order to smash through the doors," Campbell told Den of Geek. "We said we did it last because I was probably going to get hurt, because in order to get the camera close enough, the motorcycle pretty much had to make contact [with me]. So we sort of perpetuated that lie, very successfully, for decades."
Given Raimi's dedication and his well known kinetic filmmaking style, it's easy to see why the lie about riding a motorcycle was able to persist for so long—and why so many fans were willing to believe it without question.
So if they didn't use a motorcycle, how did they pull it off? Well first, the only thing powering Raimi through the impressive tracking shot was his legs. Second, the crew rigged the cabin doors with unseen ropes to fling them open as the director sprinted through while holding a rig held above his head that Den of Geek described as "an Arriflex camera with a wide-angle lens bolted to a board." That, folks, is indie filmmaking.
"The great comedian W.C. Fields wrote all his own press releases, and he lied in all of 'em," Campbell explained. "So we enjoyed doing that sort of stuff and adding to the myth."
"The Evil Dead" is streaming on HBO Max.