Evel Knievel Estate's Lawsuit Over Toy Story 4's Duke Caboom Has A Rough Landing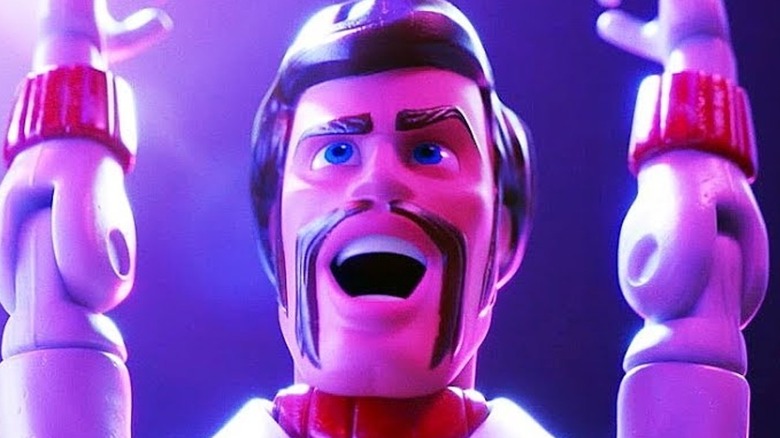 Disney/Pixar
At least in eyes of the law, legendary stuntman Evel Knievel and the "Toy Story 4" character Duke Caboom are not one and the same — contrary to the claims of one of the late motorcycle icon's sons.
Evel Knievel, whose real name was Robert Craig Knievel, was a daredevil stuntman who defied death several times throughout his career. Sometimes his jumps over cars and trucks were a success, and other times — like his catastrophic crash attempting a motorcycle leap over fountains at Caesar's Palace in Las Vegas in 1967 — he ended up in the hospital with multiple fractures (via Las Vegas 360). During his heyday, Knievel — whose career injuries set a Guinness Book of World Records high-mark for "Most Broken Bones in a Lifetime" with 433 fractures — was so popular that his life story was chronicled in the 1971 film "Evel Knievel," starring George Hamilton in the titular role, and 1977's "Viva Knievel!" where the stuntman played himself in the lead.
In 2020, via USA Today, Knievel's estate filed a lawsuit against Disney over a character in their 2019 Oscar-winning animated blockbuster, "Toy Story 4," claiming trademark infringement on the basis of "false endorsement and unjust enrichment." Now, it seems that this lawsuit has crashed back to earth.
A judge has dismissed the lawsuit against Disney filed by Evel Knievel's son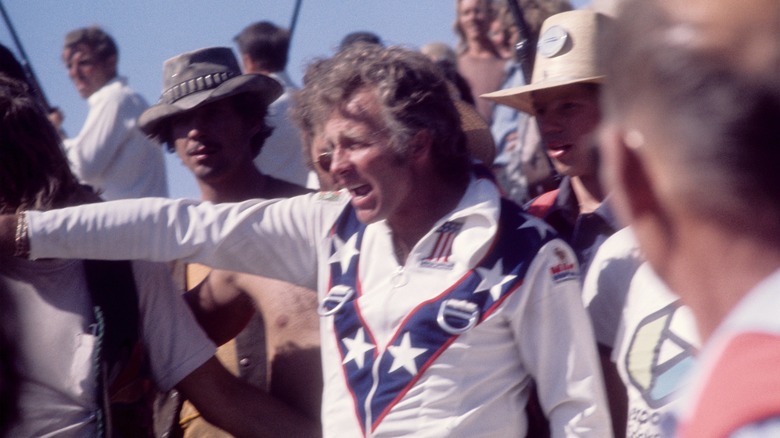 Michael Ochs Archives/Getty Images
In the end, Evel Knievel's son Kelly and his production company, K&K, saw fit to bring a lawsuit against Disney in September of 2020. As reported by The Wrap, the younger Knievel and K&K believed that the studio used his late father's likeness for Keanu Reeves' Duke Caboom without permission. In the film, the daredevil Caboom wears a white jumpsuit with a red cape, and his motorcycle was powered through a wind-up contraption. Caboom is also described in the film as a toy from the 1970s, based on a Canadian stuntman. In the suit, Kelly Knievel claimed the Duke Caboom toy, in side by side photo of Evel Knievel, was patterned after his father. In addition, The Wrap reported, Kelly Knievel's lawsuit alleged the commercial pedaling Duke Caboom toys in "Toy Story 4" was modeled after a vintage Evel Knievel toy commercial in 1973. 
Apparently, the judge didn't buy into the arguments by Evel Knievel's estate, and dismissed the case on Monday. The stuntman's son was reportedly seeking $300,000 in unspecified damages. What it came down to, as explained by Bloomberg Law, was a lack of definitive evidence that Disney had intentionally tried to promote the character by implying a connection with or endorsement from Knievel's estate, or evidence that Disney had purposely promoted audience confusion between Caboom and Knievel — in fact, the judge ruled, the character's differing appearance and backstory were unique enough to clearly differentiate between the two.
Evel Knievel toys are still being sold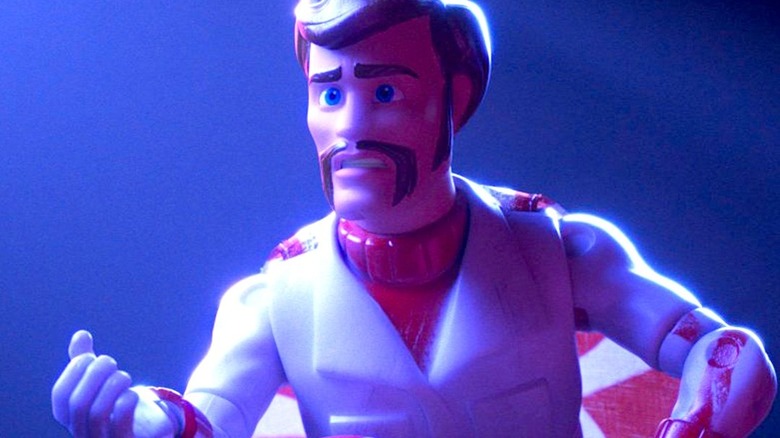 Disney/Pixar
Naturally, given that "Toy Story 4" is a movie about living toys, Disney released Duke Caboom toys to promote the film, along with the expected action figures of Hanks' Woody and Allen's Buzz Lightyear. However — in one of the more ironic elements of this whole story — it turns out that the popularity of the Duke Caboom character inspired a reissue of Evel Knievel toys, according to the toy blog Toy Book. "In a bit of lucky timing, last year's release of Disney-Pixar's 'Toy Story 4' reignited interest in the classic toy thanks to Duke Caboom, a Canadian character that was no doubt inspired by American icon," James Zahn of Toy Book wrote.
This was posted in June, and also mentioned that the the Evel Knievel Stunt Cycle was being relaunched, following a new licensing agreement with Knievel's son — the same son, in fact, who would initiate the lawsuit some months later. 
Evel Knievel himself died November 30, 2007, according to ESPN, at the age of 69.